Test Pressing is happy to welcome to the fold Robert Harris a.k.a Dr. Rob who used to live on these shores but is now in Tokyo with family. Rob is going to be posting the mixes from his Tokyo-to Kissa series as well as writing whatever tales he feels like sharing and covering the Japanese scene. And while here – if you are ever trying to track down some rare Japanese vinyl Rob's your man.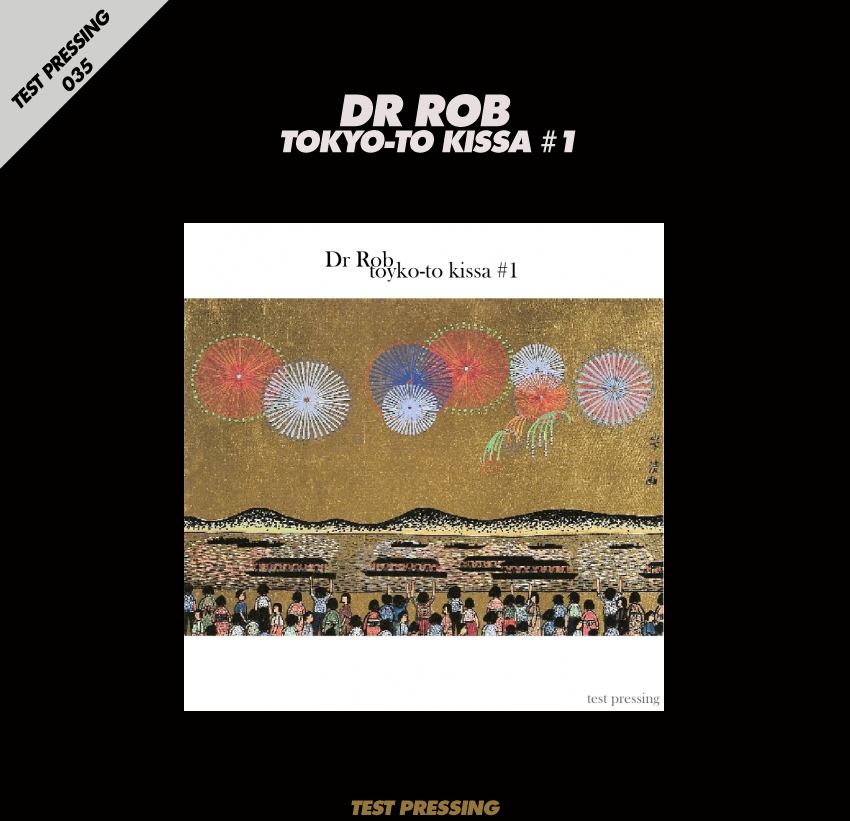 Tokyo to kissa #1
Things were changing as I left the UK three years ago. I figured as a family we had nothing to lose in moving to Japan. But I still found myself, that first year, doing the odd late night solo with a two litre carton of cheap sake. Not missing people or places, but missing times long passed. This mix was made one of those odd nights. I'm listening to it again as I go to pick up my Mum up from Narita. Out over Disneyland. Out over Chiba. Twenty minutes from Tokyo, after the ferris wheel, after the race track, I have no landmarks. Save the music.
Popol Vuh weeps into the world, accompanying Werner Herzog`s wrath of God and pre-dating Eno and Lanois' "Apollo" and Jack Nitzsche`s "Starman", both either blatant rip-offs or remarkable coincidences. B.J. Cole's langid pedal steel sings the lonely song of the humpback whale. A dive into the blue. Bowie and Eno (again) sing the Popol Vuh, a sax betraying their Rock n` Roll roots. I`m not sure if Bowie was referencing Kerouac or those that keep strange hours. Inhabit the night. Outside of the day. I guess the only Beat who still had any currency back then was Burroughs. Bob James stumbles about in a very un-Ireland cod-reggae lilt. Still, the strings hold pictures of green hills. Tokyo is many things but green it ain't. A breeze blows shiny bird scares in a field of rape scorched by sun. A view once taken for granted. The other side to "Tinsel Town In The Rain"'s disco melancholy. Some songs should be listened to sparingly for fear of getting lost in regret. Upwards and onwards we go. Dr Nishimura told the guy at Flower about The Soft Machine who then passed it on to me. Land of cockayne. Generation of swine. Hugh Hopper RIP. Thomas Dolby sings of obsession. The things we blame love for. A dark mirror holds a secret. Lead soldiers and the scar I wear above my heart. One ballerina too many. Music box wistfulness plays for the lovely but barmy in-and-outta rehab would-be Catwoman Sean Young. Somebody blows a "Betty Blue" line but the "Betty Blue" stories will have to wait for a more appropriate time. A book, maybe. Fuck attack ships on fire. Bladerunners's dirty `50's noir of a future isn't so far from Tokyo`s neon, where red beating robot hearts cover the high rise and all the action takes place in small underground holes. Parties in basements. All night noodle bars set in railway arches. Unmarked hotels.
"Bara Willie"`s crazy synths fill my ears as I come into Narita's security check. It's been over two years since I got on a plane. Three years since I`ve been home. Dave Sylvian's brother and the other guy from YMO, the one with the drip dry eyes, try hard not to sound wounded. And end up resigned. Betsu-ni translates roughly as "not necessarily". A Big Hard Excellent Fish hits me with the early 90s. A box room in a shared house. Baked potatoes and beans for tea again. Weekends from Thursday night to Monday morning. A bag of pills to sell. The escape from Thatcher's Britain provided by Acid House about to go pear-shaped. There would be casualties. And we hadn't managed to change anything. "Where were you?" This last line transforms a list into a poem of wrongs and disappointments. The drugs fucked everyone up. I once went by the nickname of "Bobby Love", generally, for the love I sold. In tighter circles it was a reference to a failed Rik Mayall sitcom. An E-listed celeb. Davro said "I'd be nowhere without the fans". "Bobby love, you are nowhere." PCO do the soundtrack to a thousand building society and bank ads. Arto Lindsay`s DNA guitar spirals free.
I get to the North Terminal and I`ve got John Daly's mix of "Feel The Earth" on to try to wake me from my past. Hypnotic percussion gives way to nasty acid snarling. Airports are such a transient place. I always feel like picking up a stranger. All that death in the air. Death, excitement, and relief. Coming out of limbo. Waiting in Arrivals, over-hearing conversations as the KLM flight unloads I`m wondering if it`s possible to speak Dutch with an American accent. I try to guess where people are from as they come through the gate, based on how they are dressed. Most of the people traveling to Japan are young, which means they all look like cunts to me. Silver week and its festivals are just around the corner. I guess a few of them must be in bands.
Mum's gone now. We had two weeks of pushing her up mountains in Nasu and Karuizawa in a chair she wasn't in three years ago. Flu outbreaks, Japanese panic and school closures mean I've had little time for anything other than the kids since then. Isolated`s a place. Nasu's isolated. Nothing but forest. Tall thin trees that shut out the sun. Nothing but forest, and sporadic outposts of old people. Lonely's just a word. It's up to you the meaning you attach to it. With a head full of memories and music it don't mean much.
Lacrime Di Rei – Popol VuhWindow On The Deep – BJ ColeSubterraneans – David BowieWomen Of Ireland – Bob JamesHeatwave – Blue NileLotus Groves – Soft MachineI Scare Myself – Thomas DolbyBladerunner (love theme) – VangelisBara Willie – Les Amabassadeurs InternationauxBetsu Ni – Yukitori TakahasiImperfect List – Big Hard Excellent FishPerpetum Mobile – Penguin Cafe OrchestraAmore – Ryuichi Sakamoto
[audio:035-toyko-to-kissa-1.mp3]Download
EDIT: Rob also hosts a show on Samurai FM which is highly recommended. Check it here when you get a minute. Nice one – Ed.