Happy to welcome Andy M back with more stories on island life and a mix of favourite dub sounds.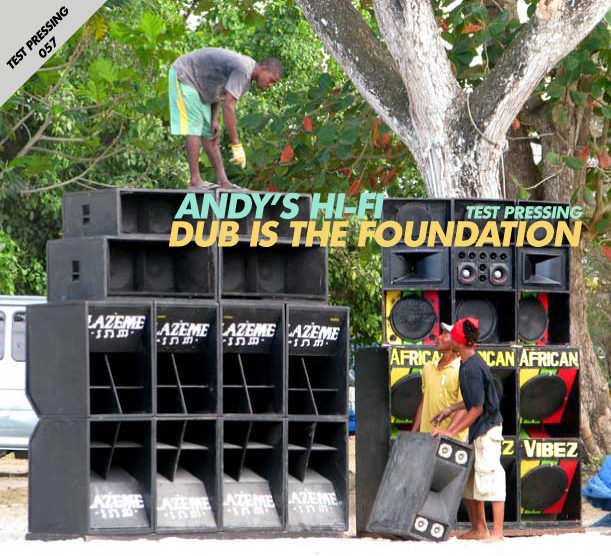 Saturday night – 'Soup and sound' with Dexter Campbell (below), the Ska Professor. Now, as multi-sensory concepts go, soup and sound leaves Jean-Michel Jarre's son et lumiere trailing in its wake. A low-key downtown bar in Kingston with tables outside, full of characters with stories written all over their faces. Groups of old guys playing dominoes. An old woman in the corner sits on her own all night listening and meditating (or is that sleeping?) to the music. Dexter runs the Echo Vibration soundsystem and at 70 he's still going strong and regularly tours Europe and Japan. He played an amazing selection of rare-as-hen's-teeth ska, rocksteady, early roots and jazz all night. The first time in my almost three years in Jamaica that I've heard vinyl being played out and a welcome change from the usual diet of dancehall and the canon of 20 reggae classics that gets rinsed out in 30 second/tune doses at most dances. A great night, although I woke up in the morning feeling slightly cheated. The rum had been flowing so freely that we forgot to sample the soup…
Sunday morning – beach cricket with Luciano. The best thing to do when the kids wake you up with a sore head on Sunday is to head half an hour out of town to Fort Clarence beach. A beautiful stretch of white sand, fringed by almond trees and with a little shack that sells the freshest fish. Mid-morning and the beach cricket was in full swing when the bowler's head was turned by a fragrant aroma and greeted by the sight of Luciano ('Jah Messenger', not the minimal DJ) striding through the covers resplendent in a HIM style solar topee, drawing on his pipe.Sunday night – Beres Hammond in concert. I'm still amazed that there's not more live music in Jamaica. A lot of the great old artists are more in demand and make more money touring Europe and the US these days. When they do play it's normally at 'stage shows' with 10-20 artists on the bill sharing an unfamiliar backing band. The show always starts late, only leaving time for two or three songs per singer before the next act is rushed on. Thankfully someone has spotted the gap in the market and Pulse have started hosting regular full-length concerts – John Holt and Freddie McGregor in recent weeks were followed by Beres Hammond on Sunday. He put on a great show and had the 500-strong crowd on their feet singing along with every word. Jamaican crowds don't hold back which I like. My personal highlight was Ken Boothe walking through the crowd, blessing everybody and shaking hands with one hand whilst carrying a burning joss stick in the other.
And finally, I've been listening to a lot of dub recently. Sadly it's disappeared from the music scene here but dub is the foundation…
Andy's Hi-Fi: Dub Is The Foundation
Tappa Zukie: MPLA DubAugustus Pablo: Pablo In The DanceThe Mighty Light Of Saba: Lambs Bread CollieWareika Hill Sounds: Tears In ExileKing Tubby And The Aggrovators: Ruffer VersionThe Skatalites: Herbsman DubRuss D: Spiritual DubJah Shaka Meets Aswad: Aswad SpecialDennis Bovell: Rowing (12″ Version)Rhythm And Sound With Cornel Campbell: King In My Empire3 Generations Walking: Midnight Bustling (Midnight Rockers Mix)Musical Youth: Pass the Dutchie (Special Dub Mix)
[audio:057-dub-is-the-foundation.mp3]Download