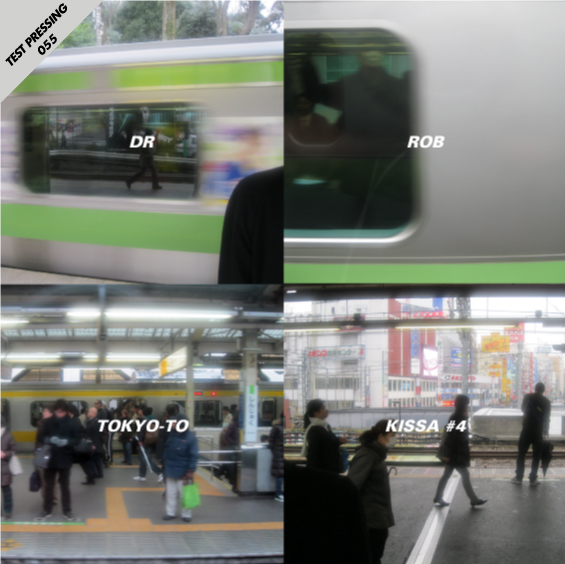 I watch Tokyo go by from the window of a Metro train. Mejiro, Takadanababa, Shinjuku. I wonder if I will miss any of these places. I am leaving.
I have grown tired of Tokyo. Or rather, she has worn me out. This beautiful lady has a bounty to offer but only if you have an abundance of money and free time. Currently I have neither. Great place to visit. Hard place to live.
I am guilty of only really appreciating things when looking back. In the moment, I am always questioning. Often my mind is on what's next. I should learn to live in 'The Now'. Neal Cassady without the crank. Instead I try to keep moving, afraid that if I stop, nostalgia will hit me like a wave.
Las Vegas tango. Last tango in Paris. One last joyless fuck in an apartment in Bayswater. Angry and hurt, she grabs the headboard and forces her hair in my face. Some things are best forgotten, but I guess the old mental scrapbook doesn't work that way. Sketches Of Spain bring the myth of my conception. Supposedly in Stiges. On the honeymoon. But since I was a couple of months premature, I reckon that's the kind of truth people felt forced to tell in the early 60s. Sting sings a song about man's crimes against man. I try to remember being in another place, but I am lost in Tokyo. No one bothers to translate. I hear a lover on the phone. Just out of the bath. Wrapped in a towel. Propped up on pillows. Flirting. I'm trying to be clever. Funny even. Before long, she'll end up disappointed. There's a soft focus TV promise of what love should be. Slow. Gentle. Understanding. "Hey, we have all the time in the world. Relax." Instead, stolen moments and lies.
I watch days go by on lost roads. Clouds scream across a blue sky shot in time-lapse. I'll get my deck-chair out. Eagles rise on a warm swell in Nepal. Gangs of small children crowd a mountain path. Following me for the sweets I brought as gifts. Dahl for breakfast, Dahl for lunch. Dahl for tea. I ain't never been to New Orleans. The only voodoo I know is in the thunder of the London Underground and the sodium orange on deserted streets going east. The only healing chant, silence.
"Come with me", she sings. I`m in Ronnie Scott's. Two couples before the children, drinking champagne. (Another) one of those transient bubbles I questioned. I'll never question anything again. I promise. Pat dreams of Mexico but I'm in Reckless in Islington. Tara's letting me trade my boxes of Trance for a grounding in Funk and Rare Groove. I cut my hair, take the medication, and stop going out. For eight years.
Sing me to sleep. Weatherall soundtracks a film in a chapel off Oxford Street. Days of Shoreditch, Small Fish, and Silas. Nights watching Sav collect glasses. Walking between Borough and Brick Lane when the snow stopped everything.
Hendrix plays and I'm acting. Living out a role in 'Withnail & I'. Pulling on a tattered overcoat as I pull myself off a mattress on the floor. Pulling on a joint, for effect, and to keep out the cold. A room on (H) Ash Grove where the rent was a tenner a month. Working out Pence:Brain Damage ratios. Drinking Thunderbird all day. Pints of cider with ice. Playing at it. I thought I'd never miss that place either.
I am leaving Tokyo, but I am not leaving Japan. I am heading for the hills. Half-way up an active volcano to build a mountain retreat. Friends worry that I might become isolated, but I am isolated now and I fear that to feel isolated in one of the busiest cities in the world may be harder than feeling isolated in the middle of nowhere with only the bears for company. I'm taking the easy way out.
I worry that if I stay in Tokyo I will become a bigot. My patience and enthusiasm exhausted. Cursing the endless armies of school children as I pass on my bike. I have already retreated from Tokyo. Minimizing my trips out of the house. Metro journeys filling me with despair. One more carriage full of blank faces. Any conversation limited to pleasantries or apologies. Any hope of depth, any bond, seems impossible. It would be easy to give up, yet the small successes I have with language light my days. I will never give up. But I am not winning. Retreat. Regroup.
There was a time when I could flick my toes and greet it all like one big adventure. I'd get my kids to sing "row row row your boat" in a round. Life is but a dream that so quickly passes. I think of my first friend here. The chain-smoking delivery guy who brings my records. Shin-Otsuka, and the woman with the thick scar that marks her hair-line who jokes with me in 7-11. Otawa-Dori, and the old man we used to greet everyday to and from school. Dragging his tiny dog along on stiff legs in the heat and the cold. The dog died and the man disappeared. Kohinata, and the woman with the magenta bob, ever-present shades and tight leather skirts, who lives round the corner with a Ryuichi Sakamoto lookalike. Probably in her late 60s, but you still might.
My children play under Mejiro-Dori's highway, where we feed the stray cats, and the cats piss on the parked cars.
It's not places that are important, but people. And I'll take them with me.
David Sylvian: NostalgiaMichael Shrieve: Las Vegas TangoMiles Davis: Sketches Of SpainSting: FragildadVangelis: Good To See YouRyuichi Sakamoto: Before LongCerrone: CorruptionJean-Luc Ponty: Ethereal MoodBill Laswell: Lost RoadsNeville Brothers: Healing ChantFinis Africae: ArmadilhaTania Maria: Come With MePat Metheny: Sueno Con MexicoBowery Electric: SleepJimi Hendrix: Little Wing (Live)
[audio:055-tokyo-to-kissa-4.mp3]Download