All the smart people said they were going late.
I'd been having conversations with people all week about the best time to go to see Harvey at Eleven. The last gig of his current Japanese tour. The queues would be horrendous at 10. It would be rammed until all the "non-music" club kids went home at 4. Harvey would save the most interesting music until the end (which was rumoured to be somewhere between 9 and 12 AM). All the smart people were going to bed Saturday night and then getting the first train in on Sunday morning. I even got a call from The Lowrider while I was taking tea with the original Disco Child in Shimokitazawa, questioning me on my plans. Informing me of DJ schedules (Garth was on til 2). "So what time you going then?" The Lowrider, he wasn't going at all.
I was going early. I figured if the evening was gonna move from the edgy and uncomfortable to the ecstatic then I was along for the whole ride. Ease and convenience have never brought me anything of lasting value.
Waiting in Bar Jam at 10PM sharp with Sir Bruce. Wondering where the fuck everyone else is. Watches were supposed to have been synchronized. Continually having to go back upstairs to pick up reception and apologetic missed calls regarding re-visited ETAs. Joking, that with everyone being smart, the queues would be at 4AM and not 10PM. Obviously, getting a bit anxious to leave.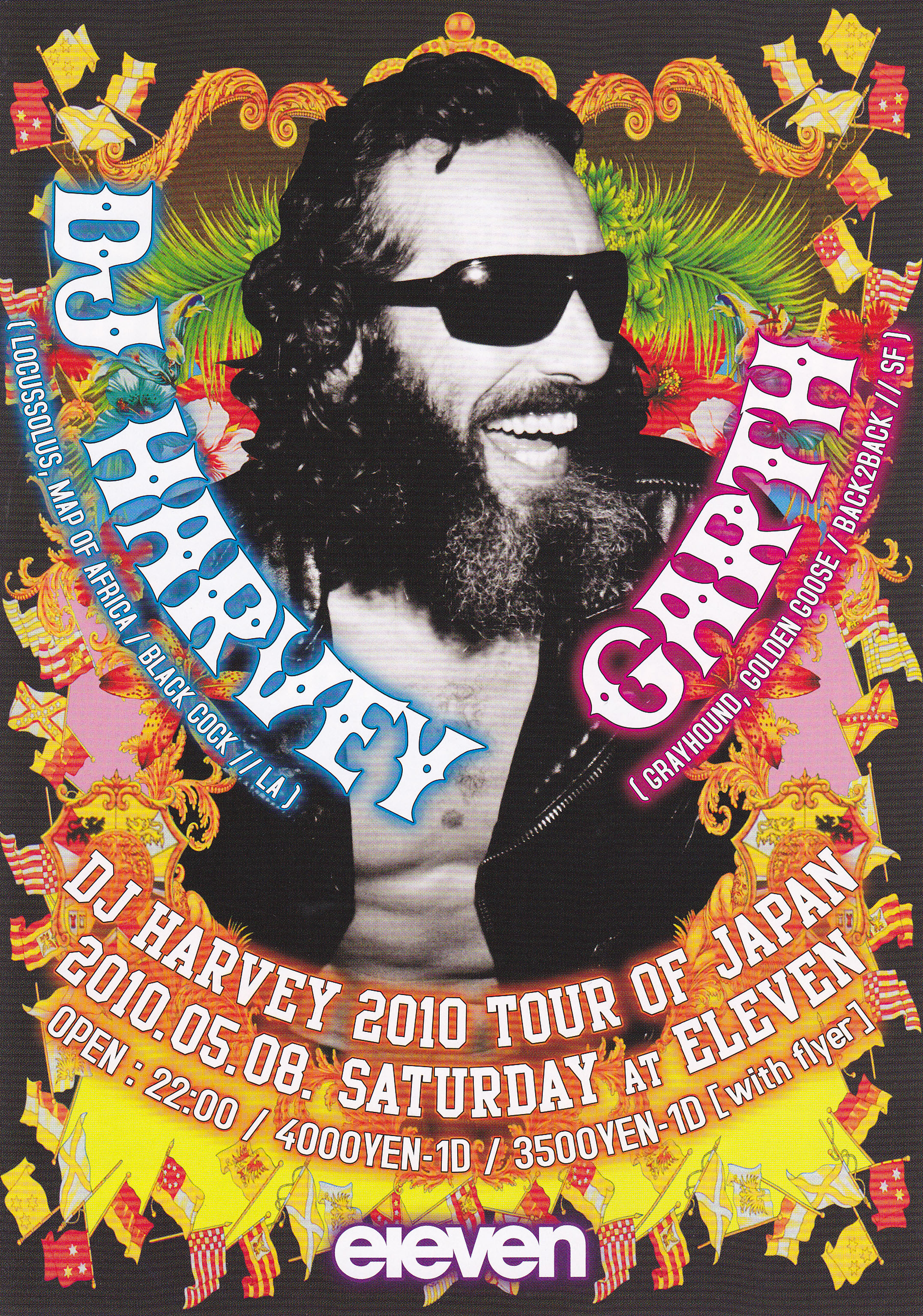 11:35 outside Eleven and there's 10 of us standing there. Basking smugly in the wisdom of our decision I walk through the doors of the club to greet a queue of about 100 on the stairs. Not so bad.
1AM and the club is packed to what must be beyond capacity. Garth's set is being pumped upstairs and it's classic content causing some discussion in some quarters (Tamiko Jones?). Once we've actually moved downstairs though Garth plays an edit of an 80s track and you can feel the energy in the room step up a level. Me and Spacey compete to try to work out what it is. It's Japan.
5 to 2 Harvey appears. No one can move. Even enthusiastic head-nodding is likely to butt your neighbour. 2AM and the club fills with the sound of monkeys chanting, then the voice of a very stoned god attempts to tutor the crowd on the path to enlightenment and unity. In English. Then it's a re-edit of the Black Cock edit of The Dells. At the "No Way Back" chorus the volume is dropped but there is only a muffled response and I wonder if it might be a bit ambitious even for Harvey to attempt a sing-a-long on his first tune proper. I wonder if it's all gonna go pear-shaped. Three records in 30 minutes, unable to do more than a vague bounce, I know I need more drink.
On my way across the dancefloor to the bar a young Japanese guy bumps into me, takes the slice of lemon out of his mouth, puts it in what's left of my existing drink, and then stares at me. I don't feel particularly threatened but I am surprised. Last time I was here, around a year ago, when the Idjuts played the closing week of Yellow, I could never have imagined this happening.
The crowd is younger tonight. My experiences have made me think that if I'm having a splendid time it is only natural for me to turn round and either hug or vigorously shake the hand of the complete stranger next to me. The people here tonight aren't old or stupid enough to have such behaviour within their frame of reference. From their point of view, I guess I might not be too happy about an old bloke I'd never seen before currently suffering from a rather unpleasant eye-infection and who can barely string a (Japanese) sentence together, beam at me and attempt to perform some alien introduction. The crowd are younger and I ain't getting any. Maybe I shouldn't have cut my hair.
Casualties line the entire run of the narrow stairs as I make a move back to the lounge. Heads hung in their laps. In the lounge you still can't move. And still with only nostalgia as my guide I'm reminded of that space that used to be at the back of the Soho Theatre. A real buzz about the place. Endless excited conversations. A who's who of Tokyo`s surprisingly small House scene.
The red-head that makes geishas look tanned says "if he played the Birdy Song, then everyone'd still go nuts", but that's not true. The only people in those Stussy tour t-shirts are staff. What is true is that there is an awful lot of love for the man. And I think that's purely because people genuinely feel that they get that love back. I don't think anybody has come to hear the most amazing DJ set of their lives. They are here to show support for someone they consider a friend. It's a welcome back lets have a party, not an arms folded waiting blow me away.
5AM and I've got to give downstairs another shot. Macho's cover of The Spencer Davis Group gets chopped and teased for at least 20 minutes. This time the sing-a-long trick works and when the volume is dropped the whole of the dancefloor screams "I'm a man, yes I am, and I can't help but love you so". All I can see is Harvey's smile. All teeth. Tuesday morning and I'm still stuck singing this. And humming the Dells.
From the camp euphoria of Macho the room is dropped immediately into dubbed out ambience. Sounds like Basic Channel to me. A more up-to-date guess might be Intrusion. It sounds huge. Immense. There's apparently been a lot of on-line discussion, none of which I've read, on how Eleven's sound system compares to the original Yellow one, which was unfortunately fragmented across lucky clubs and bars when Yellow was forced to close. The Yellow system having been based on that of the Paradise Garage. I can't make any comparisons, but if you do go to Eleven, make sure you get over to the right-hand side of the dancefloor. The sound is about 100x better over there.
Thirteen odd minutes of Jimi Hendrix's '1983 A Merman I Should Turn To Be' through deep delay and I seem to have drunk myself sober. The beautiful woman my imagination had my good eye on is in the arms of one of my best friends. I have to find and check out of my hotel in three hours. I figure it's time to go.
On my way out I bump into Nick The Record on his way in.
The queue still coming down the stairs.
The smart people, they never made it.
Harvey's re-edit of Macho 'I'm A Man' (hacked from a mix)[audio:macho-harvey-edit.mp3]Download