Above Machine is the new label from production duo The Project Club and they've given us the first twelve to listen to. Its a tidy little package bringing in two original tracks and two of the best in our game right now on remix duties.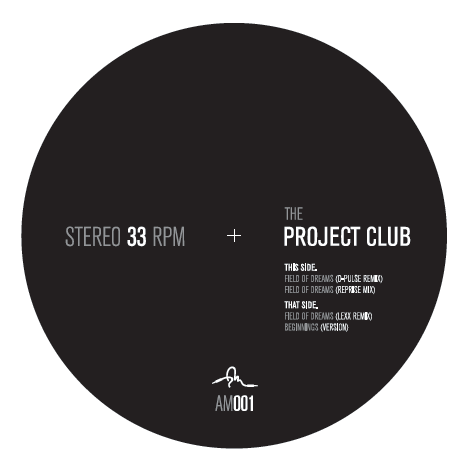 The twelve kicks off with a remix from D-Pulse. He's doing good things right now. His remix for Paul Weller is well worth checking and this one again brings more of an electronic vibe to the party. I like his sound. It's really well mixed, brings a new feeling (much like Tiago and Cos-Mes do) and I look forward to hearing more from him in future. This mix is worth buying the twelve for alone.
[audio:Field_Of_Dreams_D_Pulse_ Remix.mp3]
Next up is the original version of 'Field Of Dreams (Reprise Mix)'. This one lets the guitars roll, adds a Prophet synth hook and has great congas. As the guys say, 'best served horizontal.'
[audio:Field_Of_Dreams_Reprise.mp3]
On the flip that Dosci soul Lexx gets to work. He's very much on a live percussion and instrumentation tip right now and doesn't disappoint with his remix bringing it all together and letting it roll along with understated synths and the guitar. One of those tracks that will stand up for a long time.
[audio:Field_Dreams_Lexx_Remix.mp3]
'Beginnings' apparently started off life as a remix but ended up staying in their own draw to be released here. Its a long drifting track with an ambient intro best heard drifting across to you in a sun-kissed setting. If they keep this up it'll be a great label. The twelve is out mid-September and as someone said the other day on Twitter, 'five dancing men'.
[audio:Beginnings.mp3]