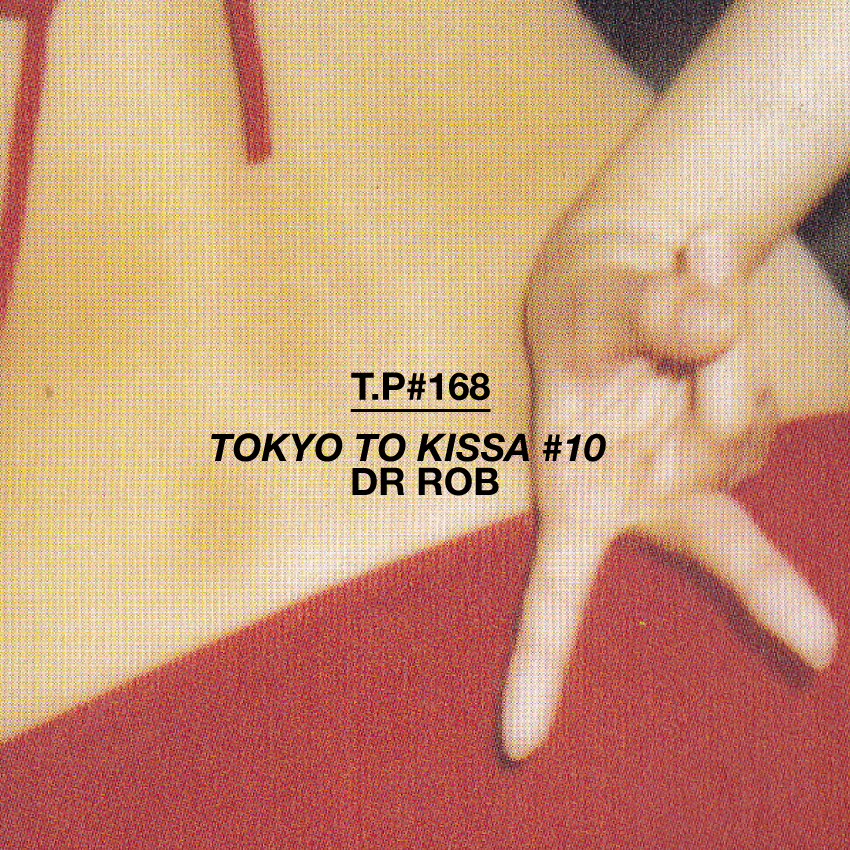 The Tokyo-To Kissas were made, one a month, during 2007. My first year in Japan. Prior to the move to Tokyo, I had spent much of my free time recreating Harvey`s Moonshadow sessions in a shed at the end of our garden in Croydon, so I was already on a pretty mellow one. Then someone, probably Tim, gave me a load of Jose`s Café Del Mar sets, about ten of them on a CD. While a Pre-90s Balearic obsessive, my attention had been focused solely on Alfredo`s box, Blancmange b-sides, wondering why there weren't more records like The Woodentops, and why you couldn't get hired playing records like that anymore. I knew very little about the Café Del Mar. Although I had thrown up there once. Listening to Jose's tapes, I thought "I've got loads of stuff like this. I can do this." I had originally planned to sell all my records in Japan. To quit DJing. To let it go. Anyone who knows me will know that I am always saying this. But something always seems to come along and spark my interest again. DJ History, the Sarcastic mix, Baldelli's tapes. I fast found that I couldn't "do this" and that telling a hopefully entertaining story using largely beat-less instrumentals is a lot harder than you might think. A fact that anyone who has listened to a To Kissa can attest to. I was uneducated, but with assistance from friends like Moonboots and Jolyon, who provided mixes and IDs, I began to acquire "Café Classics" from Tokyo`s countless second hand record shops. Awash with Windham Hill and ECM. The To Kissas were really just compilations, made for friends, of what I`d found that month, with a few other things I thought might fit thrown in. Paul was kind enough to run with them.
After I'd done a couple, I realised that they were never gonna be tributes to the Café. To this day I think I've only made one "mix" with a beach in mind. They were all made late at night, when the kids had gone to bed. And I had started drinking.
That year I was a mess. I had quit my job to move and look after the boys. I was often on my own. After dropping my sons off at school, I thought about killing myself pretty much every morning. But then there would be the laundry and the vacuuming to do. I had just turned forty, and mid-life (well, you can only hope) and my hormones, as they approached the cliff at a clip, were a devil on my shoulder taunting me to continually prove that I was a man before it was too late. I never thought I measured myself that way. I guess we all do if we are honest.
I was also hung up on the language. I was lost. I spent hours every day studying. And still I was lost. My frustration and fear would peak into bouts of anger. Tired of being ignored. Tired of being treated like an idiot. "I'll have you know I've got a PhD." But I was an idiot. I couldn't read or write. And I was essentially deaf and dumb.
Paul once said to me "You seem to be on a bit of a downer about Tokyo. How can you be on a downer in such a fantastic city?" He made me feel guilty. I was on a downer, and I was blaming the city, which wasn't fair. Tokyo is an amazing place. It was just me. And my age. Consumed with regret (such a bad place to be) and having the "luxury" of the time to reflect on all my bad habits and daily mistakes. Driven crazy by all the hard naked bodies I would never get to see. The lingerie of dreams. Gone. Days bitter with "Why did I never sleep with a blonde when I was at university?" Nights awake thinking "I'll probably never see my grandchildren". "Never. Never. Never" was my mantra.
The To Kissas were something to lose myself in. In hindsight, to wallow in. I'd never call it a night and it would always end with me waking on the floor, 'Let It Bleed' still playing, and the weight, or lack of it, of the two litre carton of sake informing me that it would be a few days before I would feel "normal" again.
I missed my friends, and I missed my youth. But I don't feel like that now. I threw caution to the wind and back-tracked completely. For the next eighteen months I DJed, for alcohol, largely, in every bar and club that would have me. Stopped worrying about language. Developed my slapstick. A drunken Keaton. Developed a thicker skin. Learned to listen. Made a hundred new friends. Grew my hair. Got myself a reputation. I look at the photos and I laugh. I was so tired. I had a great time but something had to give. I don't think I've ever seen reason. My wife is the reasonable one.
Now I live in a house that we built in the mountains. A car ride away from the nearest town. I can go a whole week without speaking to anybody other than the kids. I have escaped the imaginary tough guy who was always at my back. I can step from his clutches when I feel his fingers at me. I have also been unchained from lust. I don't drink alone since the earthquake. And I never play old records late at night. There'll be a time when I can do Tim Buckley again, but I'm not sure when.
I read to my kids every evening. Even though they barely understand a word, I know they appreciate the effort. I am most definitely not sat at my computer or out of sight playing records when they are around. I am never busy with anything other than them. When they are around. With all my might I am still trying to listen. Perhaps I've made some progress. But I am not the man I would like to be. I must take responsibility for that failure.
So this is the last one. The last To Kissa. Sad drunk Dr Rob has gone. Happy sober Dr Rob moves on. I`m not sure what I'll do now. Not sure what I'll do next. Maybe I'll re-string my guitar. Maybe I'll write a book. Maybe I'll teach myself to paint. Maybe I'll be content doing nothing.
Looking back, loneliness seems to have been a motif for these things. A hopeless romantic turned hopeless. I'll try not to repeat myself. Half a bottle of red, half a bottle of white, two quarter bottles of shochu. The last of the booze. Surrounded by ghosts. One last dance with a teenage sweetheart. I count myself lucky to have lost so many things to distance, and time.
Fallen leaves. Koyo a memory. Thin fingers of maple, chestnut and oak out stretched to the sky. Palms face the mountains' blue. I'm chasing you through snow, and you're laughing. Your lips against white. Sledging in Waddon. I am in a gang. The girls borrow gloves and scarves, and we are all laughing. One for Dave. Banging the wrong pieces into his Mum`s jigsaw when his back was turned. The huge house in Norbury that was my sanctuary.
Drunk in Headingly at 9 AM. Waving good-bye. Bottle in one hand, as your folks come to pick you up. I'm not going home. I'm gonna do the Winter here. I'll be fine. I have of late I know not why. Big H and little h are drinking Night Train from quarter bottles kept inside their jackets, when the weather really called for a coat. Heading for the launderette and another night full of possibilities.
I'm in your room and you're pulling all your treasures from your chest. I'm taking the piss, and you're just laughing. In your tom-boy shorts and Doctor Martin's. I read every thing wrong. I never had a clue. Expresso in Piazza Del Popolo in Ascoli Piceno. At night at the opera. Your nipples bold through black silk. A naked embrace. Days of nothing else. Exploring each other. Exploring ourselves. Secrets were the end of it. Left it broken. Left us broken. A Sunday morning basement flat full of people I don't know. The buzz of their opinions and witty observations fucking with my head. Coming down is a serious business.
Another cold Autumn sun, watched with weed, from a Victorian window as the No. 19 goes past. One last look. An old life in boxes around me. Ready to go. Never more ready.
Mythical creatures merge with lost loves and I'm not lonely anymore. You are all here with me. Your arms around my shoulders. You stay until the music ends. So I put the record on again. And pour another drink. I can do this maybe three times before I stop crying. Before I resign myself to silence.
A "mix" seems kinda pointless, when one tune could say it all."Baby, baby, let's go out tonight."The comfort of strangers.One last blue hurrah.
[audio:168_Tokyo_To_Kissa_10_Redux.mp3]Download