I've not done a review for a while so bear with me as I am a little rusty but having been sent the new Celluloid Records compilation on Strut I thought it was time to put pen to paper (in a metaphorical way obviously).
Lets start with the basics of the record label the logo (at the top). Job done. They nailed it. Its a classic.
As a label its all about timing – be a part of something. A scene, a movement, something, anything. On this one Celluloid got it right. It was started in the late 1970s in Paris by Jean Karakos who previous to that had been running record shops and the heavy jazz label BYG. Timing was kind to Jean as during the early 80s he traveled regularly to New York and met Bill Laswell, a bond was formed as Laswell was also pretty fresh to NYC, and off they went, producing and releasing his music.
New York in the early 80s. Probably a place most of us would love to have visited. Karakos got into hip hop and got involved. From suggesting, what would become the infamous sound of many of our youth discos in the riff for Herbie Hancock's 'Rockit' which he heard at the end of a demo of the track, to releasing the likes of Fab 5 Freddy's 'Change The Beat' (here in male form though have to say would have liked to have heard the female version as there aren't enough cool records with beautiful sounding French women rapping), Futura's 'Escapades…' with The Clash featuring as backing band and the Rusty Egan produced 'Wildstyle' by Time Zone. They were a part of something.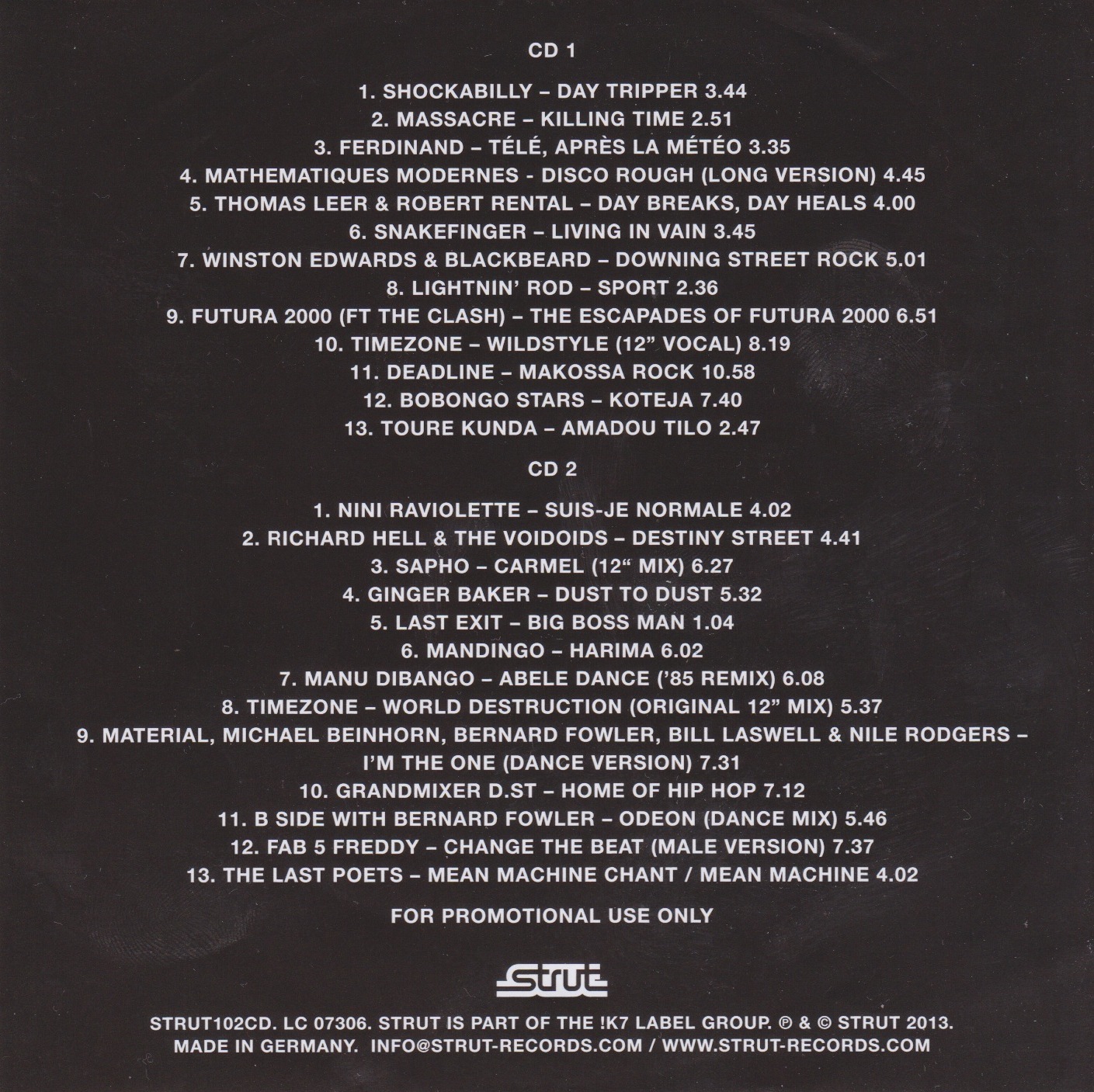 Jean didn't sit still on the, what must have been pretty exciting, early hip hop scene. He was also licensing Last Poets albums ('Mean Machine Chant' featured on this comp was sampled by Bomb The Bass on 'Beat Dis') and getting involved in what was to become the world music scene with Manu Dibango, Youssou N'Dour and others. 'Harima' by Dibango which is featured here was a bit of a Ku Classic and you can hear why with its modern beats coupled with vocals and African instruments. Its ace. Also on a diggers balearic tip there is an extended 12″ mix of Sapho's 'Carmel'.
Karakos clearly had 'ears' and knew what was what inherently. Its that mix of world, post punk, hip hop and downright funky weird disco ('I'm The One') that makes the label very very New York and very very good. One of the best in fact. Recommended.
Change The Beat – The Celluloid Records Story 1980 – 1987 is out on Celluloid/Strut on February 25th 2013.