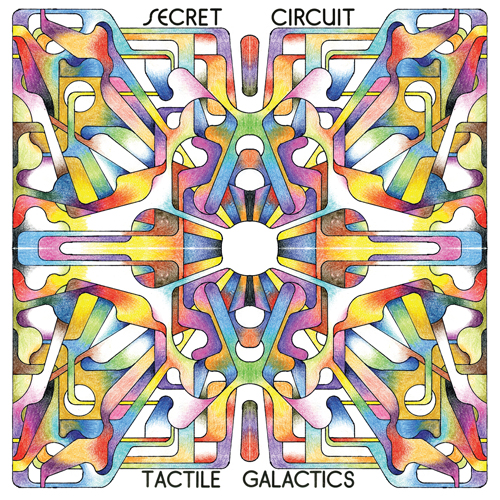 I am going to run through this one in real time as I try to escape a bad mood that has been following me round since yesterday. Am thinking some of Eddie Ruscha's Secret Circuits are the perfect acid tinged tonic. You know Eddie's stuff. There was the 'Tropical Psychedelics' compilation recently bringing together tracks from his tape releases, he was part of Laughing Light of Plenty with Thomas Bullock, part of that Food Of The Gods crew and in one of the first American noise bands signed to Creation but that was way back when before.
So here we go. Pressed play and we are off with 'Higher Heights'. Its like a good time trip that has sort of everything you want and is an easily understandable entry point but one the heads can get too. Sun-kissed – subtle guitar – congas. In. 'Escargot' next and his background is starting to make more sense. This sounds like those wall of sound My Bloody Valentine records taken to the dancefloor via Italy in the mid-80s. Vocals are 'walled up' and the synths flip about in the background. The sweet French lady arrives and whispers in my ear and I'm sold.
Is it wrong to review albums like this? Anyways, it's nailed my bad mood to the wall and has flipped the filters open with 'Nebula Sphynx', a track you might have heard before. Toms, a drum machine, and a dirty synth line. Think Visnadi's 'Racing Cars' for the modern generation. Very good very loud. Sometimes the simple ones kick through. It's also got a great ending. This is good. 'Afterlife' comes in and its a rolling bassline with synth flicks moving about. Reverbs drop on drums, vocals arrive, synths bubble and run for the rest of the record while gentle vocals and an acid line bring you home. 'Deep Stations' is drugs on wheels. Good drugs on nice wheels. The orange juice arrives to take the edge off it via 'Sync or Swim'. Its no walk in the park but its the mellowest thing to date.
More wonk arrives in the form of 'Words In Transit'. Its got movement this one and again a proper arrangement that builds to a melodic flip out of an ending. 'Parascopic Rope'. This sits perfectly with the 'Nebula Sphnyx' track earlier in the album, though a more heady version. These two were his debut for Beats In Space a while back. Drums delay away and the sound of old techno records move between my ears.
Ok. Home run. 'Mountains' is made for them. Look up and get lost. Open sky an option. 'Rogue Unit' is part of the noise side of the album. I like it already as it does that phasing thing on the hats that always makes me smile. Slowly up and down. I think this is one of my favourites on the record. Tidy riffs and long sounds of chaos in the background. 'Exalter' is the sound of Fuck Buttons but more mellow though not actually that much more mellow saying that. They should hire Ruscha to produce their next record. The last 'proper' track on the album is 'Milk'. It should be the sound of the whole next record. Its got that Kraftwerk chug and is over far too soon.
Ruscha Jr (check his dads stuff) has got it right with this album. From the amazing artwork seen above which was drawn by him through to the music. Its meodic, has a proper palette of sounds, its distant, and it needs some proper time to fully appreciate. Tim Sweeney of Beats In Space has to be happy with this one. They nailed it.
Secret Circuit's 'Tactile Galactics' will be released on April 30, 2013 on Beats In Space Records as a limited edition 2xLP, CD and digitally. You can pre-order the album here.