So another week and here we are with our second club column. It'll run from here on so you know the deal. If you are doing something we might like then shout as you know how we like to support things that are in our ballpark. So last week was a fun one. London played host to Lexx and Gerry Rooney at the Claremont / Breaking Even party with much great music but it maybe suffered from a monsoon that probably put a few people off leaving their houses. Sound could have been louder but other than that it was a night of great music from Gerry and Lexx both playing across the board with Lexx coming with some tougher records towards the end which was really nice to hear him play. Day before we were at Mison's market thing which this week has the guy from Ibiza Sonica Radio (I think!) and Phil in control. Come down and say hello. Its become the hang out this summer. Anyway, Balearic Mike was in town and it was a fun night. Not as many dancers as the week before but the music was the same high quality with a lovely crowd of people hanging out.
Discussions with Trevor Jackson and Mark Moore on who played House first were had and I will follow that one up with a full interview with Mark Moore in the next few months. He's got a new S'Express record coming soon with mixes from Carl Craig and many other good people so hopefully more news on that as and when. After Mison's thing me and South London Spence popped down to see Nancy Noise at The Half Moon who was cracking out the Amnesia/Future classics for a crowd that look like they know how to enjoy themselves. Looked messy but fun. Ross Allen has his thing down there this week Jonathon Moore of Coldcut and some of the Ninja Tunes lot guesting. Have a Google if you're interested as I don't know the details. Anyway, ramble over whats on this week?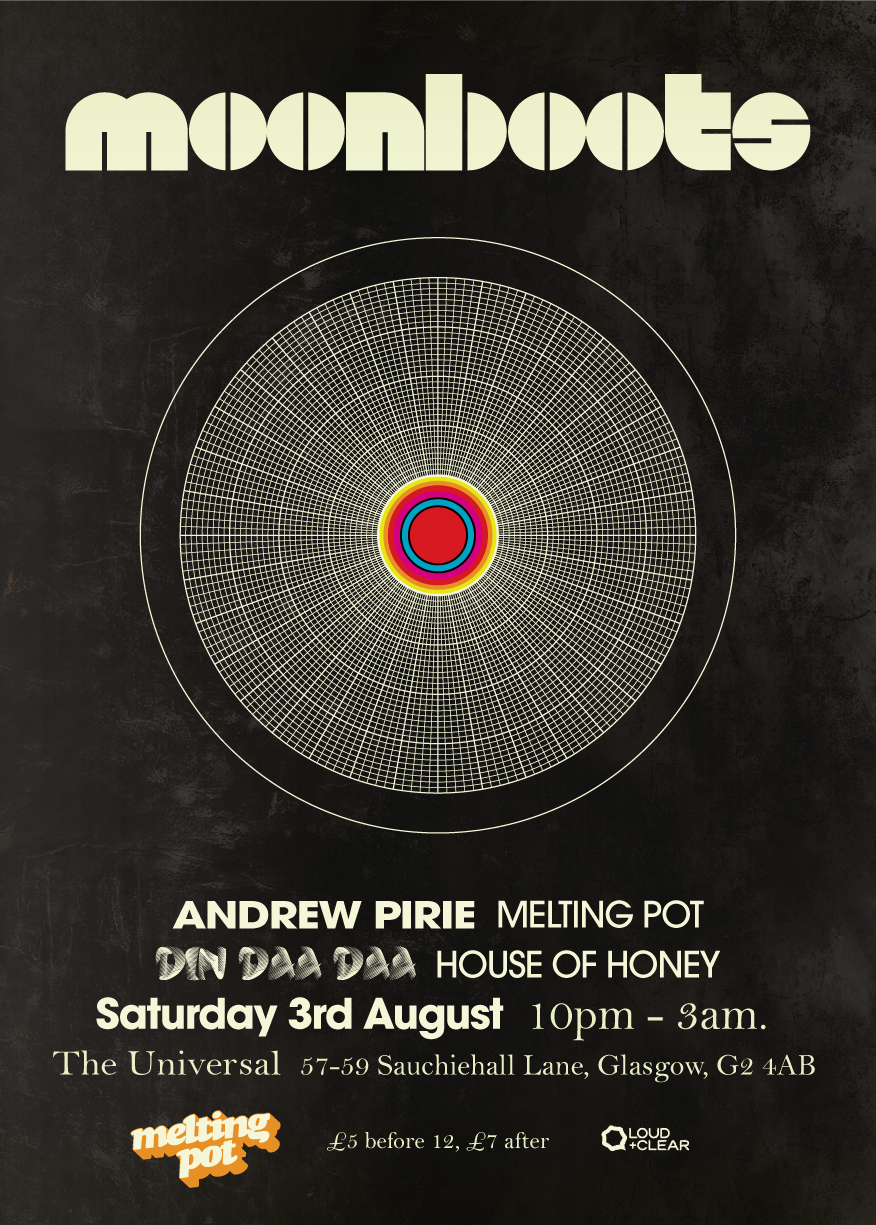 First up is Moonboots in Glasgow on the 3rd of August with some of the Melting Pot chaps. Massively underated party DJ is Moonboots. It's at The Universal in Glasgow which we hear is a loft-style venue and its the first time Moons been there to DJ so bound to be a good one. Andrew (Melting Pot) and Denise who are in support and are putting on the party have a long history of music between them and if you're local I'd imagine you know them anyway. Andrew's club Melting Pot takes a couple of months off over each summer, hence this special one off event that is simply going under the name 'Moonboots'. And why not. If you want to find out more hit the Facebook event page.
Moonboots Top Ten
01. Marcel Vogel – Body To Body (Ruf Dug Mix)02. Coyote – San Raphael (Rune Lindbaek Mix)03. Cantoma – Alive04. KM5 – La Luz05. Begin – Names In The Sand06. International Feel – Sketches From An Island 107. Max Essa – Burning Palms08. The Gino Fontaine – Revnorev09. Christophe Laurent – Nuits Brésiliennes10. Stratus – Lune D'Afrique
//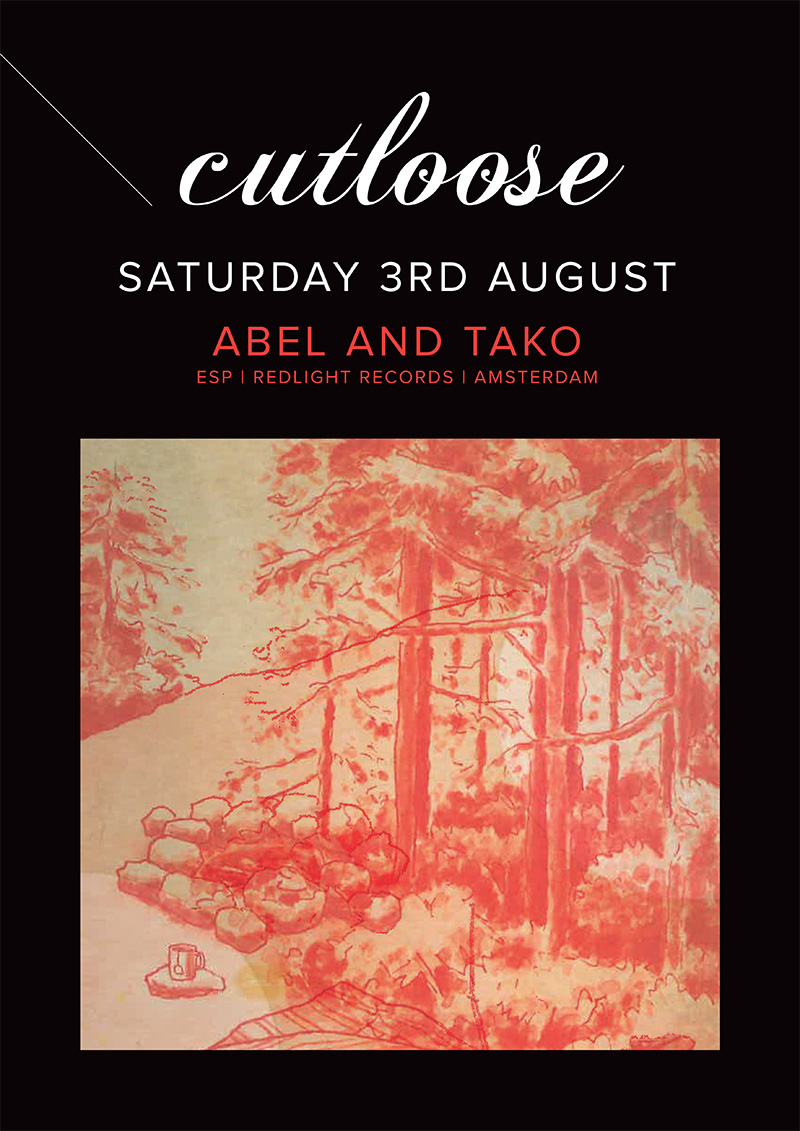 Coming down from Scotland to Manchester next up we have Abel and Tako at Cutloose. We like the lads from Cutloose. They make it work. Down to earth and know what they like with a crowd that is the same. It'll be the first time that Amsterdam's Abel and Tako have played in Manchester. Am sure most of the heads know who they are but Abel and Tako are pretty known DJs who also run one of the best record shops in the world right now Redlight Records (so named as it sits bang in the middle of the special ladies). They sell rare but great music as well as releasing their own productions and edits. Abel has had stuff out on ESP Institute and Ambassadors Reception and Tako is in Sombrero Galaxy with Jonny Nash. They've also just set up a new re-issue label with the first one set to be a bit of an underground smash. The music promised is going to run from mind-blowing Cosmic to New Wave, Disco to Afro and Soul to House and Electronic rarities. The venue is The Roadhouse and it runs from 11PM.
Redlight Records & Cutloose – 10 From The Party
1. Georgie Red – Help The Man (Help Yourself Version) – Ariola;2. Jolly Kunjappu – Sock It – Corona3. Yuji Toriyama – Donna – Canyon records4. Pino Daniele – Keep on Movin' – Bagaria5. La P'tite Fred – Stormy Love Affair – Phillips6. Tom Ware – Closet Funk – Sky records7. Baad John Cross – Gim Me Some Loving – Coconut8. Vasco Rossi – Deviazioni – Carosello9. Charly Kingson – Nimele Bol – Ariola10.Billy Woost – Body, Body Love – New Polaris
//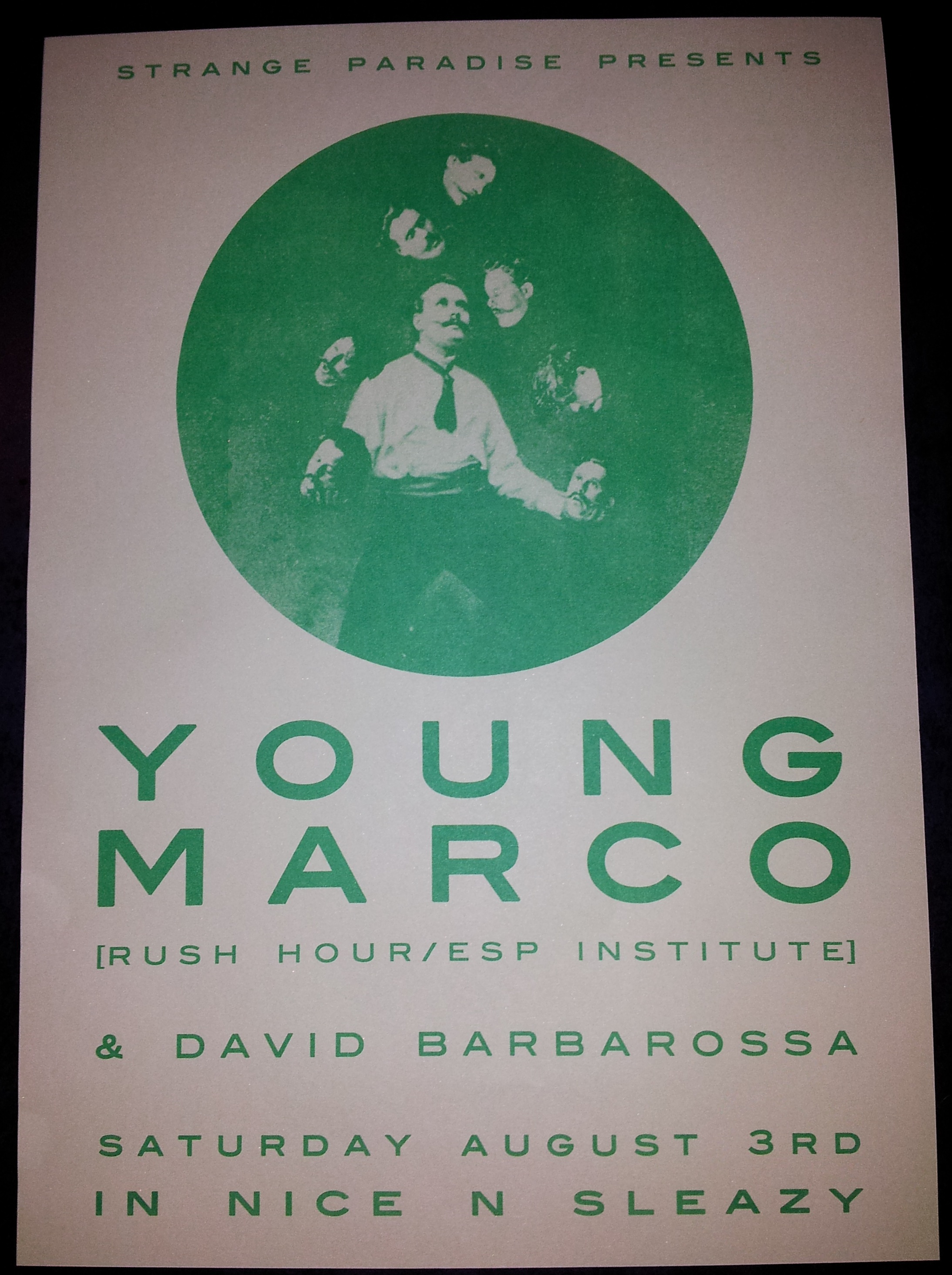 Next up is another one in Glasgow in Saturday night (hit both parties if you're local). This one sees Young Marco guesting alongside David Barbarossa for a night called Strange Paradise. I like Young Marco. He seems like a good one and has been putting out too many good records recently with a sort of nicely twisted edge to his productions though they are all still very playable. Like a more leftfield Terje. He's got a good sound and after watching his Boiler Room thing is a tidy DJ. He plays across the board with everything from New Age to sleazy Disco and raw Proto House to Afro anthems. £4 to get in and its at a place called Nice N Sleazy (I think). 11:30 – 3:00.
David Barbarossa's Strange Paradise Summer SizzlersQuanah Parker: OblivionIasos: Celestial Soul Portrait Luke Wyatt: Teen HawkKen Elliot: I Want Your BodyFrancis Bebey: Coffee Cola [Young Marco remix]Golden Teacher: DringhousesStefan Blomeier: A Path Leading NowhereColleen Grant: Latin ParangFARB: Voices Inside My Head [DBs protected sax edit]Michael Boothman: What You Won't Do For Love
//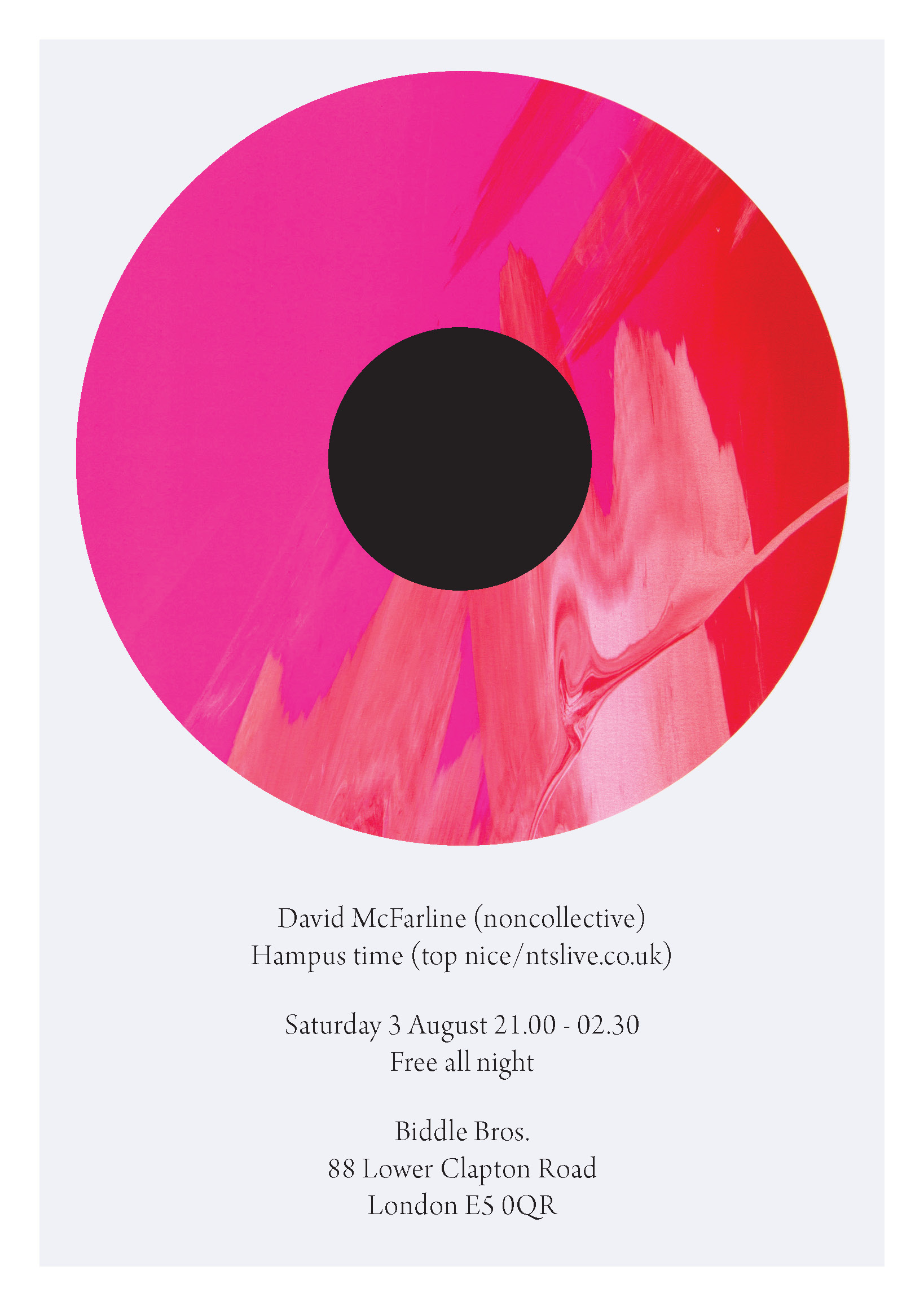 Next up is Biddle Brothers in Clapton, East London, where its free to get in to go see David McFarline from Non-Collective DJing with Hampus who did a great dubbed out mix for us recently. Both heavy collectors and this is more of a hang out vibe so I think it'll be pretty nice. David knows his onions with his recent 12 (you recognise the artwork above I am sure) selling out in next to no time so expect the good stuff. The address is 88 Lower Clapton Rd, London, E5 0QR and its runs from about 9 till 1 or 2.
David McFarline Five
Alvanius And The Fascinations – Voodoo LadySentimental Trumpet – Disco DobleYannick Chevalier – Ecoute Le Son Du SoleilSanto – Chief's DeathMarti Caine – Point Of View
Hampus Time Five
Marcel Vogel & Milos Gersi – Body To BodyTyrone Evans – Rise Up (Disco Mix)Ptaki – KrystynaBaris K – 200 (Khidja & Balabas Remix)Miss Misty feat. Dillinger – Dance, Dance, Dance
//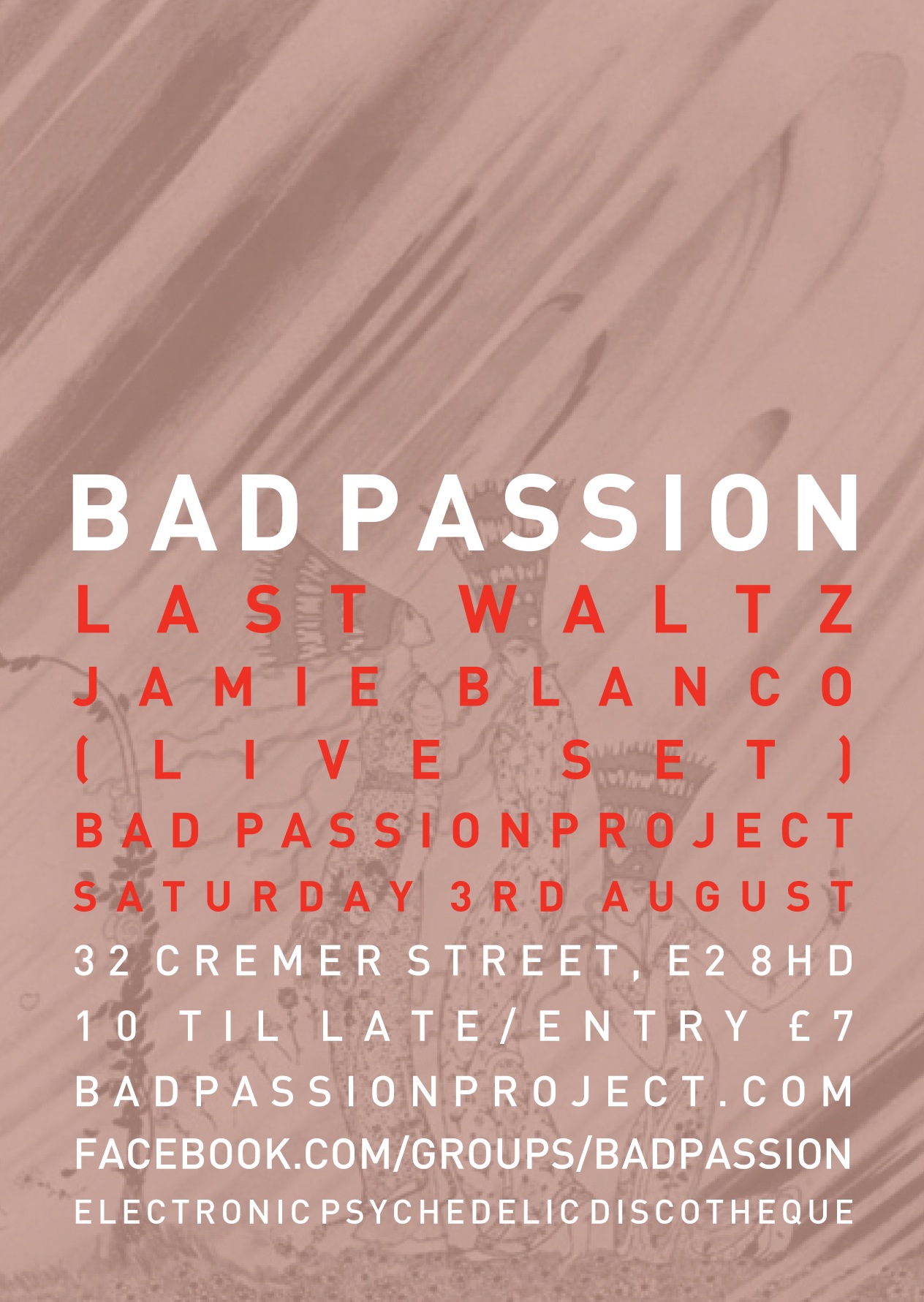 I won't shout about this one too much as they have their own thing on the go and its always good (much like Cedric's Beauty & The Beat) but from Biddel Bros our advice would be to go and hit Bad Passion. This weekend they have Last Waltz DJing and a live set from Jamie Blanco. The address is The Designers Block Studio, 32 Cremer Street, London, E2 8HD and it's on from 10-4:30am and its £7 entrance fee. It'll be a hot one.
Bad Passion Residents 10
1. Machete Savane – The Widowmaker2. Frank and Roby – Level with me3.Black rox – Filaw4. Monty Christo – Gimme All Your Lovin5. No Smoking On The Moon – AM Edit6. Lexx – What-Cha-Ona7.Warren Zevon – Night time in the Switchinh Yard8 C. Cat Trance – Shake The Mind9. Gino Vanelli – People Gotta Move10. ES – Lady Plastic
//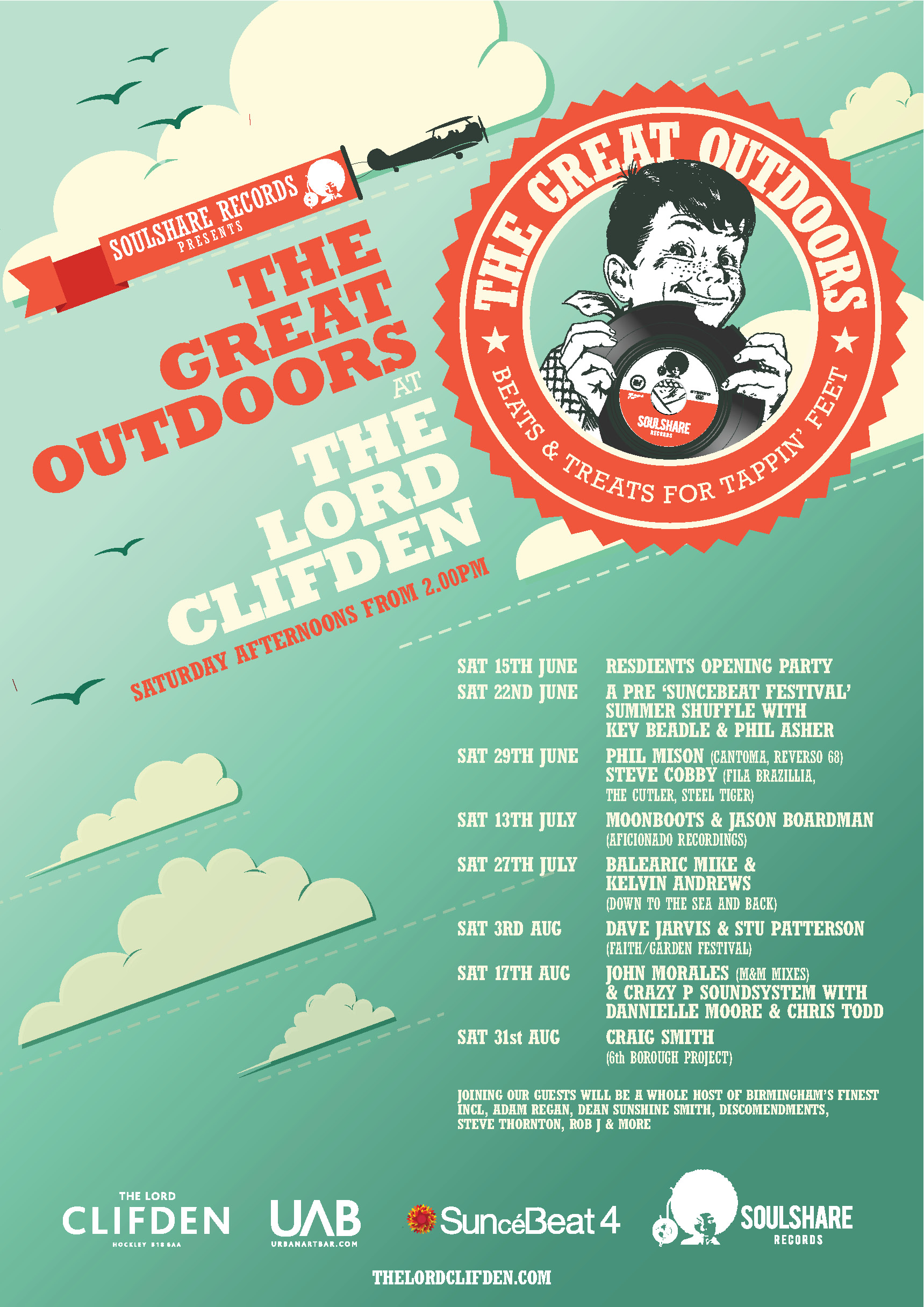 Last one for this week and its back up to Birmingham for The Great Outdoors. I had a watch in the week of a film they had made whereby I think you can stream the party (either live or afterwards) to your front room. They had Kelvin Andrews and Balearic Mike playing and you can see everyone dancing and stuff. It makes you want to be down there with a beer in hand waving your arms in the air. This Saturday they have Dave Jarvis & Stuart Patterson (Faith, Moton, Garden Festival) and Craig Christon (Joes Bakery, Outlaws Yacht Club). All sounds good. It runs from 2PM in the afternoon and is at the Lord Clifden pub which am sure will be know to you if you are from that neck of the woods. In their words, "The point of this party is for folk with a more appreciative ear who cannot always make it to the clubs, to come together in a friendly non pretentious environment to celebrate, appreciate and share in the sounds whether they are the latest grooves or songs that have influenced us all in the past." You can get more info here and here.
Residents Ten
1. Willie Griffin – I Love You2. Coyote – San Raphael (Rune Lindbaek & Oyvind Blikstad Remix)3. Alto – Flowers In The Garden4. The Christians – Greenbank Drive (7″ Backing Track) (well Dr Rob record – Ed)5. Mop Mop – Kamakumba 6. Mojave 3 – Got My Sunshine7. Jex Opolis – Senses8. Biddu Orchestra – Nirvana9. Kwanzaa Posse – African Vibrations (Afro Chorus Mix)10. The Futures – Betcha Come Back
//
Phew. That's it. Over and out for this week. Good weekends all when it comes. TP.