There`s not so much information out there about Boston-born DJ and remixer / producer John Luongo. Despite being instrumental in organizing the local record pool he doesn`t get a mention in the "dance music researcher`s" fall-back / starting point / Bible, "Last Night A DJ Saved My Life", and on Discogs there`s just short a paragraph. There is however, a long on-line interview here at Disco Disco from which I cribbed. Everything else I`m about to write is based on pulling records off shelves.
We`d been talking about "doing Luongo" for a while at Test Pressing, but Apiento and I eternally bounce this question of "Producer or Remixer?" around. When Leo played us Luongo`s mix of Aerosmith`s "Rag Doll", we decided to just do it.
"Bongo Luongo" got his break at Epic by overdubbing percussion from salt shakers and spoons onto a promo and then passing them back the tape. This resulted in him being flown to New York, and put in a studio (of his choice) to mix and produce Melba Moore`s "You Stepped Into My Life". From there he went onto Disco classics by Jackie Moore(This Time Baby), Dan Hartman (Vertigo / Relight My Fire), The Jacksons (Shake Your Body), and Patti Labelle (Music Is My Way Of Life). He did Santana, and pissed off Bryan Adams by pitching him up.
Luongo`s credits went from "mixed by" to "additional production by", I guess as his work received wider recognition and he subsequently gained more clout with his employers. By the early `80s he seems to have been sought out by UK electronic artists (or their record labels), such as Visage, Blancmange and Cabaret Voltaire, to translate their music for the dancefloor.
Mixing for Luongo consisted of overdubbing sax, vibes, & percussion (hence the "Bongo" nickname), and re-recording drum tracks, with the assistance of engineers Michael Barbiero, at Media sound, then Jay Mark, Michael Hutchinson, & Carla Bandini at Sigma and Gary Hellman at Electric Lady Land. CBS got him to work on pretty much everything for Columbia, Epic, Portrait and associated labels Blue Sky and Nemperor, and gave him his own off-shoot Pavillion, which almost signed Madonna. He also freelanced for majors like Atlantic, Warner's, Polygram, London, Sire, EMI, and Elektra. This meant that he worked with a huge range of differing musics, right across the board from underground to Pop.
As well as the aforementioned Amnesia warm up classic from Aerosmith, in this compilation there are records from the sets Baldelli, Rock crossovers from Greg Kihn, Visage providing a seminal Hip Hop break (my life was changed hearing DJ Streetsahead cut between two copies of "Pleasure Boys" at Spatz), Rusty Egan covering T-Connection, and Yoko Ono doing an angular interpretation of Disco (perhaps inspired by Harry Thumann`s "Underwater"). There is also one of the more obscure tracks from Harvey`s Moist top 51.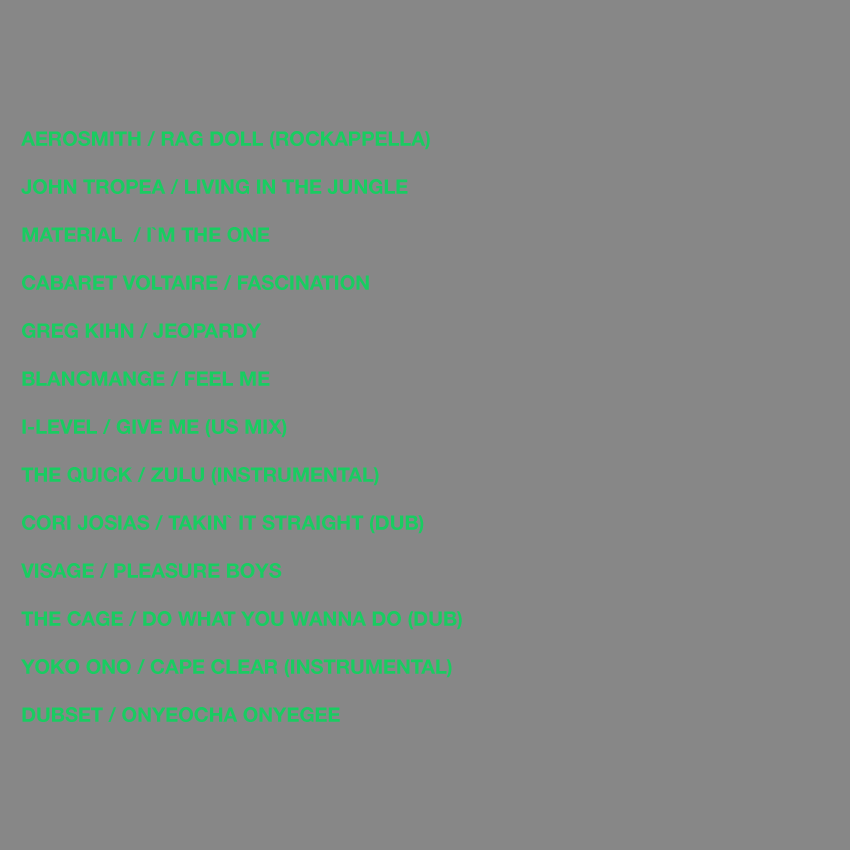 [audio:287_Producers_Series_26_John_Luongo.mp3]Download
Big thank you to Matt of Hong Kong`s Otaku Sound System for The Quick and the Cori Josias.