My Tokyo comparde and sometime partner in crime, Max Essa does the West Coast.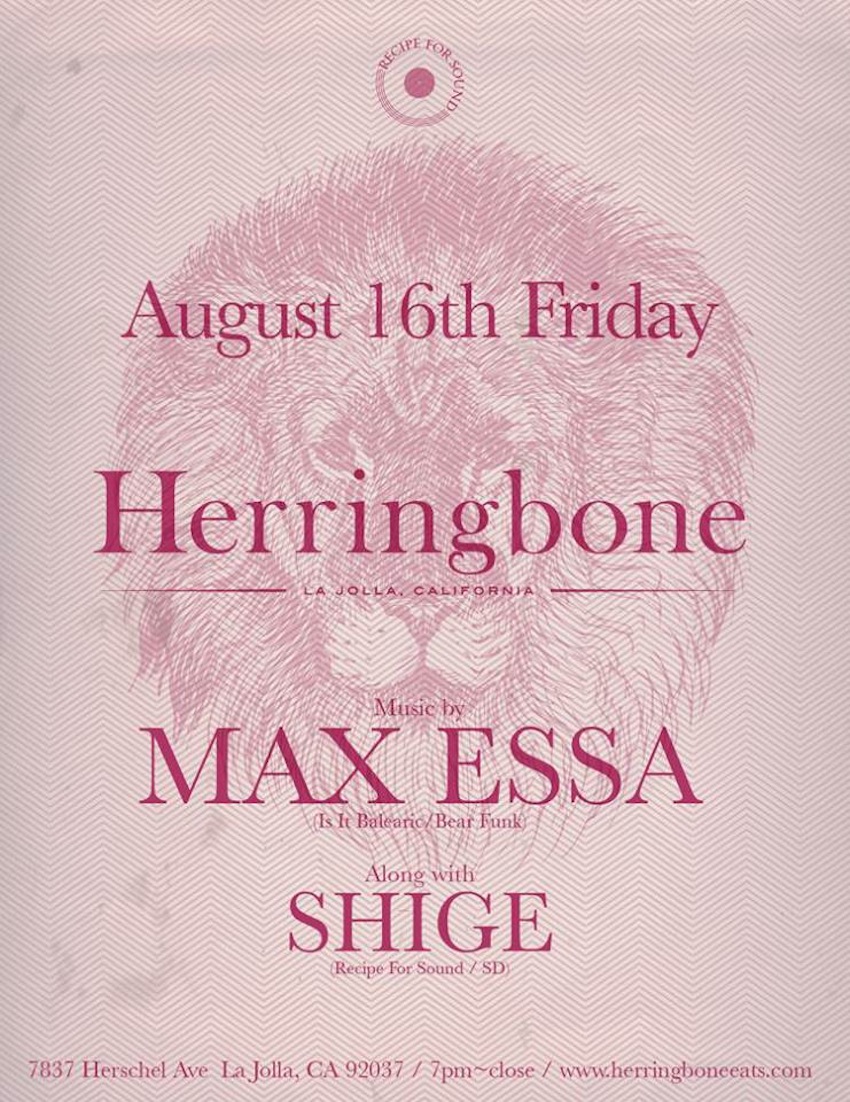 Friday 16th August at Herringbone, 7837 Herschel Ave, La Jolla, California 92037. The party is called Recipe For Sound with support from Shige. Big Hi to Bobby Calabrese.
More details can be found here.

Saturday 17th August Max is at Searsucker, 611 5th Avenue, San Diego, California 92101
More details can be found here.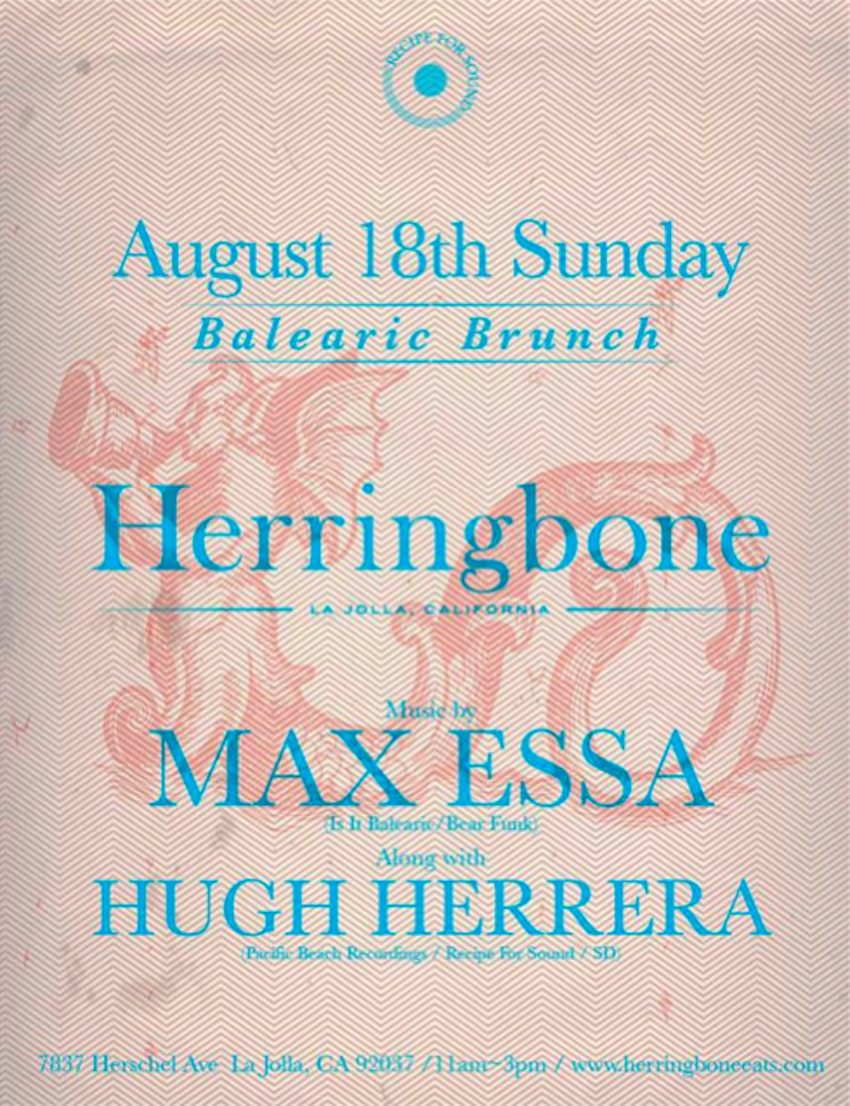 Then he`s back at Herringbone for Balearic Brunch on Sunday the 18th.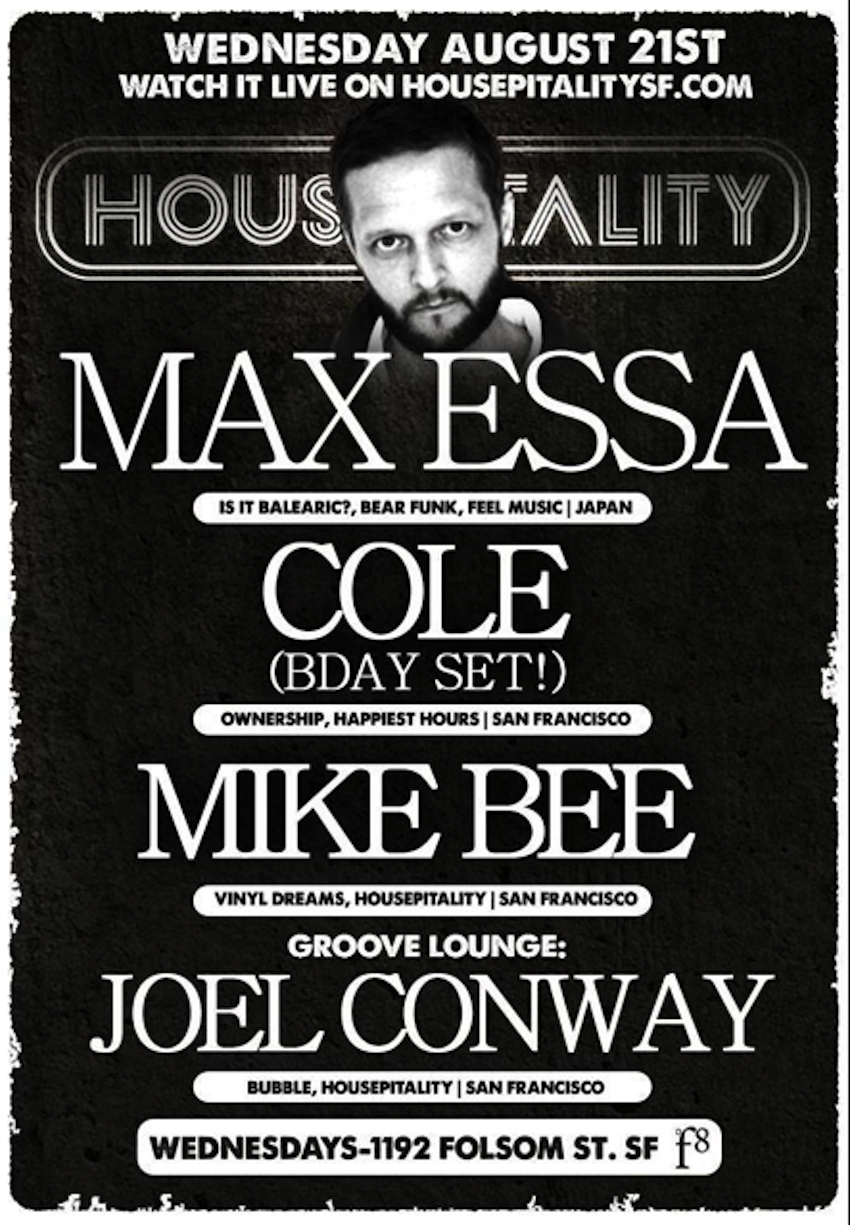 Wednesday 21st Max does Housepitality at F8, San Francisco, CA.Poster replete with very rare photograph of Mr Essa not smiling.
And he ends up on an enviable rooftop on Sunday 25th at The Standard, Los Angeles, CA.
Max`s Top 10 for this trip:
1. Peter Gordon & Factory Floor / C – Side2. Akira Terao / Shadow City3. Dreams Unlimited / Deep In You (LTJ Club Mix)4. Politics Of Dancing / People's Choice5. Lavvi Ebbel / Telepatia (Big Lone Star tune this one / ed.)6. Richard Rogers / Can't Stop Lovin' You (Dub For Love)7. Sally Shapiro / I'll Be By Your Side (Pete Herbert Dub)8. Coyote / San Raphael (Rune Lindbaek Mix)9. Lalomie Washburn / Give Me Love With The Music10. Masanori Ikeda / Afro Tipsy (Almunia Remix)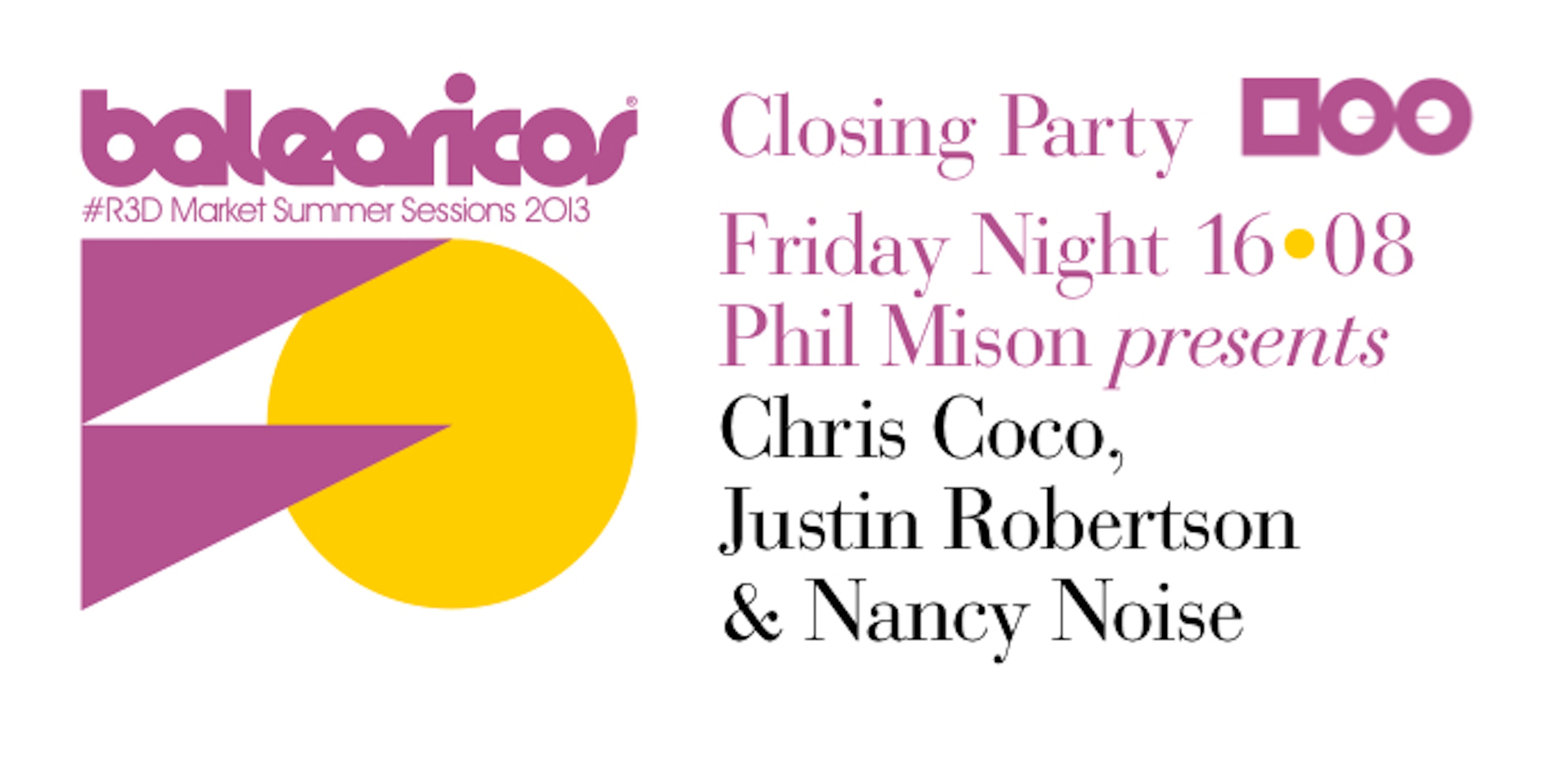 In London, on Friday (the 16th), there is the closing party of Phil Mison`s Balearicos (last one of the summer) at the R3D Market (in front of Red Gallery, 3 Rivington Street, EC2A 3DT), with guests Chris Coco, Justin Robertson, and Nancy Noise. Not much I can say here, other than I wish I could make it.
Chris Coco`s Top 5:
CSL / Rainy Summer – Melodica RecordingsModerat / This Time – Monkey TownHaraket / Taint (Cottam Remix) – White LabelFela Kuti / Shakara (Ossie's Bump Edit) – Some Think SoundJose Padilla / Elixir (Chris Coco Remix) – Melodica Recordings
Phil Mison`s Top 5:
Coyote / San Raphael ( Rune Lindback remix )Cantoma / Claudio's ThemeKm5 / La LuzFlexipop / ReworkElsa Fillasaro / Dream Eternal
Nancy's 5
Coyote / San Raphael (Rune Lindbaek & Oyvind Blikstad Remix) / AficionadoDecadance / On And On (Fear Keep On)(Dancesology Dub) / Disco ModernismThe Gino Fontaine / Revnorev / ReVnoCantoma / ALIVE & Just Landed / HighwoodJamie Fatneck & Lucci Capri / Messalina Volume 9 / Messalina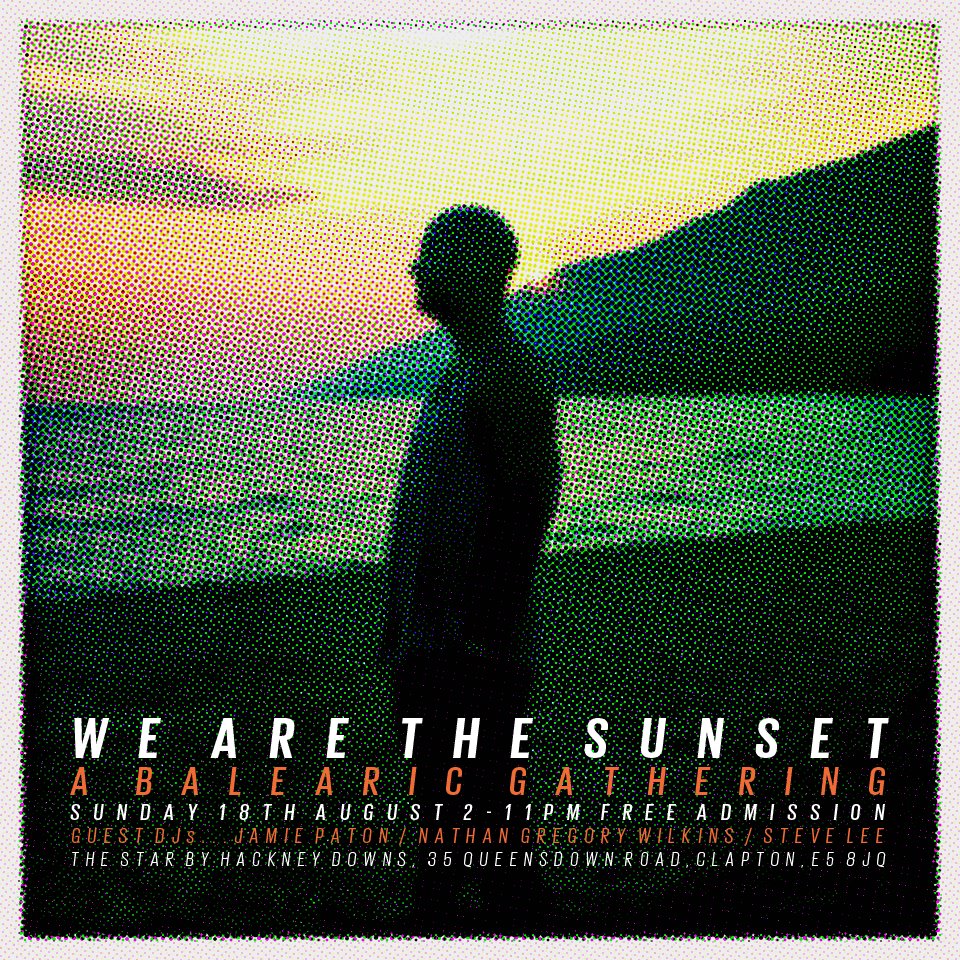 and WE ARE THE SUNSET on Sunday the 18th at The Star by Hackney Downs, 35 Queensdown Rd, Clapton E5 8JQ.
Resident DJ Andy Taylor with guests Jamie Paton, Nathan Gregory Wilkins and Steve Lee (nice interview with Mr Above Machine on its way)
More details can be found here.
Steve Lee`s Top 10:
Almunia / One Time (Above Machine)Keyboard Masher/ La Luz (KM Editions)Almunia / Find My Way / Marius Remix (Above Machine)Roots Unit / EP (Vibrations)Daniel Grau & LAI / El Leon Ballarin / Ray Mang Dub (Sonar Kollektiv)Maylee Todd / I Can't Stand ItTommy Awards / EP 2 (Magic Feet)Kalidassa / EP (Magic Feet)Maricopa feat. Nicola Kramer / Sens (Above Machine)S L O / Waves EP (Above Machine)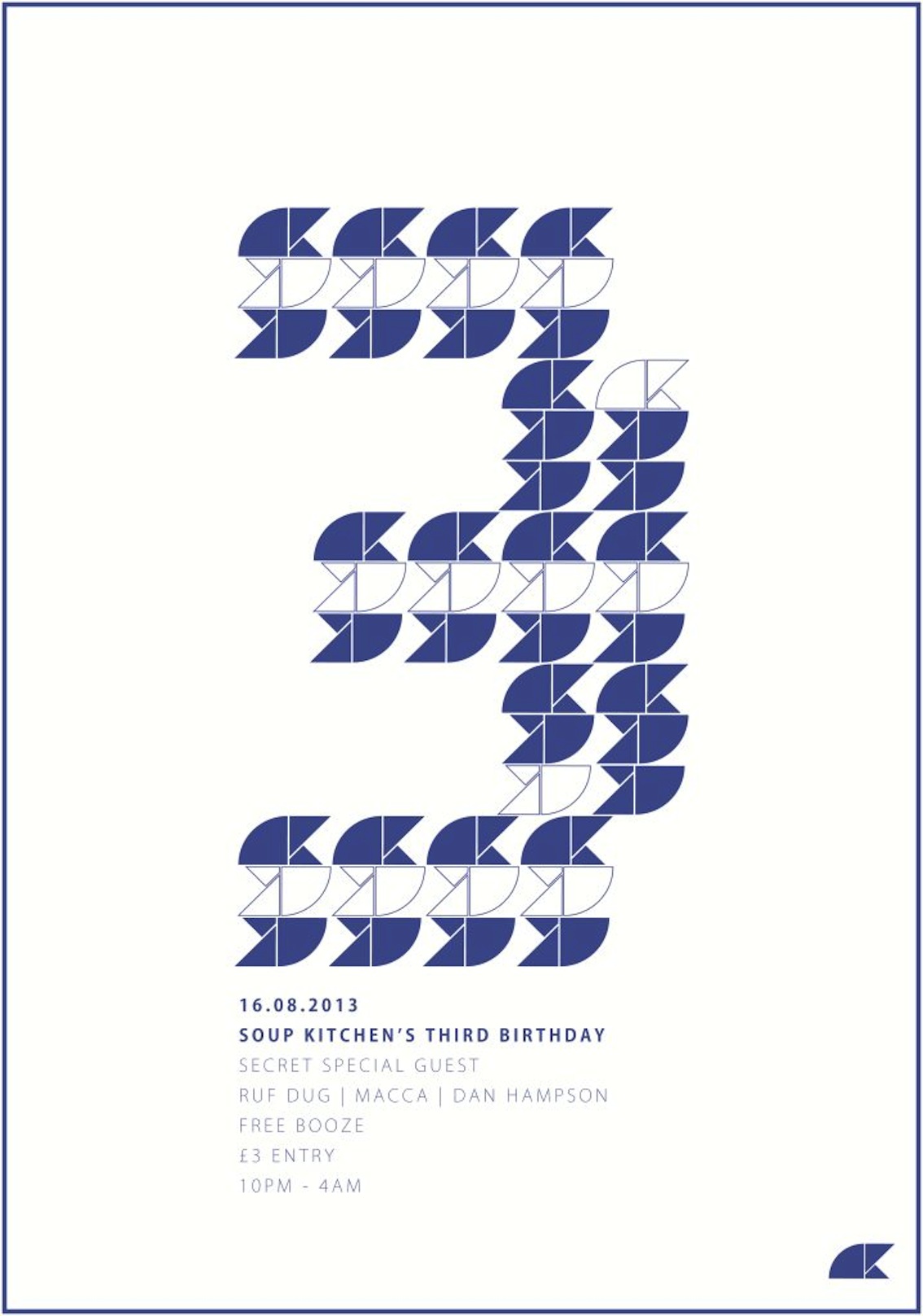 In Manchester on Friday 16th, the lovely Soup Kitchen celebrates its 3rd birthday, 31-33 Spear Street, M1 1DF, with music provided by Ruf Dug (I`m still looking of a copy of that excellent "Body To Body" 7" if there are any knocking about), Macca, Dan Hampson, plus a mystery guest.
More details can be found here.
Two parties happening this weekend at the Menagarie in Belfast, 130 University Street, BT7 1HH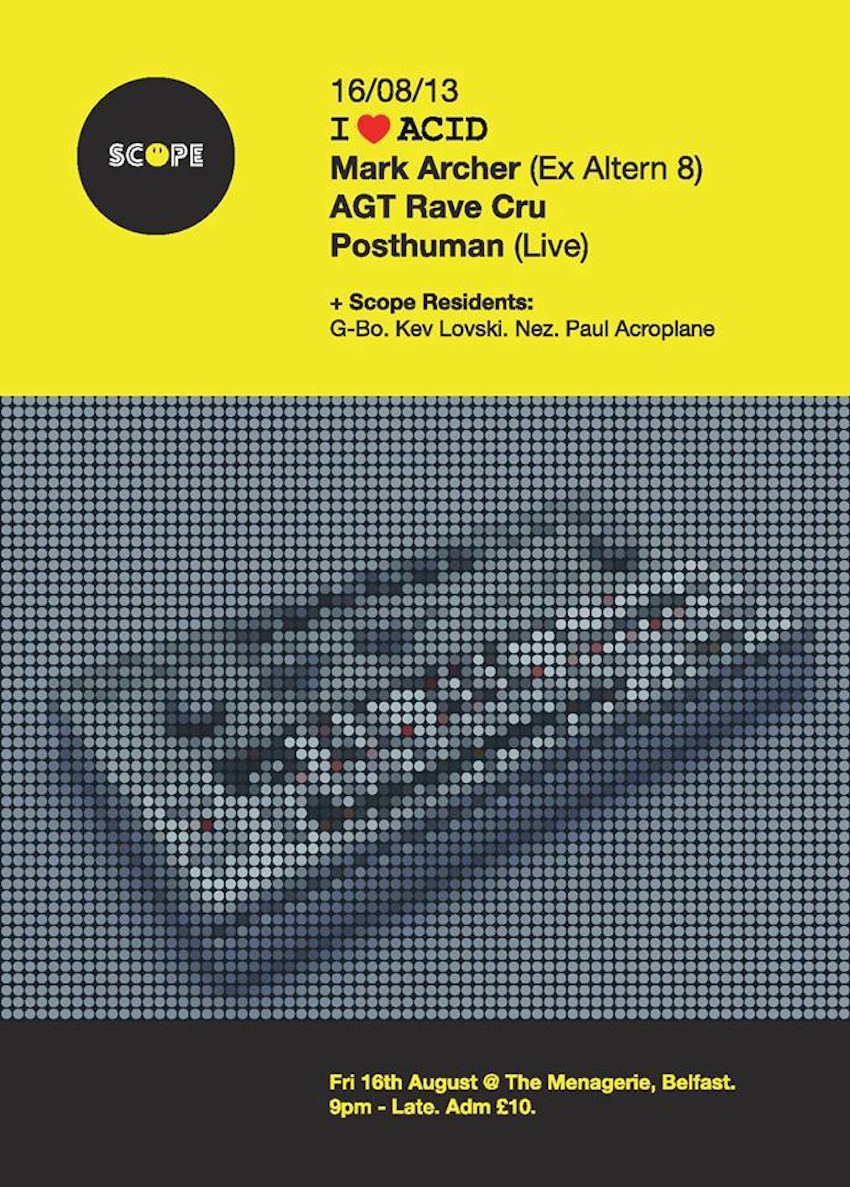 On Friday (16th) it`s "I Love Acid", with Post-Human (Test Pressing mix from Mr PH imminent)
More details can be found here.
Posthuman Top 5 Acid tracks:
#5 / Bam Bam / Where's Your ChildLuke Vibert dropped this at the first ever I Love Acid night back in 2007 and tore the roof off, tune of the night by some distance…
#4 / Global Goon / CraehzrhdFavourite track we've ever released on our label Balkan. Proper new acid wonk.
#3 / Armando / Pleasure DomeA few years after the first wave of acid, but hard as nails and as good as anything from the late 80's
#2 / 808 State / Flow ComaThe sound of Manchester, distilled. A DJ's dream track: it goes with anything.
#1 / Underground Resistance / The Final FrontierIf hearing this played over a big soundsystem this doesn't raise the hairs on the back of your neck and make your heart skip a beat – you're quite possibly dead inside. Truly majestic.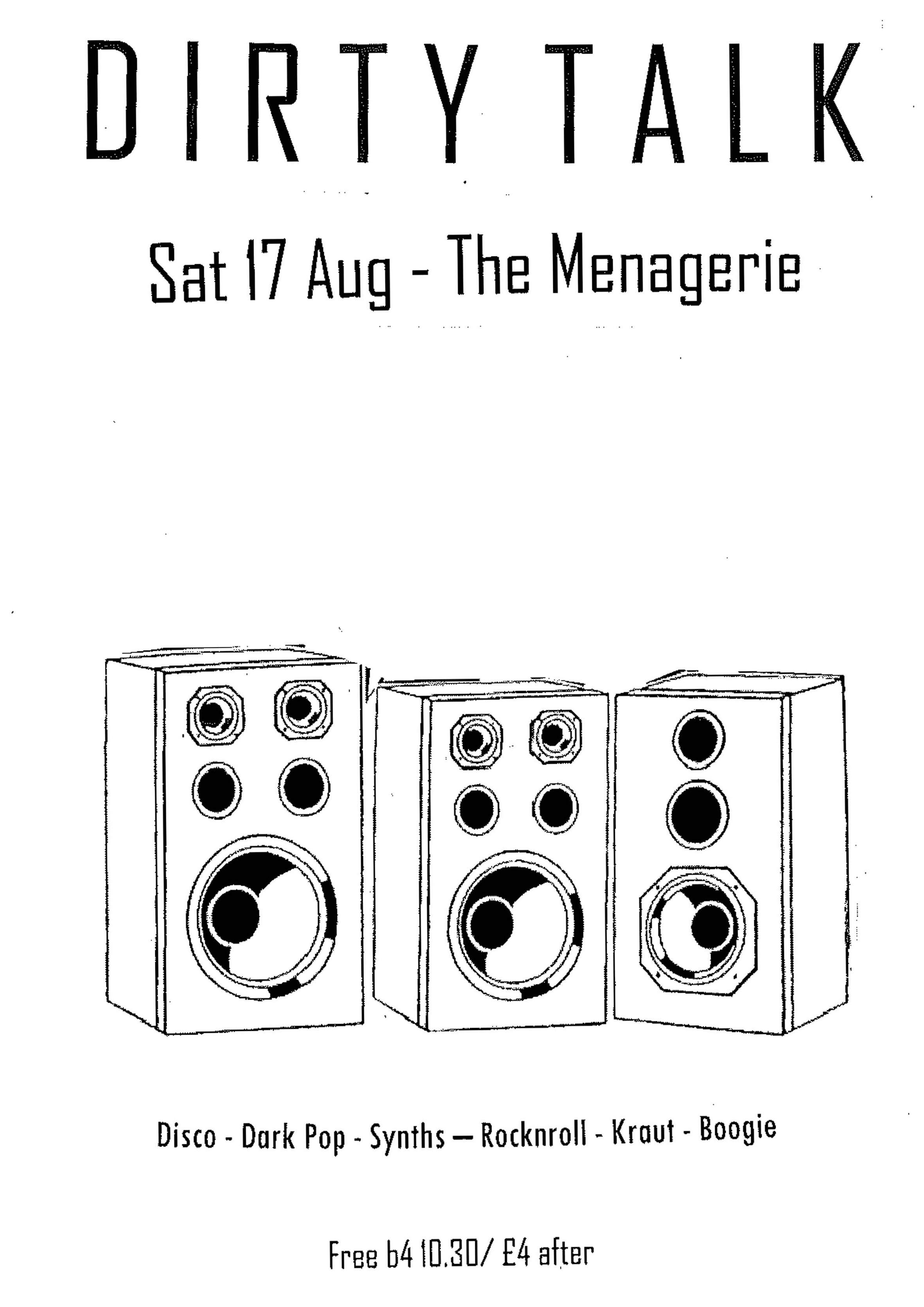 Then on Saturday (17th) it`s "Dirty Talk".
Odd Disco, Dark Pop, Krautrock and Garage.
Dirty Talk Top 10:
Visual / The Music Got MeJohn Cooper Clarke / Suspended SentenceA.T.R.O.X. / Against the OddsWilliam Onyeabor / Good NameThe Monochrome Set / AlphavilleGirls Names / Projektions (Factory Floor Gabe Gurnsey Remix)Scott Walker / MathildeLuke Wyatt / Teen HawkJapan / The UnconventionalBeautiful Swimmers / New Balance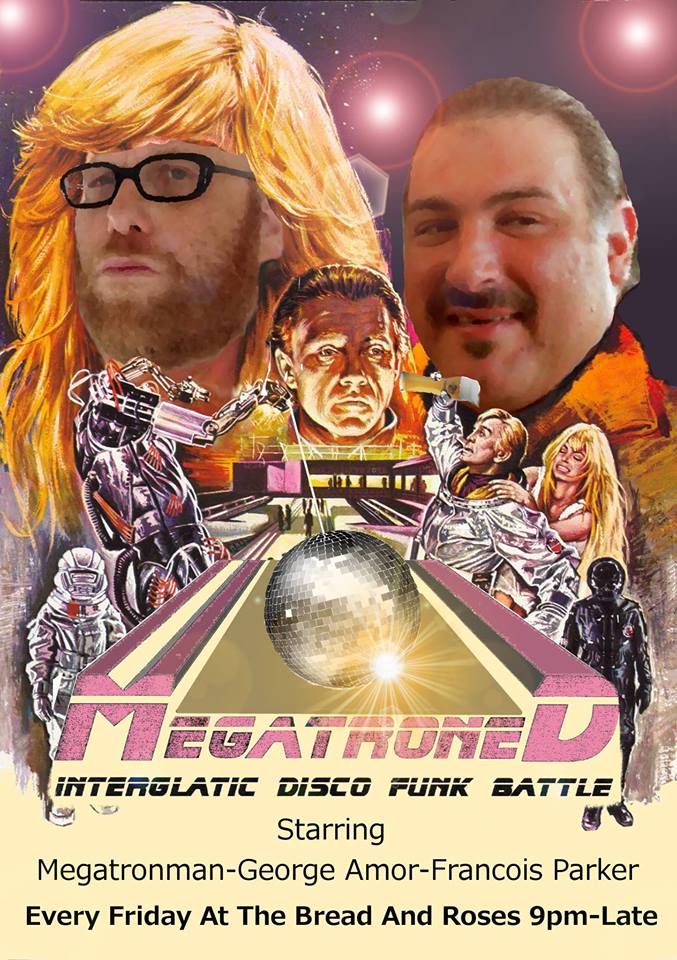 On Friday 16th there`s also MEGATRONED at The Bread and Roses, 62 Ebrington St, PL4 9AF Plymouth
Is that spaceman Kirk Douglas and is he about to chuck a pint at a robot?
Francois Parker's 10 for the warm up:
1:Marlene / Hittin' me where it hurts (Sony Japan)2:Hiromi Go / Uchu no Kanatae (Sony Japan)3:Pecker / Kylyn (Denon)4:Mag & The Supects / Erection (London)5:Rune Lindbaek / Wonder (Ray Mang mix) (drum Island)6:Q Base / Il Sole (The Sun) (DFC)7:Sweet Exorsist / Mad Jack (warp)8:Perfect Zebras / Running With Zebras (Focus Records)9:Eve Masato / Tsuki No Uragawa (Sony Japan)10:Yasuaki Shimizu / Amnesia (BM Records)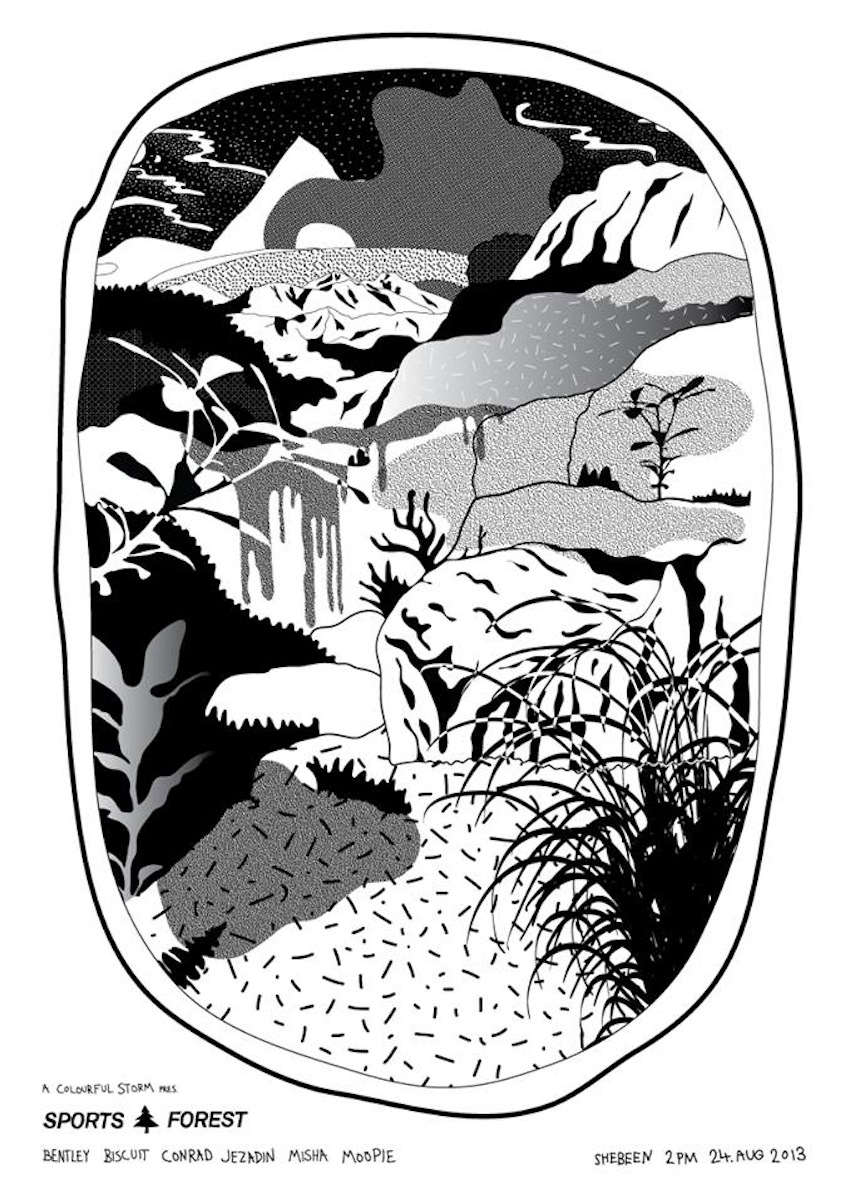 Lastly, a bit early on this one, but Saturday August 24th, out to Melbourne, Australia for COLOURFUL STORM PRESENTS SPORTSFOREST at the Shebeen Basement, 36 Manchester Lane
Audio from Bentley, Conrad, Jezadin, Moopie and a live set from Misha Hollenbach and Biscuit's side project "Totebagz".
OP(T)I(M)UM-TRANSKLASSIXX:
Skydiver / The Definition Of Taking A Step Into Another DimensionPorter Ricks / Port GentilPlastikman / ConsumedAutocreation / Dark Smile69 / Microlovr
More details can be found here.