Another week another club column. Well its sort of turning into more of an out and about London column with worldwide club listings but I guess that could work. Not been up to loads this week but music-wise got sent all the new Velvet Seasons (a.k.a Joel Quiet Village & Gerry Black Cock) releases, of which there are four, and was super impressed. Dubby space disco dub sounds. Proper club music basically. Rob is going to write on them properly but look out for them. I went to Mison's thing in the market in Old Street on Friday which was fun as ever. Guest was Andy from Sonica Radio in Ibiza who did a sterling job. Saturday was up to see David Non-Collective play some lovely records with Hampus at Biddle Brothers then on to Bad Passion which was properly good. Busy with dancers, a great crowd and music that was bang on the money. Its a good party that one. Nice venue too.
Other than that I popped down to the Club to Catwalk exhibition at London's V&A with friend of the family Spence which is alright but felt a bit like a missed opportunity. For me they could have timelined it a bit more so it made more sense but the installation by Jeffrey Hinton with his home movies summed up a whole period in one room via 20 TVs. That was good. Other than that my favourite part was the video of the Blitz denim charity event (see below) which shows a time and style that I really like.

So what's on this week? No favouritism here so first party is Moonboots and Phil Mison DJing at The Garden, Zadar, Croatia. The music starts at midday on Saturday the 10th and runs until midnight. Best of all, its free. More information on the Facebook page. Here's a chart from the chaps so you know what to expect.
Mison 501. Mop Mop – Kamakumba02. Jackie Mittoo – Jackie's Rockers03. Ghost Box – Listening Center04. Capo & The Crew – Mad Blank05. Marcel Vogel – Body To Body (Ruf Dug Mix)
Moon 501. Joan Bibiloni – Pinzells02. Stratus – Sympatry03. Katsutoshi Morizono – The Blue Heaven04. Shastro – Embrace05. Coyote – San Raphael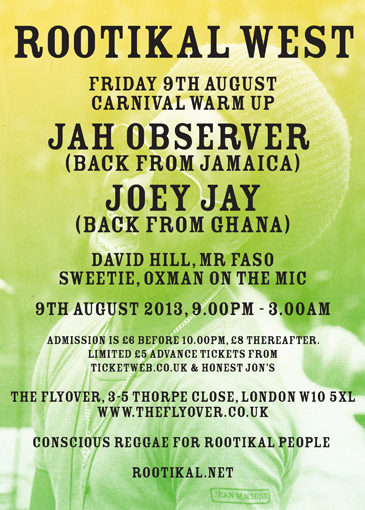 It's not all Balearic Beat round here. Next up is Rootikal – Dave Hill's (the guy that set up Nuphonic) Reggae session. They are holding a pre-Notting Hill Carnival Rootikal West at The Flyover, 3-5 Thorpe Close, London, W10 5XL, which is between Ladbroke Grove and Portobello Road. The night see's Joey Jay (brother of Norman) and Jah Observer – two of London's veteran selectors – providing the sounds. There are some pretty great tapes of Joey Jay on London's Kiss FM up at the Rootikal site. Rootikal have also done a mix of Cornell Campbell's 'There's A Fire' which you can check here. Rootikal residents are also there – David Hill, Mr Faso and Oxman, and guest Sweetie. Music starts at 9.00pm and runs until 3.00am. Admission £6 before 10.00pm, £8 thereafter. Limited £5 advance tickets here. Here's a chart from David Hill to give you an idea…
Rootikal Long Hot Summer Ten1. Cornell Campbell feat. Soothsayers Horns 'There's A Fire' (Rootikal remix) – dubplate2. Matic Horns 'North Star Horns' Rootikal Selection 453. Wellesley Braham 'Never Get Weary' Love 454. David Isaacs 'Jah Love I' Wildflower 12″5. Talisman 'Things A Get Tough' Sugar Shack dubplate6. Teddy Brown 'Watch What You're Doing' Sir Tommy's 12″7. Luciano 'Deliverence' Ariwa dubplate8. Aisha 'Jah Lighning and Thunder' Ariwa dubplate9. Alton Ellis 'I Can't Stand It' Treasure Isle – Rootikal dubplate cut10. The Nortones 'Righteous Hand' Iroko 45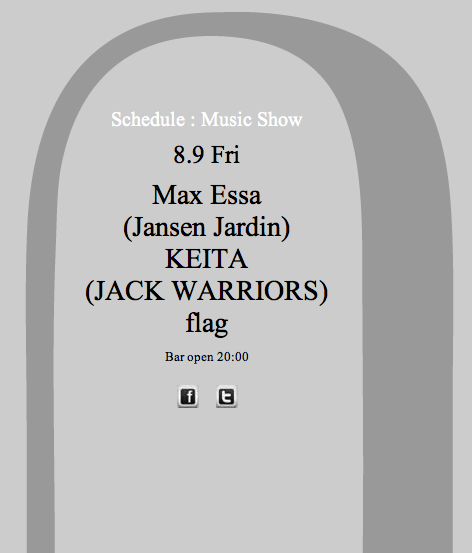 Right, I'm keeping it brief from here on as this is taking me forever. Next up is a night with Max Essa, Keita and Flag at Aoyama Tunnel, Tokyo on Friday August 9th which runs from 9:00PM – 06:00A.M. Entrance – ¥1,000 w/1D. Here's a link to the event website and a top ten from Mr Essa. Nice to see New Sins in there. We knew that was a good one.
Max's Ten For The Party1. Ikeda X – Oh My Guitar2. Richard Tate – She's Got The Time To Love Me3. Twin Sister – All Around And Away We Go (Hotel Motel)4. The Dubless – Icarus5. Zazou Bikaye – Angel6. Asphodells – Beglammered (Richard Sen mix)7. The New Sins – Don't Break My Heart8. Debra Dejean – Goosebumps9. Biba – Close To You (Inst)10. Love Root II – Funky Emotions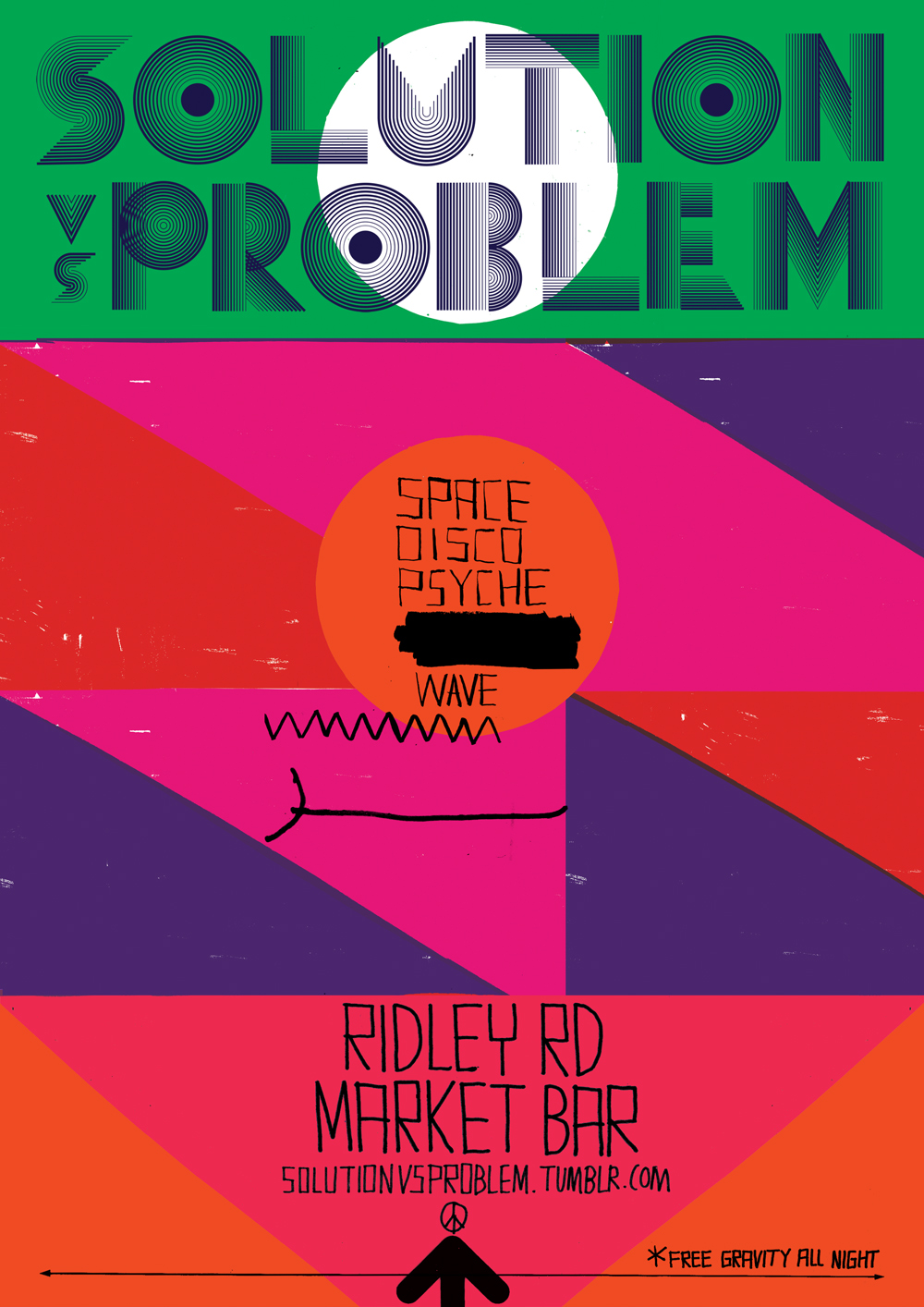 I am going to hold my hands up and say I don't know any of these guys but they wrote a very nice email, it's in a great little venue and they run a fantastic Tumblr full of great images and music. Made me want to go and check them out. So the venue is Ridley Road Market Bar, in Dalston, E8 and they play balearic, disco, not disco, psych and anything else that they think is complimentary. DJs are usually Chromes, Stephen 'Sneazy' Smith and Martin Dupré (their disco aficionado). The night is every second Thursday so keep tabs on their Tumblr if you like what they sound like and want to know when the next party is on.

Next up is Changing Tracks on Saturday night from the guys behind Top Nice and Bahamian Moor. Dancing from start to finish with a nice crowd that like to get into it. DJs Burning Bush, Enchante, Hampus Time, Paul B Davis, Bahamian Moor and Going Places. Funktion One sound and its £3 before midnight and £5 after running from 10.30pm-4am. The address is The Hive Project, The Yard Theatre, Unit 2A Queen's Yard, 49 White Post Lane, E9 5EN. More information on the Top Nice website, Bahamian Moor website and the Hive Facebook page.
Ten From The PartyJimmy the Hoover – EgoJoe Claussell – Je Ka Jo (Crazy Vocal)Jamie Paton – Some BizarreWorld Famous Lobster Allstars – Working for Love AgainT-Coy – Da me masStella Carnacina- SolaEverything But The Girl – Each And EveryoneSylvester – I Need Somebody To Love TonightDalbello – Animal (Jungle Mix)G.A.N.G. – KKK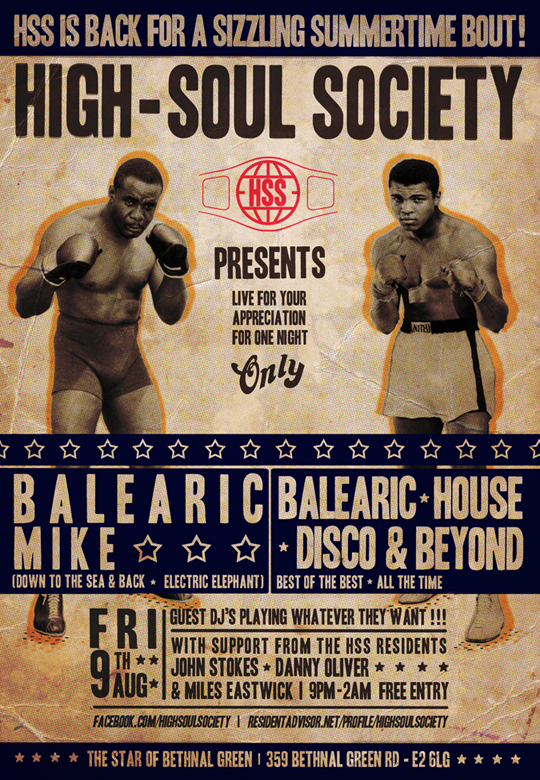 Last but not least Balearic Mike on Friday night (the 9th) at the Star Of Bethnal Green. All the info is on the flyer above but its a great boozer with good sound and reasonable beer. Support comes from John Stokes, Danny Oliver and Miles Eastwick. It runs from 9 – 2 a.m and is free to get in. More information on the Facebook page. Mike will bring the goods.
Balearic Mike's Boat Party Ballet Top 101.Cantoma feat Bing Ji Ling – I'm Alive2.Hubbabubbaklubb – Mopedbart3.David Bowie – Let's Dance (Jean Claude Gavri Edit)4.Heikki Sarmanto & Jeannine Otis – Magic Song (Ashley Beedle Heavy Disco Edit)5.Stratus – Lune d'Afrique6.Francis Bebey- Bissao (Pilooski Edit)7.Begin – Elate8.The Police – Voices (Ashley & Harvey's Superministry 8am 'Rulin' mix)9.Jago – I'm Going To Go (Instrumental Plant Mix)10.Family Tree – Family Tree (Disco Version)
So that is us done for this week. I am away for a bit so unless Rob wants to pick this up for a few weeks we'll be on club listing hold but hopefully back soon. To be honest I just like the tens as it gives me honest lists of records that I can go and check. Take care party people.