Ok. I always try and keep this brief. I always fail. First up is Cutloose in Manchester.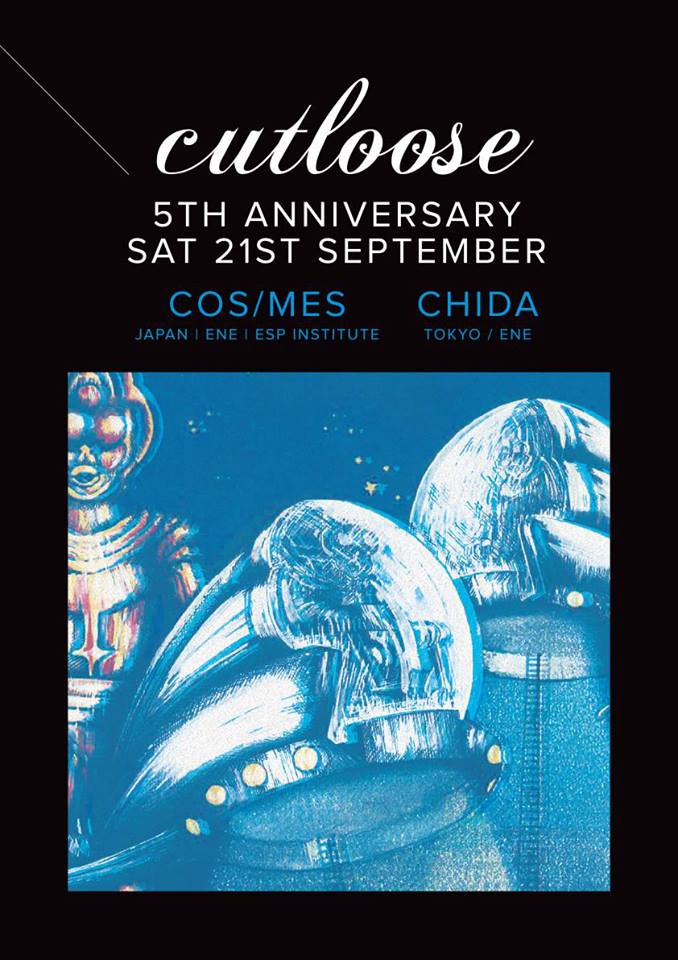 Cutloose 5th Anniversary with Cos/Mes & Chida (Japan, ENE) is on Saturday 21 September at The Roadhouse, Manchester and runs from 11pm – Late. Here's what the good Paul Cutloose has to say… "Yeeeeeeessss we're bringing the goods once more, this time for our special anniversary party – five and a bit years doing our regular jam… It's been a real blast, and upholding the Cutloose tradition, we're graced with a rare UK appearance from Japan's multi-faceted finest, Cos/Mes. This is gonna be a PARTY – half a decade, we love you all blah blah blah and the rest – fuck it this will be a heavy night in its own right, great music, good people!

 Born out of the art collective Tasha Hisha, Cos/Mes developed a crossover style that connected various Tokyo movements from skateboarders to ravers, graffiti artists to film makers. Serious stalwarts of the underground Japanese scene alongside Kenji Takimi and Force of Nature the duo have forged an respected reputation, producing a mishmash of graceful electronic music with House, Balearic, and 'Cosmic Jazz' influences. The recently released third album, Snaker 001, is a mixture of beautifully constructed tracks with a nod to the dance floor which followed the Gozmez Land – Chaosexotica LP on ESP Institute – an exotic and harmonious musical journey. In addition Thomas Bullock and Justin Vandervolgen contributed to sought after remixes of the singles, which energise any dance floor."
Sounds good to me. And here's a list of some music from Chida and 5ive that you should probably go and check out… Chida Dol-lop / K'n'Q / O-Parts RecordingsJ.O.Y. feat. Takao Tajima(Alternate Mx) / Ape SoundsAtom / Hana / Tribal (America)Mick / Strict / Life Line RecordsGalax / Mysterious Smile of a Buddhist Image / Room Full Of Records
5ive
Jonny Nash / Snaker 004 / SnakerDaniel Wang & Jules Etienne / Rondo para Tercera Luna de Ypsilon79 / Enjoy Your Trip / FunikiLeon Lowman / Liquid Diamonds / Music From MemoryCos/Mes / Sadistic EP#3 / Funikiene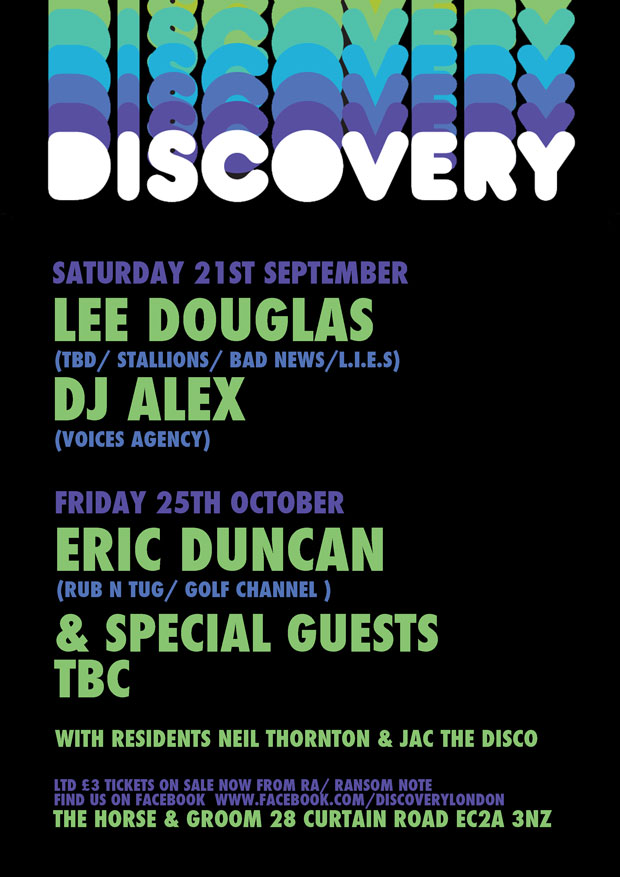 Next up is one from Alex from The Voices crew and what a line-up. Lee Douglas, Eric Duncan and the good Alex himself. All the details are on the flyer above and if you want to get out and see something good this weekend in London I'd say this could be a fun one.
DJ Alex Voices. 10 For Discovery. Sept 2013.
Velvet Season & Hearts Of Gold – Truth Machine For Lovers (Lucky Hole)Nail – Glazed (Fear Of Flying)Peveralist & Kowton – End PointSTL – Body Musique (Something Good)Secret Weapon – Weasel GrooveWelcome To The Club (Velvet Season Edit)..the definitive version 😉 (Who Knows)Christopher Rau – Simple Set Up (Derive)Telephones & Fett Burger – Tutti Frutti Del MarAlexander Robotnick (Justin V remix)Denaij – Wuhti (DJ Sotofett Bhakti crew remix feat Paleo Logos) (Unthank)
Lastly we have the Seek Magic crew with their monthly night at Le Tanners. Here's what they are saying…
"At the turn of the year, Nick Cubley & Dave Lovenbury teamed up with good friend Danny Potts (formerly of Newcastle balearic institution Suono) with the intention of creating a relaxed affair, serving up Balearic beat, new agers, trop pop, unlikely disco and everything in between, with an 'anything goes' musical policy true to the Balearic spirit. Recent guests have included Manchester's Eighty Six and Andy Pye from Balearic Social.
The boys welcome Andy McColgan of Glasgow culture website Racket Racket for their next party on Saturday 28th September.
SEEKMAGIC – Last saturday of each month at The Tanners Arms, Byker Bridge, Newcastle upon Tyne, 6pm – Midnight. Free as the wind in your hair
Dave's Top 5
People – Misty MoodBobbi Humphreys – Chicago, DamnThe Lijadu Sisters – DangerTony Wilson – New York City LifeNon Collective- Its Really You (Jan Schulte)
Danny's Top 5
Neil Larsen – Nile CrescentCaldera – Out of the BlueDavid Barbarossa – Voices Inside My Tapehead (Protected Sax Mix)Joan Bibliono – RefugioDavid Austin – This Boy Loves The Sun (Mellow Mix)
Nick's Top 5
Mop Mop – KamakumbaEvinha – Esperar Pra VerLuba – Le Doux Rendez-Vous (Version Instrumentale)Leon Lowman – Morning SongShigeru Suzuki – On The Coast
That's it for this week. Me… I'm saving it up for Moonboots and Leo Mas in Leeds next week at Joe's Bakery. Bring that one on. Enjoy all. P.