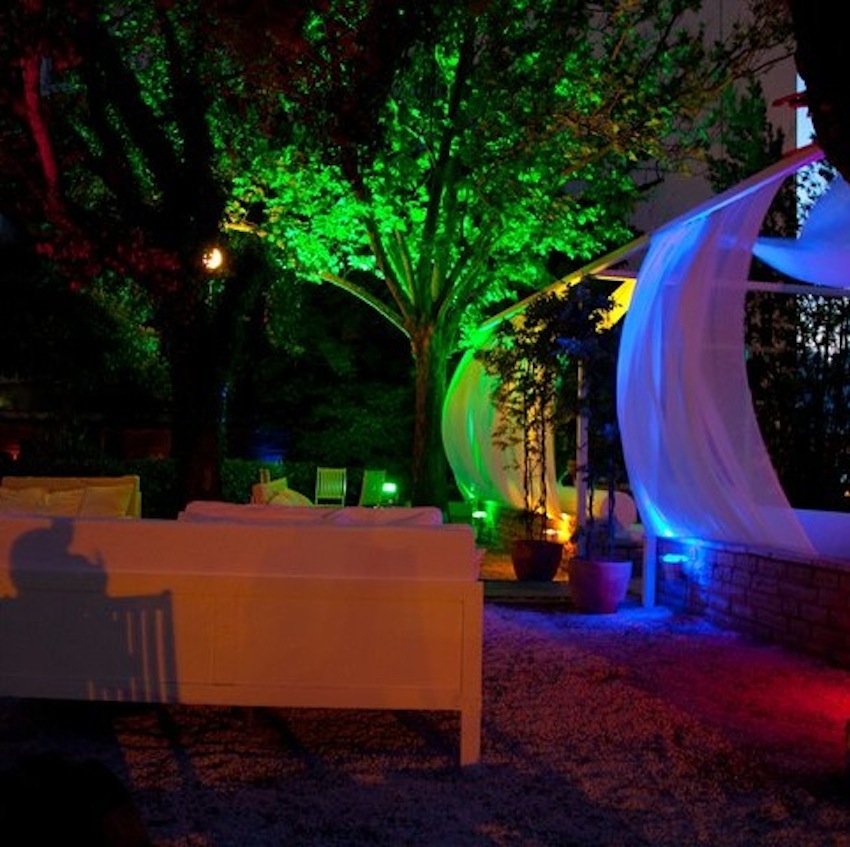 Where are you based?Zadar and Amsterdam
Is this your hometown?No. I`m from Kingston Upon Hull in Yorkshire.
How did you end up divided between Zadar and Amsterdam?I always liked Amsterdam. It was one of the first cities I visited in my youth, and then with Pork recordings on a hedonistic trip back in `93 / `94. I moved there when I was working on the second album of the Hull-Amsterdam Momma Gravy project with Remko Schouten who is from the Netherlands. A great friend and sound engineer who runs the Ijland Studio. I was in the middle of moving in Hull, when a drummer who was recording for us at Remko`s studio said, "Why don't you move here to Amsterdam? My place is available for rent". I went back to Hull thought about it for a few days, then was on the Hull-Rotterdam ferry with all my things in the back of a car.After this album was released on Birmingham label Different Drummer, I was asked to DJ by my great friend Adam Regan at the opening night of new bar opening in Croatia called "The Garden Zadar" in 2004,with my old pal Steve Cobby(Fila Brazillia). I fell in love with the place and immediately became great friends with the people who run the venue, Nick and Charlotte Colgan. I`ve been back every summer since as resident DJ.I still love it as much now as the first year. Next year will be the 10th anniversary of the bar and we hope to do some special things. I'll keep you posted.
What is your first musical memory?The Family Gramophone. It looked like huge sideboard cabinet with a built in stackable turntable, speakers and radio tuner. Hours of fun.
What was the first record you bought?Can't honestly remember but perhaps "Led Zeppelin II".
What was the last record you bought?The Sketches From An Island LN-CC / International Feel Ltd edition.
What inspired you to start DJing / making music?Clubbing and listening to music with likeminded friends. Then buying a TR909 Drum Machine.
Which clubs were you going to?One that really stands out from memory was "Bradford Queens Hall". It was my first venture into the Soul all-nighter. I had some absolutely belting nights there in the dark basement, with the low roof, creating a cracking atmosphere and that's what got me into dance music really. Before that I was hanging in Indie clubs and going to see bands at The Adelphi club, and the University in Hull.
What kind of music inspired you to buy the TR909?I think listening to the first releases by The Orb, Orbital, KLF, etc. Some friends and I had started making music with a small midi set up, with some synths and effects units, in a tiny spare room in a friend`s house. I started getting involved and we needed a better drum sound. I bought the drum machine and then Pork 006 was born, Opik`s "Feel yourself" in 1992.
We went on to sign for Deconstruction Records on the back of this first single and after a couple of years they finally decided to release the album we had recorded on a offshoot label called Concrete entitled Opik-Opik in 1994.
Do you play any other instruments? Had you been in bands or anything prior to the TR909?I had an acoustic guitar. I hadn`t really played in any other bands previously, but went on to play in several later on.
What was the next bit of kit you bought?Akai s1000 sampler, Mackie 1604 mixing desk X 2, Obreheim matrix 1000, EMU Proteus, Alesis Quadraverb, Dat Machine, plus some other bits that I cant remember.
How long have you been DJing / making music?Since 1991 / 1992
How would you describe your sound?Good to have sex to.
Which production / release / remix are you most proud of?The first Bullitnuts album entitled "1st Of The Day" on Pork Recordings, which was me and my friend Murray Clarke.
The Bullitnuts had a kind of downtempo Jazz Fusion thing going on. Momma Gravy, your next project pushed the Fusion thing even more to the fore. Who would you have been listening to while recording these tracks?A lot of classic albums I guess, plus a lot of Black music and new music too. I would scour charity shops and other vinyl emporiums for samples and ideas, because these albums were made using a midi set up with mixing desk. There was a fair bit of sampler use back then. I wasn't the greatest musician, but did attempt to play a fair bit of bass and guitar. Luckily we did have some very nice real musician friends who would stop by and play something live over the tracks to give it a bit more of a organic feel now and then.
How did you meet with Steve Cobby of Pork Recordings?We were part of a small but vibrant music scene in Hull. I first saw Steve play with Ashley and Jackson supporting the Brand New Heavies at The Hacienda. We then went on to meet while the whole Pork thing was starting. We used to hang out at a cafe bar called Room 1795 where Steve and Porky (who ran Pork) would DJ on a Thursday evening, I think, but I first went to meet him round at his house, I believe at Hull marina, around 1991, when Fila Brazillia were about to release "Mermaids".
Fila Brazillia`s "Leggy" and "Subtle Body" still get plays from me.Quite rightly so. Great tracks.
Can you tell me more about Marble Valley?Phew, the beast that is Marble Valley! This was a band that started after the USA band Pavement broke up. I was on the tour bus for their final few shows in 1999 in the UK. I had made friends with them through my friend Andy Dimmack, from Hull, who was their guitar technician. Remko(from Momma Gravy) was also mixing their front of house sound.
Steve West(Pavements drummer) and I got chatting on the tour bus and I think he asked me if I would be interested in playing bass on this new project. He and Remko had been jamming at the back of the bus. We finally got together as a band in 2000 / 2001 when West and Remko recorded the second album,"Sunset Sprinker",which came out on Pork in Europe. We then toured in UK and USA. Steve West on lead vocals, Remko on backing vocals and samples, Andy Dimmack on drums, Carl Hogarth on Keys and drinking, James Waudby on guitar and me on Bass.
I have to say out of all the things I have done in my music career playing bass for and touring with Marble Valley was the most fun. I loved every second of it. Non-stop laughter and chaos all the way. It would only happen once a year so we made the most of it so to speak.It was so hard to put together as the band live in 3 different countries, USA, Holland, and UK. And they all have families now, apart from me. Ha!
Our last show was October 2011 in Amsterdam and it was arguably one of our best. I think the Valley will ride again at some point, but who knows where and when.
Which production / release / remix would you most like to have done?Brian Eno "Apollo"
What are your favourite places to play / hang out in?Bar would be The Garden Zadar in Croatia. Club would be Propaganda in Moscow.
What`s special about these places?The Garden Zadar bar for me is where I get chance to play whatever music I like without having to worry about people dancing, plus it's outside, with no roof and boats going by on the Adriatic. That's about as good as it gets for me. It's stunning.
Propaganda in Moscow I love because of the sound, and it's probably one of my more regular bookings with nice people who bring me over. I think I have played there over a dozen times.
What guests have had at the Bar? Is the season June until September?The Season is June till end of September. This year we had a some nice guests at the bar, Qool DJ Marv from NYC, Jogarde from Zagreb, and the uber brilliant all day session we had with legends Moonboots and Phil Mison for 9 hours, which was rather special and a great laugh. We also had some guests come and play at the bar who were over for The Garden Festival, Electric Elephant, etc., such as Balaeric Mike, Joes Bakery(Craig and Joe), Lee Foster(from Last Waltz), Nicole Conte, No Fakin, Trujillo to name but a few.
The Festivals are held down in Tisno about 45km south of Zadar. The season starts with The Garden Festival in the first week of July, then a series of other each each weekend after at the same site.
Do you have any residencies in Amsterdam? Or elsewhere?I do a night in Amsterdam called "Melting Point" with my dear friends Troy Dean(Jockey) and Siba Kladic (Angry Hippy) which we do sporadically throughout the year, when a suitable evening and venue becomes available. The last party we did with Tako and Abel from Redlight records was just excellent and we have become very good friends with these fellows. I just love those guys.
We also do a "Melting Point" monthly radio show on Amsterdam`s Redlight Radio which is in the same complex as the dangerous but outstanding Redlight Records. We have a group on Facebook too where we can post music and cyber bully people like Moonboots.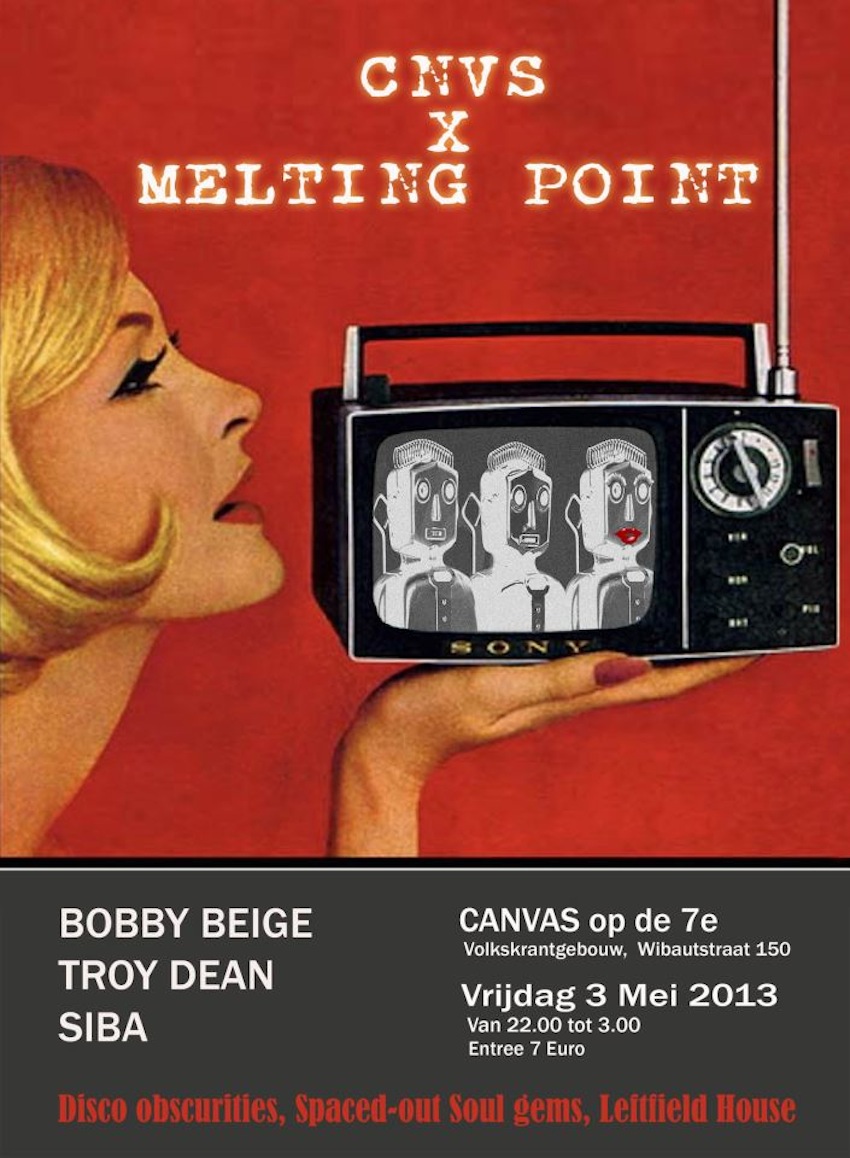 You mention Moscow, do you get to travel a lot? Do you ever get back to Hull?I spent a lot of time traveling and touring with bands over the years and so yes, I have been round the globe pretty much with working in music either DJing, playing in a band or being a stage technician for Pavement on the reunion tour a few years back.
I go back to Hull four or five times a year to see my dear old parents, family and friends and really enjoy it when I do go back. It still holds a special place in my heart. I love the place to bits.
What is your favourite place outside of a bar / club / record shop?Swimming, and reading by the Adriatic Sea in Croatia. Cycling, and sailing round the canals of Amsterdam. And bed.
Do you see yourself as part of any scene?No, I'm not a scenester.
Who is your favourite visual artist?Neil Mcfarland, Robin Brunson (Hexstatic)
What do you like about Hexstatic?They were pioneers and Robin is a good friend. We were at The Big Chill festival a lot together over the years, and had some wonderful times there before it got too big. There were some great Hexstatic shows there.
Who are you currently working with?No one at present although I did start a few tracks earlier this year with a upcoming Dutch DJ / Musician "Jules De La Courgette". I hope to finish these sometime.
Who would you most like to work with?Begin.
Do you have a favourite Begin track?All of them, but "Velocity" is pretty special.
Does playing and making music pay the rent?Not quite.
What sites, if any, do you regularly check on-line?Redlight Radio Amsterdam, Test Pressing, Rush Hour, Piccadilly, Growing Bin, and Noise In My Head.
Being based in Amsterdam, do Tako, Abel and Redlight take a lot of your money?They would do if I had any money to spend there, but yes they have emptied my wallet on a couple of occasions. They are great people and a lot of the time we just go to hang out there and have a few drinks. We normally end up at this incredible Sichuan restaurant round the corner. Great fun always when we get together.
What was the last book you read?"Spies of the Balkans" by Alan Furst
What is your favourite book?George Orwell "Down and out in Paris and London".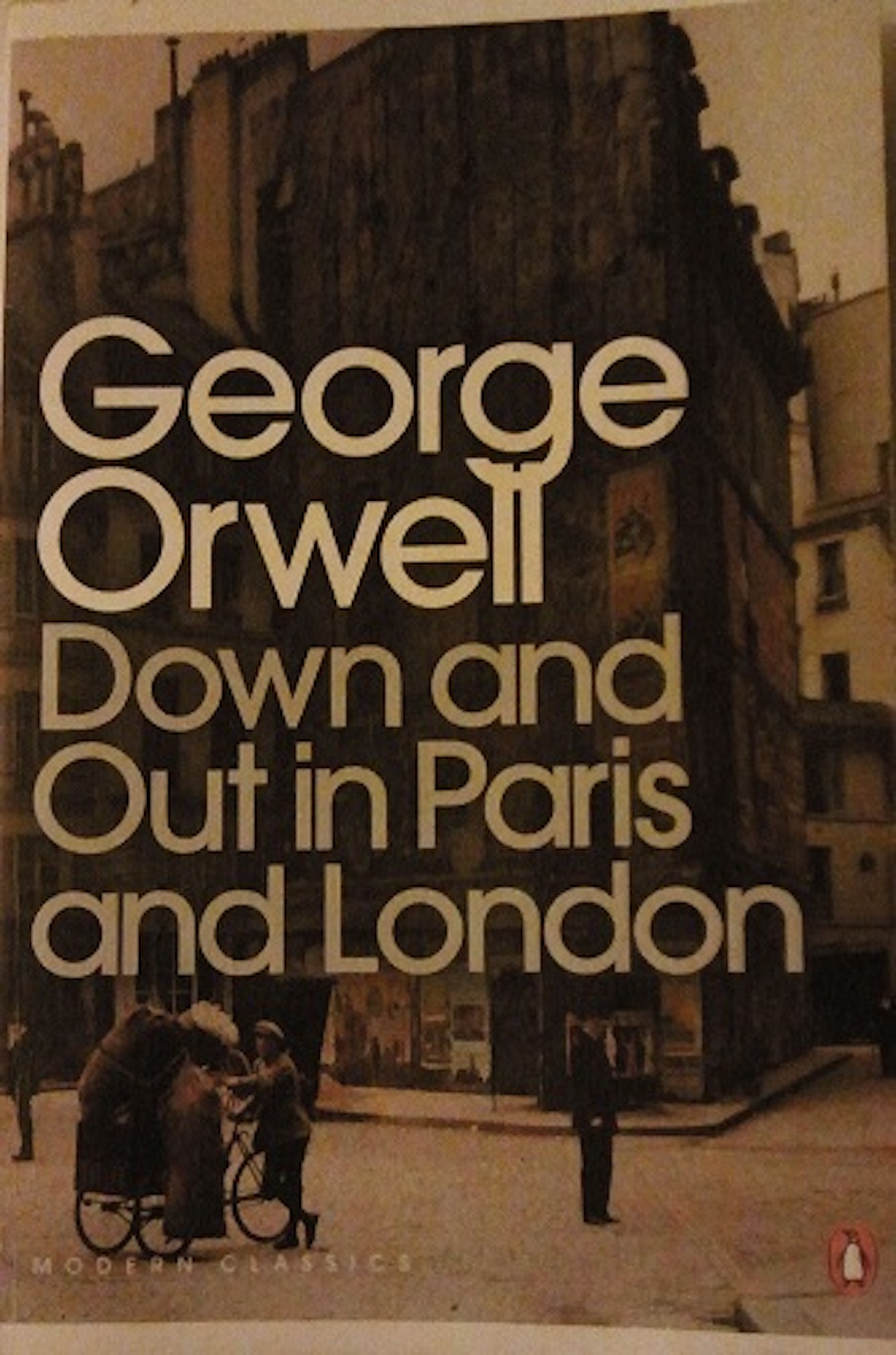 What was the last film you saw?Jiro Dreams of Sushi
What is your favourite film?Blue Velvet
Are you a "Lynch completist"? Have you seen everything he`s done?No, but I have seen a fair few. He's a twister and I like that.
What is your favourite piece of music? If that`s too difficult, what`s your current favourite piece of music?Erik Satie / Gymnopedia no. 1
Can you name 3 records for sunset / sunrise?
Heights Of Abraham / E.V.A.
Don Carlos / Alone
Glen Campbell / Wichita Lineman
Can you name 3 records to start a party?
Fela Kuti / Water No Get Enemy
Photon Inc / Generate Power
Hudson People / Trip to your mind