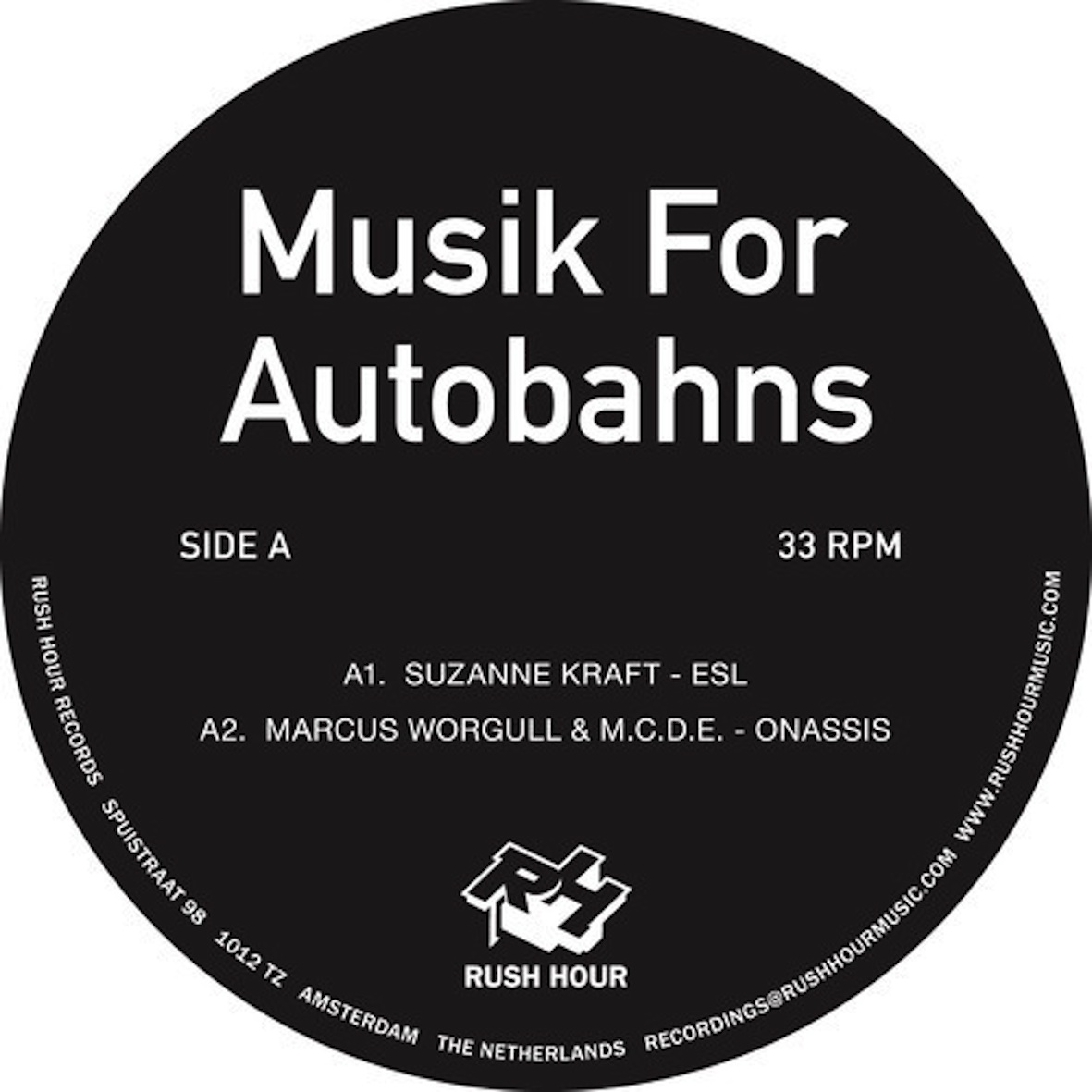 A 12" sampler of 5 tracks that didn`t make it onto the vinyl version of the "Musik For Autobahns" compilation put together by Running Back boss Gerd Jansen for Rush Hour last year. High-quality, mid to down-tempo electronic "Musik" that wears it references playfully. The press release cites "Industrial Ambient (that`ll be Noise then), Codeine House, Kraut (I hate that term), and New Age."
Suzanna Kraft, whose "Horoscope" on Young Adults we were a big fan of, has Linda Di Franco taking a break from the "TV Scene" for a ride on Max Essa`s glass-bottomed boat. Suzanne`s trademark Fairlight voices still got Prince climbing that ladder, and the result is a lot sunnier than any of the above might suggest.
In contrast, Marcus Worgull & M.C.D.E. (Danillo Plessow) do put out the lights, and send you driving late at night, fussing with the FM dial, trying to find some company. Jazz and graveyard broadcasts cut George Duke, Roy Budd, and David Axelrod with the rhythm of power lines flashing by. The excellent No Repress, say "Steve Moore", but for me it`s new song about food and revolutionary art. Perhaps "At Les" with it`s wings removed and earthbound instead.
Listening to Young Marco`s "In The Wind" I had Chris & Cosey`s "Exotica" stuck in my head. The hardcore love of Industrial`s founders, combined with the Celluloid African fusion experiments of Bill Laswell, Herbie Hancock and Foday Musa Suso.
The anonymous Acoustic High-End Research, who previously put out a sound effects record through Japan`s Strada Records, again invoke Carl Craig. "Beer & Air" could be a Pschye relic or "Goodbye World" replayed by Edward Artemiev. It partners the Worgull / M.C.D.E. piece and suggests a fascination with the loneliness of your reflection in the windshield.
The E.P. closes appropriately with "Oyasumi" (Japanese for "good night, sleep tight") by Osborne, who records for Ghostly International and Spectral Sound, most recently in collaboration with Hot Chip`s Joe Goddard. Fitting it`s given name perfectly, it sounds like Four Hands covering a Haroumi Hosono lullaby for Morr Music.
You can listen to the tracks and make up your own mind here.