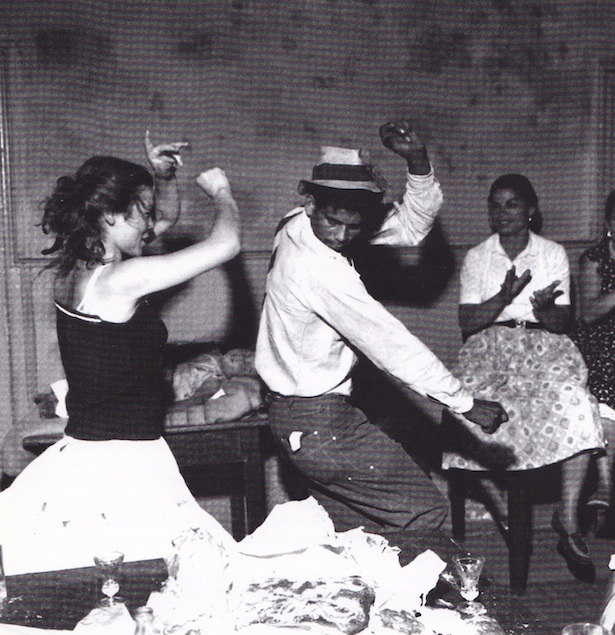 Twenty tracks of Catalan Rhumba made available to payos (non-gypsies) and non-collectors.
Rancheras and rumberos from Barcelona`s barrios de Hostafrancs and de Gracia. Bolero, Tumbao, driven by the frantic Ventilador: strumming with fingers, drumming with palms. The shanty town of Somorrostro. Caravaca de la Cruz, Cartagena, aligned with Cuba`s backyard tradition, circumventing Franco`s censorship. La terremto. An earthquake.
Calle de la Cera, Calle Salvadors, Cadiz. Go Rhumba translates as "party". Si, compay (Yes, mate). The streets became a stage. A music perhaps born in the Ramblas, on the dancefloor of Salon Amaya. A music shared by the puticlub (a bar with prostitutes) and the guache divine (artists and intellectuals). Decadence and debauchery recorded by Belter and Discophon before it was lost to Salsa and its perpetrators converted to El Culto (the Evangelical Church Of Filadelfia).
There are huge parallels here with the Calypso scene of `50s and `60s London (described in Lloyd Bradley`s book "Sounds Like London"). A circle of core players recording the music, taking turns to perform centre stage, and songs loaded with double meaning / innuendo that served to carry the news and in doing so were adapted, versioned and changed with it.
This is a Flamenco mixed with Latin. Steeped in history and sung with open honesty. Deals, plots, fist-fights, trysts, pacts and dancing. Rivalries, feuds, liaisons and revenge. Drinking `til dawn, looking for trouble. Charged with passion, the rhythm of life.
Photography by Jacques Leonard.