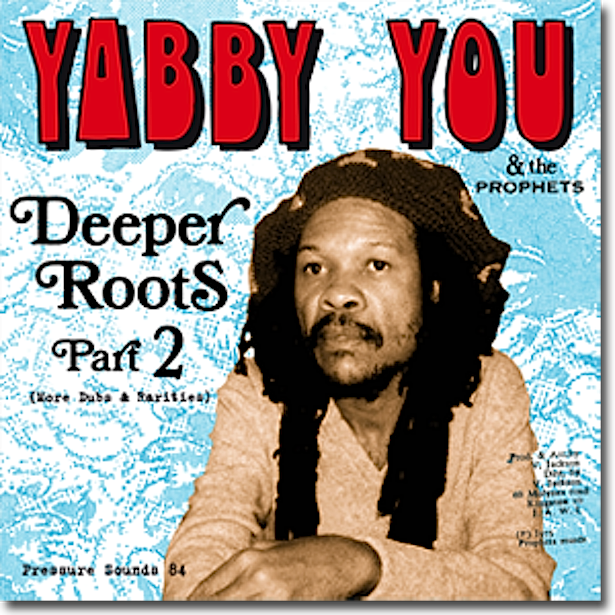 Just in case you thought it was nothing but sun, sea, and dreams around here.
First I knew of Yabby You was when Weatherall and Farley sampled his "Conquering Lion" for their remix of That Petrol Emotion (Jack Baron gave this information away in his NME review). Later, Weatherall played "Walls Of Jerusalem" on his AM slot on London`s Kiss FM, a record I subsequently spent years looking for. Both tracks are included on the brilliant box set that was put out by Blood & Fire, a couple of decades ago, where I confess to cribbing most of these notes from.
Born in Kingston, one of seven children, leaving home at twelve, hospitalized due to malnutrition, and made unfit for physical work by arthritis, Vivian Jackson survived on the streets picking racehorses, existing on the cuts of others winnings. Hanging with the Rasta man, but steadfast in his Ites (Christian, and in particular ideas taken from The Revelation Of St. John) beliefs, he earned the nickname of "Jesus Dread". Eating Ital, and as a consequence still suffering from malnutrition, he was visited by angels who gave him his first song, which was eventually, when scant funds were secured, recorded onto two-inch tape in a thirty-minute session at Dynamic Sound, produced by Carl Patterson, with the assistance of Reggae giants Leroy "Horsemouth" Wallace, Earl "Chinna" Smith and Aston "Family Man" Barrett. The studio time had been paid for by Jackson`s labour, and his health. The return to work pushed him back into hospital with stomach ulcers and pneumonia. Six months more work and he could take the rhythm to King Tubby`s to voice it, another six months and he had saved enough to press it. One hundred copies sold out, then two hundred, then five hundred, its success earning him a second nickname, taken from the song`s opening bars, "Be you. Be yabby yabby you", since this is how people were asking for the tune in the shops.
With a catalogue that spans from 1972 to his untimely passing in 2010, Jackson worked with Tubby`s, the Black Ark, DJs Big Youth and Dillinger, musicians like The Skatalites` Tommy McCook, and nurtured the careers of Wayne Wade, Trinity, Michael Prophet and Tony Tuff. "Deeper Roots Part 2" collects sixteen Jackson productions, many in the form of previously unreleased Dub plates, and the majority present as both vocal and Dub (or Dub and then more Dubbed). "Walls Of Jerusalem" is here (in a Dub plate mix), and Wayne Wade`s "Man Of The Living", his ecstatic voice amazingly recorded when he was only thirteen. "Psalm 16" underpins a Stalag bass-line with Nyabinghi drumming, forced to spiral into infinity, creating points of density, mini-blackholes. Tony Tuff`s "I Can`t Hide" (two unreleased Dub plate mixes are here) is closer to Rocksteady, making explicit American R&B`s influence on JA. Like Motown with overdriven bass, it`s Mod youth club music. I can see "Quadrophenia" `s Jimmy dancing to it (and scoring to it).
The sequencing of "Deeper Roots Part 2", with Dubs following vocals, and significant variation in the rhythms, might lack the disorientation that comes from listening to a Dub LP in its entirety in isolation in the dark, but it does allow the compilation accessibility to the uninitiated (rather than being of interest to complete-ists only). A point of entry into an often hermetic world.