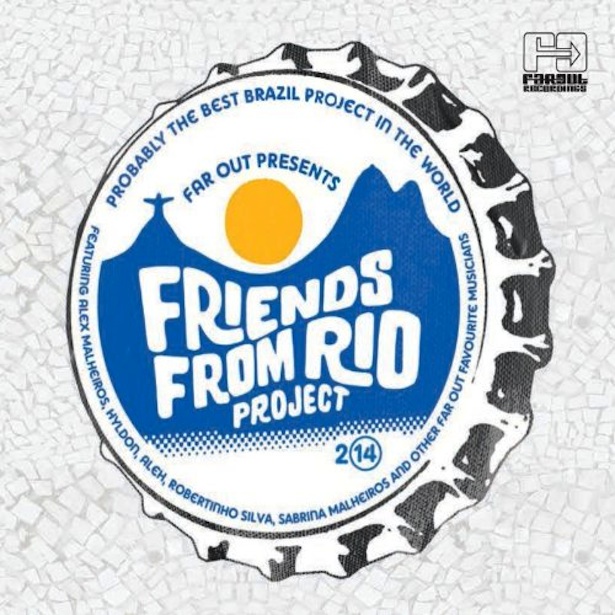 2014 marks the 20th anniversary of Joe Davis` label, Far Out. A label that was inspired by London nights of under-aging drinking hanging out, listening to, and watched over, by the legendary DJ Paul Murphy, a one man Jazz Dance movement, the King of the Electric Ballroom. Friends From Rio were the first act to be released on Far Out in 1994, but this is the collective`s first recording in 14 years, featuring a core of Brazilian musical icons: Hyldon (singer song-writer, sometimes grouped together with Tim Maia and Cassiano), Carlos Dafé (keys and guitars), Robertinho Silva (percussionist), and Alex Malheiros (ex-Azymuth bass player).
Carnival whistles, trumpets, trombones and Moogs. Flora Purim-like Fusion, `80s slap bass and Leon Ware wanting to touch you there. Blaxploitation Wah Wah licks back Boogie that could join the canon of Jorge Ben, Robson Jorge, Lincoln Olivetti, Airto Moreira, Seu Jorge, and of course Azymuth. Vocals come from Alex`s daughter Sabrina Malheiros, Denise Pinaud, and the weathered Louis Armstrong, Jon Hendricks-like Ivan Matheus.
Joao Coutinho leads "Anthemia" on a Tango through Matthew Herbert`s "Café Des Flores", Marcos Valle`s "Bar Ingles". Like the Haitian heyday of Joe Claussel`s Ibadan / Spiritual Life, Jephette Guillame`s "The Prayer", or Japan`s Copa Salvo and Carioca, while the closing "Japa" rolls an oriental piano intro into the ECM Jazz of Keith Jarrett and then Tania Maria`s "Vem P`ra Roda". All of the tracks here are new and original compositions, bar a cover of Jorge Ben`s "Mas Que Nada".
The music of Brasil made a significant contribution to the development of what the "Famous Four" (Fung, Oakenfold, Rampling & Walker) coined "Balearic Beat". Its influence, percussion, and passion clear in any number of "Ibiza classics". Many of the DJs on the White Isle had travelled from Brasil`s South American neighbours, Argentina, and Uruguay, fleeing murderous far-right military juntas, and they brought Brasil`s music with them. It was what they would listen to at home, away from the clubs, and what would be played at Sa Trinxa in Ses Salines as they surfaced from a night of partying to recover before another.
Oh, and the World Cup starts tomorrow.