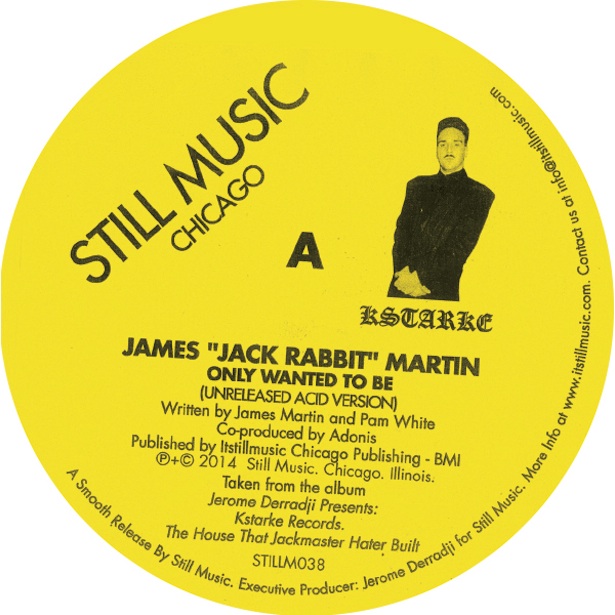 Having released three amazingly comprehensive collections focused on Chicago`s Mitchbal (122 BPM: The Birth Of House Music), AKA Dance Music (Bang The Box!) and Sunset Records (Kill Yourself Dancing), windy city-based DJ, producer, and gotta be obsessive, Jerome Derradji, has now teamed up with Jackmaster Hater, Kevin Starke. Starke runs the renowned KStarke record store and its associated labels, Warehouse Box Tracks Recordings, Booton and, of course, KStarke, through which he has shared rare and often unreleased versions of classics by House pioneers such as Adonis, Jamie principle, Joe R. Lewis, Larry Heard, Phuture, Robert Owens, and Ron Hardy.
Taking the same premise, of tracks and demos that only previously existed as tapes, changing hands between the Chicago DJs that created House, there is a compilation on now the way, and it is characteristically, for Jerome and Still Music, all encompassing. A double CD and two double LPs. In the press sheet Starke is quoted as saying, "I want them to hate me for putting this out."
As a teaser Still Music has an Acid House holy grail, two tracks from James "Jack Rabbit" Martin, whose "There Are Dreams And There Is Escape", the only release on Martin`s own Yoton label, is one of the rarest and most coveted of the genre. The Jack Rabbit`s "Let Us Have Some Love" was recently included in Terry Farley`s "Acid Thunder" for Harmless, while his "Only Wanted To Be", co-produced with Adonis, has been described as the best Acid House record ever made (probably by the few lucky enough to own a copy). It was "re-issued" on Starke`s Booton, around the same time as the Joe R. Lewis record, in 2007, but disappeared in a blink. I`m expecting this pressing to do the same.