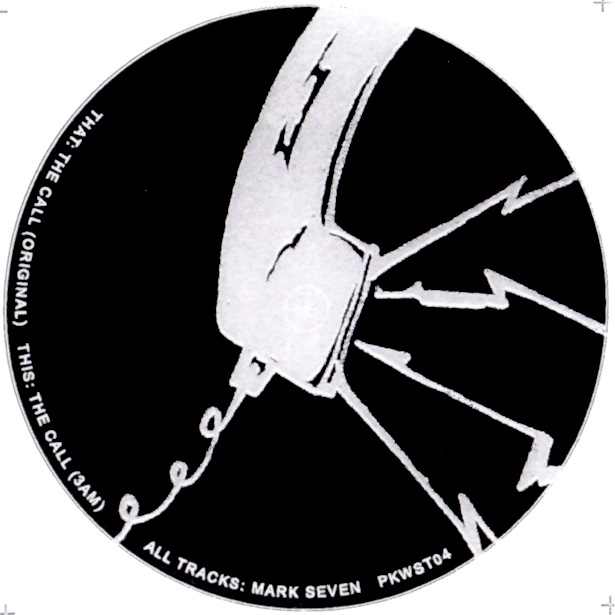 Mark had emailed me, to tell me off for something. You can`t have a mate with such an eye for detail and not expect to get reprimanded occasionally. He also wrote, "I`ve got a new one that I`m quite excited about. We`re out of `88 and into `94." While I replied that I was quite happy in `88, since it all went pear-shaped for me around `91, he is, of course, spot on, and "The Call" is a reminder of that moment in time when, having splintered into separate factions, in London at least, House and Techno briefly found some common ground again, largely down to Chez Damier and Ron Trent, their Prescription label, and their dub of Moritz Von Oswald & Mark Ernestus` Round One`s "I`m Your Brother", followed by Von Oswald & Ernestus` Basic Channel (pitched down and spun by Luke Solomon and Kenny Hawkes at Space), Cajmere and Relief`s Chicago renaissance, Roy Davis Jr.`s soulful Acid on Power Music, and Weatherall putting Pierre`s "Dream Girl" back in his box. Everything stocked and supplied by Fat Cat.
It`s an assumption on my part but the title, "The Call", could also be a rewind to 1994. A piquant flashback to those pre-internet bachelor days / sad adventures, when one might find oneself alone, having failed to pull (again), and late night friends having left one (in the cold grey dawn). Having done far too much gear to be able to sleep, and with someone to talk to essential, a sex call-line could seem like a perfectly reasonable option. An expensive but dependable captive audience. "I wanna freak". Going that one step further and having the sex delivered to your door was / is always always always a huge mistake, as your escort`s escorts will most certainly be two big fuckers, who will wait in a car outside, giving you just a little private time, before ringing your doorbell continually, pissing off your probably already pissed-off neighbours, and then demanding payment for undeclared extras with menaces. Often honouring you with further friendly visits whenever they happen to be passing and petty cash is low. Helping you to the ATM if necessary.
Small repeats hit hard, in brain-damaging electric counterpoint that will have you turning this way and that way on the dancefloor. Like a caged tiger locked in its insistence. I can hear Mood II Swing`s Bum For Hire, Marc Kinchen on KMS, and the House-ier end of Arthur Smith`s Grain, while Mark himself cites this:
I wrote, "You`ll be doing Wild Pitch next."
"Wild Pitch? This is the closest I get."
"The Call" should be in shops mid-October.