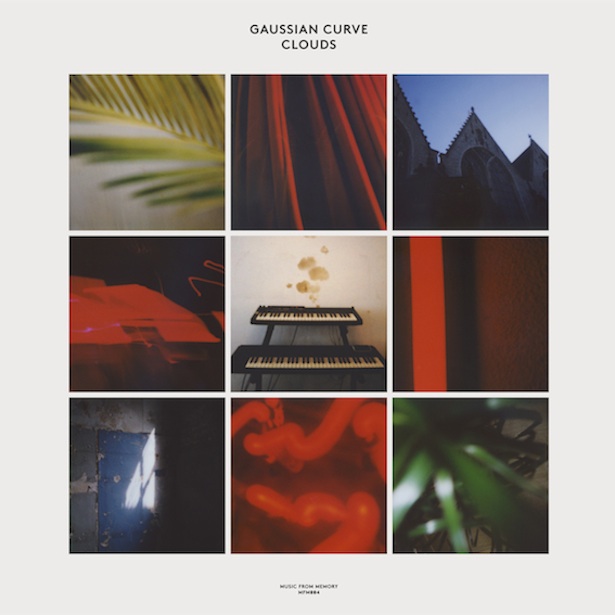 Music From Memory's fourth release and their first focused on new music, "Clouds" is the highly anticipated output from Gaussian Curve, the name adopted for a recording session that took place during an unusually warm Spring weekend in Amsterdam`s derelict downtown, at the studio of "Young" Marco Sterk. A collaboration between Marco, Land Of Light's Jonny Nash, and Italian ambient genius, Gigi Masin. With Gigi on Rhodes and piano, Jonny on guitar, melodica, synths and trumpet, and Marco manning more synths, and rhythmic structures, the eight tracks on the album are all amazingly "one take" live improvisations.
A short introduction reprises the longing of Gigi`s "Call Me". A music of ships pulling out of harbour. Farewells and departures. Elsewhere, interludes cast dramatic chords of thunder. The detail of rain. Neo-Tango, an Arto Lindsay edge, a Shuggie Otis rhythm box and Jazz shapes. A sense of space that suggests the work of Toshifumi Hinata. Nowhere here does it sound like Young Marco, and it isn`t Land Of Light either, but one piece, "Broken Clouds", does float, almost motionless, like Gigi, though less of memory`s sad treasure, and more of the moment. Jonny`s guitar ringing out arcs of blue whale song. The three longer pieces might be an alternate soundtrack to a classic `80s Art House picture. Gabriel Yared realized landscapes for lovers to attempt escape. For lives less ordinary. Running forward, leaving a map of the heart behind them. Betty et Zorg in better days, a chili con carne pot whistling, pink painted beach houses, before madness burns. A yellow Mercedes Benz Fintail in a field of gold. Slamming tequila and shop front duets. And then Zorg alone, in small hours between midnight and dawn, drinking and smoking, writing and remembering, and talking to the cat. Finding some solace in a play of reincarnation. Love chased to tragic conclusion. The means of its demise irrelevant. It all hurts the same.
Still not sure when this is going to be released, but hopefully before the close of 2014. You can listen to clips over here and pre-order a copy here.