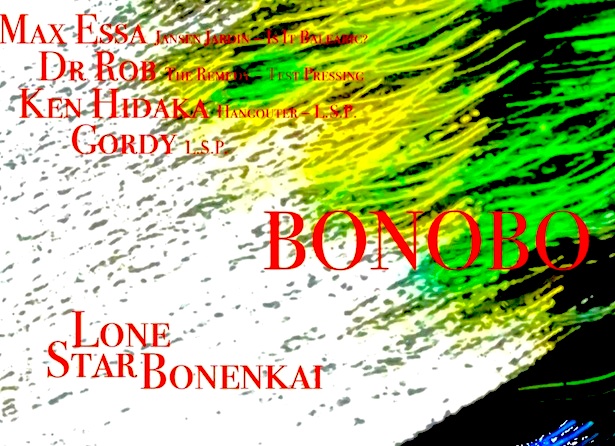 You can catch me here tomorrow night, at Bonobo in Harajuku, for the Lone Star Productions Bonenkai. I`ll be jumping on a Shinkansen after my radio show and then doing the warm-up for residents Ken Hidaka, Gordy Allan, and Max Essa. I generally do the warm-up, `cos it allows me the (complete self) indulgence of cutting between genres and tempos, and frees me from the necessity / tyranny / eventual boredom of having to beat match. But a warm-up in Tokyo, might be different to a warm-up elsewhere. Venues in the city open at 10 PM, so for starters there`s no sunset to accompany, and you have to catch your crowd early. Folks popping in for a drink after dinner, if you can convince them that something is going to happen, then you can make them miss that last train at midnight, and then have them captive until the Metro gets back up again at 5 AM (taxis are f-ing expensive). Conversely, fail to do this and you will be playing records to yourself and bar staff for five hours. So Ambient it is not. You can listen to an example here.
A Bonenkai (忘年会) is a party thrown in December, that has evolved into a chance to "forget the year". Everyone gets smashed. It was explained to me that the original meaning was something like "forget age", and this interpreted in two ways. The first simply allows young and old to party alike (under 50s / over 50s watch out), the second is to do with age and workplace rank. On a normal work`s event, the older more senior bosses are obviously deferred to by their younger employees with upmost respect (It might be hard to believe but the vast majority of companies out here are still family-run and responsibility accorded to seniority in years. With a increasingly aged population, the modern world moving at an alarming rate, and Alzheimer`s on the rise, Japanese business decision-making might be heading for a crisis. Just a thought). They would only be seated at the head of the table furthest from the door, all their drinks poured for them, and every request met accompanied by copious deep bowing. On a bonenkai this is all supposed to go out of the window, with the guvnor loosening his tie and getting the beers in, while the postroom boys try to steal his wig. Maybe. Perhaps.
I`ll also be hanging around on the Sunday to check the master Lexx at work in UNICE.