If Jose Padilla`s International Feel collaboration with Telephones, "Day One", perhaps took some inspiration from Derrick May`s reworking of "Sueno Latino", then label boss, Mark Barrott, here seems further intent on mixing the sound of Detroit`s innovators with that of the Balearics. For the "Bush Society" E.P. Mayday`s genius has been swapped for that of C2, Carl Craig.
For me "Saviours Or Savages?" serves as a prologue. Percussion percolates gently, the music of shorelines, sunrises and sunsets, as strings trace relics and icons, things gone pear-shaped, and skydives from Venus.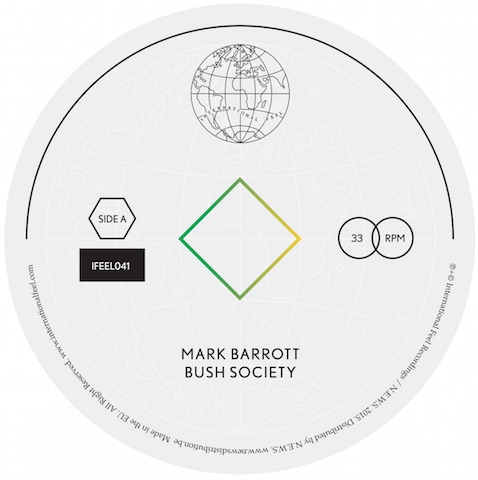 "Bush Society" itself begins with field recordings Mark made while living in Uruguay: birds, insects and Goji drums. I`m guessing that the woodblock laughter on "Go Berri, Be Happy" came from the same source. Lightning flashes a warning, bass thunder rumbles, quickening counterpoint falls like rain. The pizzicato noise of water dropping from leaf to leaf. Chants dance, warmth rises, fuelled by the oft cited (by me at least) "African Drug". This, and Apiento`s current "Dream House" offensive, made me dig out Directions` "Busted Trees", a track which ten years ago was described as perfect for the terrace at Space. I know Mark has some summer residencies lined up on the Island. It would be great if this music got the chance to reclaim a piece of Playa d`en Bossa.
Mark also has a new weekly "Sketches From An Island" radio show starting on Monday May 4th on Ibiza Sonica, between 1-2pm European time. You can grab more details here.