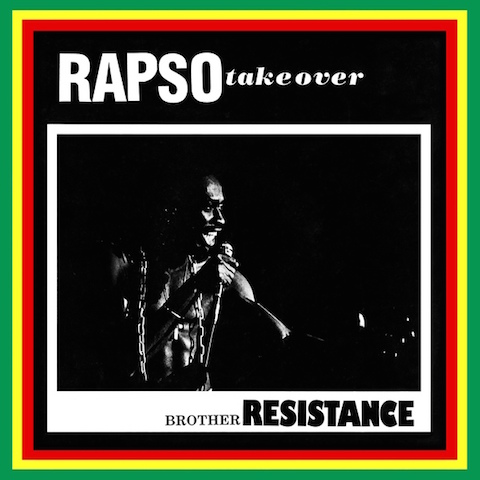 Melbourne-based label Left Ear lines up a third release and a second that combines Reggae, Calypso, Socca, Rap and Disco. However, while Andre Tanker`s "Basement Party / Hosanna" was a simple celebratory invitation to dance, this Brother Resistance LP has a whole lot more than bump and grind on its mind. Brother Resistance is Lutalo Masimba, a Trinidadian musician, poet and activist. Very much still around, and touring (Europe at least as recently as 2006), Masimba`s "Rapso Take Over" dates back to 1986, when it signposted over two decades of austerity, Union strikes, see-sawing unemployment, and Black Power riots under an increasingly centralised Peoples National Movement government. A government that was further tainted by allegations of corruption. At that time the record served as a recruitment manifesto for Masimba`s Rapso Movement which sought to fuse oral and musical traditions and use these to spread hope and the idea of liberation.
Masimba`s lyrics regarding culture and justice have him fighting alongside Ras Michael & The Sons Of Negus and mirroring the street observations of UK contemporaries Benjamin Zephaniah and Linton Kwesi Johnson. "Children Of Soweto" is the Last Poets` "Mean Machine" with apartheid its target. "Star Warz Rapso" echoes the issues of Gil Scott Heron`s "Whitey On The Moon" and Sun Ra`s "Nuclear War". An Afro Beat poetry that authorities took seriously enough to torch Masimba`s headquarters and studio, The Uprising Culture Shop, in downtown Port Au Spain.
Recorded in London with fellow Trinidadian musicians, such as pianist Annise Hadeed, the sound of "Rapso Take Over" is that of Sly & Robbie`s Taxi Gang, and a post-Fela Tony Allen going it alone (particularly "Moyege"). Steel pans, a la Stephen Encinas, mixing with synths and the South African Jazz swing of Batsumi.