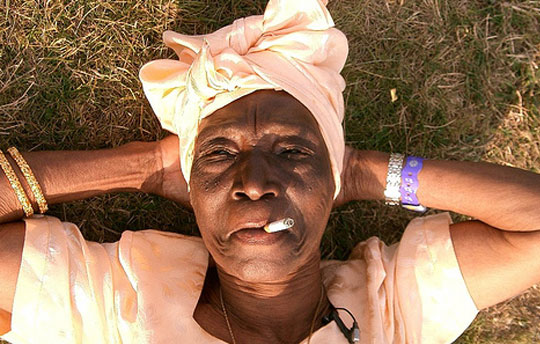 The Zanzibari singer Bi Kidude (Swahili for "Little Granny") died in 2013 at the age of around 102. The vagueness around her age is just a part of the mythology that has built up around this unlikely star of world music. Last Sunday, a new film about the mysterious circumstances surrounding her death, 'I Shot Bi Kidude', premiered at the Zanzibar International Film Festival. With Selma opening the festival and Mos Def as the headline musical act, getting the slot of closing the festival was quite a feat for an independent film.
Bi Kidude refused to be bound by the conventions of a traditional African and Islamic society, and was one of the first Zanzibari women to sing in public. Director Andy Jones knew Bi Kidude for a number of years and directed a previous award-winning film about her, 'As Old As My Tongue'. In 2012, on reading reports in the Tanzanian media that the fast-talking, chain-smoking singer had been kidnapped, he returned to Zanzibar to investigate. Just two months later, Bi Kidude was dead.
How would you describe Bi Kidude?
The best description I've ever heard is, "Imagine Bet Lynch impersonating the Queen". She was a force of nature with a bone crushing handshake and a fierce wit. She was a singer who somehow sounded like a cross between Bob Dylan and Nina Simone, and a percussionist whose conga drum was bigger than her. Four foot six, legs like sticks. The Kop would have a dozen songs about her. And in Zanzibar, and across East Africa, she was a household name.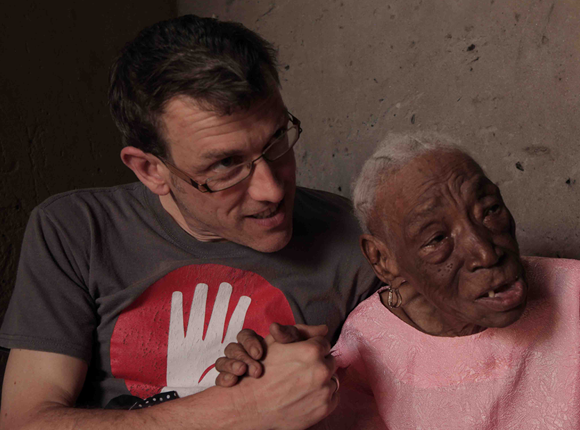 How did you first meet her?
In Zanzibar at the international film festival. She looked bored out of her brains at some conference on women's rights she had been wheeled into. Then that might I saw her drum. Hammering the skin of her drum while the foreigners in the audience looked on agog and the local Swahili audience fell about laughing at some of her lyrics. 
What's her significance in East African music?
Massive. Go on YouTube and see what comes up. The first Swahili video to reach one million hits was her and these hip hop guys Offside Trick in their 20s. And she was in her 90s. That tells you all you need to know. She would sell out Theatre de la Ville in Paris and then come home and hit the streets.  
Your first film told the story of her life, is this new film the story of her death?
That's about right. Or you could say the first was her in her own words and this one needed some explaining so it is much more subjective. It's told from my perspective which had become quite a unique viewpoint – especially once we got to meet the guy who had kidnapped her…  
I can imagine her funeral was quite an event, what was it like?Nuts. But upsetting too. When I heard she'd died I knew I had to get to her funeral. I scrambled to the airport and arrived to join this vast crowd, clutching my camera as we squeezed into the narrow streets surrounding her house. Thousands of people had gathered to mourn her passing. You had the president there and all these dignitaries who had done pretty much nothing to support her while she was alive. There was this massive monsoon downpour and I couldn't help but smile at what Bi Kidude would have thought about the great and the good tramping through the deep mud in order to pay her their last respects.
What's your favourite memory of her?
Wandering around Maputo in 2007 with her she spotted a black mannequin in a shop window and wanted it. So we tried to persuade the shop keeper to sell it. But he wouldn't and then we had this hilarious afternoon trying to find another one. She'd decided that day to tell people she was 113 years old and had this ever increasing crowd of kids following her, like a pied piper, all going "she's 113, she's 113". Then that night we had a screening of the film followed by a gig she did which just went off. There was a stage invasion and everyone was dancing in the aisles including the British ambassador. Special. 
You can watch 'As Old As My Tongue' online here or buy it here.
'I Shot Bi Kidude' will be released in October.