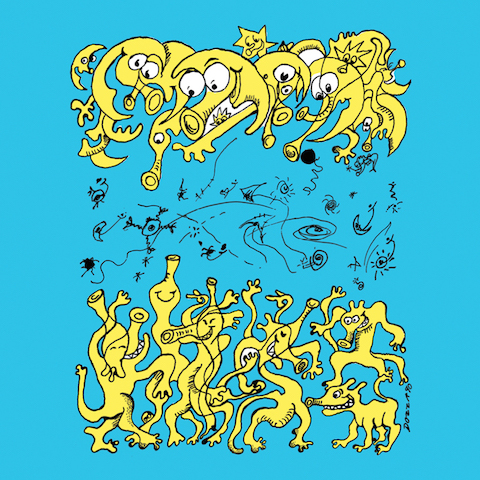 "Morning" wakes in Apiento`s "Dream House", between the classic Deep of NYC and Italy. "Sun Rising" chords play over a cavernous beat, a sax gets synthed and pianos dance against a sky, stretching, yawning, wandering lonely like clouds in its blue. The "Rummage" mix straps on a Clivillés & Cole rhythm track (Sandee? Seduction?) and a vibes run that twins it with Ben Cenac`s Dream 2 Science. "Rummage" itself is a Front 242-esque proto-Techno sketch. "King Of Comedy" is a Balearic Beat gem. A 100 BPM chugger with a Salsa bass line and Sumner / Marr guitar. Like a slightly more sophisticated take on Red Box`s "Enjoy" with Steve Martin getting happy feet replaced by Sandra Bernhard freaking the fuck out of a kidnapped Jerry Lewis in Scorsese`s film of the same name.
"Let`s do something crazy tonight. I wanna be crazy. I wanna be nuts. I wanna have some fun."
The "Man On The Moon" E.P. was originally self-released by Melbourne-based Braden Schlager on Valley Of The Moon in 1990. To initiate their reissue label, Efficient Space, Noise In My Head have picked up the E.P. and added "King Of Comedy" from the "Makin` Whoopie" soundtrack for "Cyberbia", a theatre production performed at Monash University in 1991. I love this track and have been hassling Michael at NIMH on a fortnightly basis for release dates and pre-order links, since he first sent it over months ago. There had been problems finding a distributor but the vinyl will finally be in shops on August 24.
The video features edited footage of early Melbourne club, Biology, shot by Tibor Hegedis, David Nixon and Gary Vaughan. You can hear clips from the whole reissued E.P. here and more of Braden`s music here.