This one is happening in Paris tomorrow night – 15th October. Firstly an exhibition at The Scope Gallery and then an after party from 11-5 at Les Bains. The exhibition will be showing the DEEWEE archive of Ibiza posters and ephemera. It's all beautiful stuff. There are also further t-shirts, totes, posters and flexis designed by Paris design studio Ill Studio available on the night. Tickets for the after party will be given out at the exhibition. Hope to see some of you there.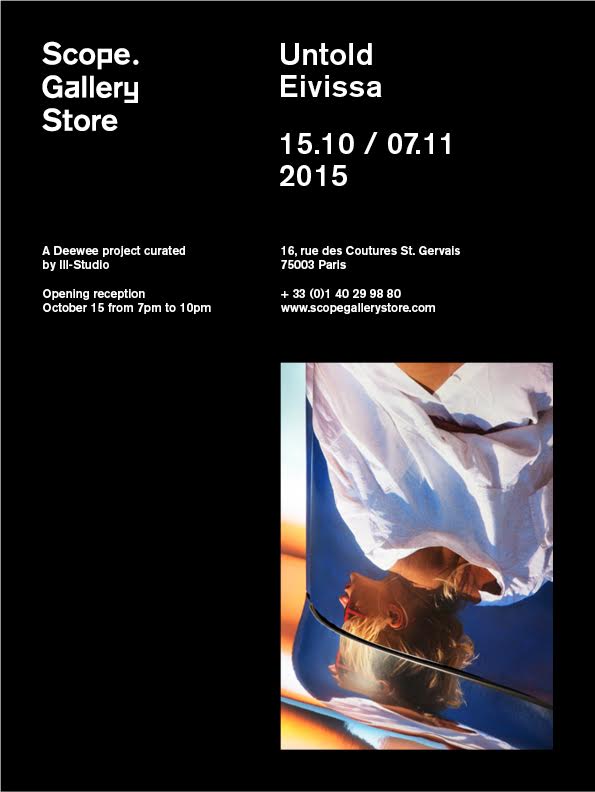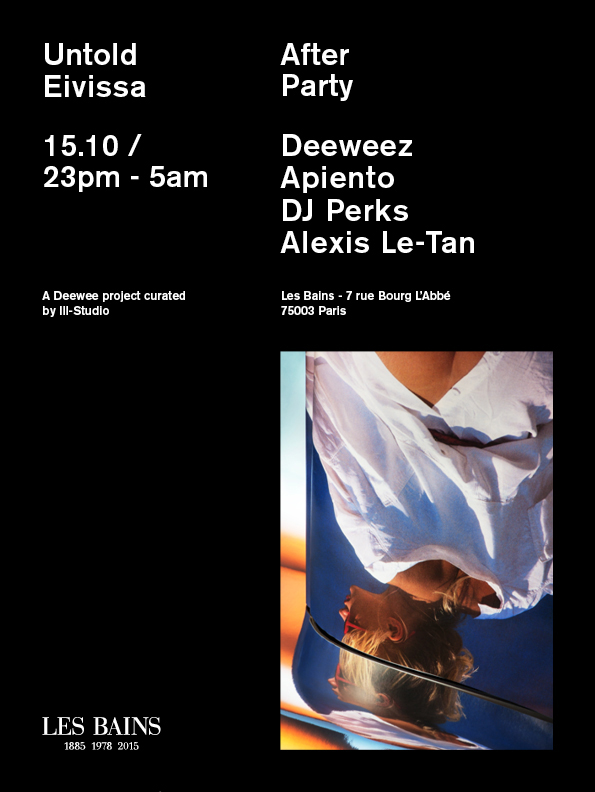 UNTOLD EIVISSA
Ibiza. The island's nightlife is world famous. Or world 'infamous', as many would consider it now. Commercial success and rampant expansionism doesn't look back over its shoulder and Ibiza is not what it once was. History is made at night – maybe – but not in Ibiza. Each night wipes the memory of the last; clubs upscale, shift locations and rename themselves; each season sees a wave of new clubbers, younger than the last, to replace those who came before. In Ibiza history is erased at night.
Ibiza has long been an island of freedom. It was a haven for liberal and alternative Spaniards during Franco's rule. In the early seventies it was a key point on a global hippie trail. In the early eighties it was both a favourite destination of the Club 18-30 holidayers as well as Europe's yachting fraternity. It was Europe's most treasured 'pleasure island.'
Between 1981 and 1987, a culmination of newly found freedom, drugs that were not yet illegal and a forward thinking fashion crowd made for an unprecedented, and to those who were able to witness any of it, unmatched period of partying (as opposed to clubbing) to which the soundtrack consisted of "Balearic Beat" a unique mix of New Wave, Funk and other electronic music. A tightly knit group of Gente De Ibiza pushed the envelope on all fronts by spending their days on the beach and their nights in smaller clubs like Pacha, Angel's or Amnesia before going to the temple of ecstasy that was known as KU, just as the tourists were leaving. Now all but forgotten, this club ruled the island and changed the way people thought about going out, proving it wasn't necessary to go commercial for a big crowd.
1987 is know as the Year Zero to many people as it represents the summer where a handful of British DJ's came to Ibiza and were blown away by the experience, went home inspired, put the Acid in to House and adopted the Ibizan nightlife as its own.What makes the period before the British invasion so special is in a great part its obscurity. These summer nights took place a decade or decades before the Internet, camera phones and Instagram. What global communication there was in the eighties was beamed from Hollywood, New York, Paris or London to the rest of the world. Very little went back the other way. Ibiza was an island and not just in geological terms. As the rock and roll adage would have it – what happened in Ibiza stayed in Ibiza!
Ibiza didn't need to share. Ku and its in-house artist Yves Uro produced hundreds of world class posters but the world never saw them. They had a micro-economy. Ku was an industry in its own right. The club could easily afford to print posters, manufacture clothing, fragrances and publish its own guide books to the island.
In the last few years, magazines and books produced during this era are being rediscovered and shared. Recordings of DJ sets at Ku and Amnesia are being uploaded to the internet. It is probably the only great creative age – at least in the Western world – that remains undocumented. This exhibition enlightens the golden years of Eivissa through the archeological dig of chief investigators Stephen and David Dewaele, the visual spectrum of Ill-Studio and the tales of Faruk Gandji, one of the first party organisers on the island and one of the last holders of its bastion of truth.
If only Easyjet offered flights to 1984. We could all go there.