"Corrigendum / a mistake, error, part of a statement that is not correct"
I was pulled up for my behaviour from 6000 miles away. That`s the price of popularity I guess: folks discussing the site at a London dinner party, my ex in attendance, kind of half laughing at the anecdotes being recounted, the experiences being shared, sparked by the "Boy`s Own Playlist" pieces we`ve posted. She didn`t confess to having been there herself. She didn`t even let on that she even knew me. She pretended that she was joking but "You`ve written me out", she said, and she was right.
"Gary Clail`s "Beef", its remix and the remix of the remix (canny chap that Oakenfold) belongs to the aforementioned Yellow Book.".
"Paradiso`s "Here We Go Again" has me mid-way through a night at the Soho Theatre Club.".
"Glen Gunner at Moist fresh from watching Terminator II on Acid.".
"Blind Lemons sucking dropped & trodden Es off the Milk Bar carpet.".
I might have given the impression that between `89 and `92 I was some swashbuckling, toe-flicking, love-making, heart-breaking, roister doister, but I was not. I was with Jo. I never put a Patrick Cox inside The Yellow Book, probably never ventured to Covent Garden`s Gardening Club, without her. Ophelia, Moist, Jo was always on my arm. The Milk Bar, we were together, unified. At Flying we were recognized as a couple. There was no one without the other.
I`d moved back to London first, so Downham Tavern, Bonnies, Echoes, Kazoo, Land Of Oz, The Trip, Ziggy`s were all adventures of my own (Of a sort. My sister took me to the Tavern), but Jo was there when I met Bobby Gillespie, Andrew Innes, Alex Nightingale, Jack Baron, with me when I befriended Nick, Reece and the Psychedelic Skinheads, Big Brian Laws & Justin, smiled maternally whenever I excitedly cornered Weatherall.
"As the tempo picks up, it`s more "Rampling On The Radio" than Flying at Dingwalls.".
The council flat on the Tulse Hill estate, shiny with silver fish, where we`d ready ourselves with Red Stripe and Rimmel (budgets didn`t stretch to Chanel back then) respectively, while listening to Kiss FM, was Jo`s.
"808 State, or State 808, is a white-tiled Yellow Book one-off, the boys DJing upstairs, and the girls downstairs. Darling Nikki bit me on the nose. Weatherall played "Would I Find Love" and Ruth danced in white silk pajamas.".
Darling Nikki bit me on the nose to remind me of the night before, which I hate to say I still can`t remember (more apologies). Ruth might have vogued like a sexy Wee Willy Winkie but Jo was next to me, probably in John Richmond.
"Dancing with barmaids at Pure Sexy. Puscha in sunglasses.".
Pure Sexy was my birthday and I disgraced myself with the barmaids (& Nina Walsh) by Jo`s account. At Puscha we were both bored to be honest.
I`ve said that I lost it somewhere in `91 and I can pinpoint the moment through music (that summer): those records where I can see Jo and those where I cannot. More genres "Jo" and "Post-Jo".
Years before, we`d fallen and learned how to love to a soundtrack of Aztec Camera, Orange Juice, New Order, REM, Prefab Sprout, and The Smiths. Between `89 and `91, like hand in glove, we fixed the capital a lurid red to all of the following:
A.R. Kane / Love From Outer Space / The Aloof / Never Get Out Of The Boat / Ariel / Sea Of Beats / Be Big / That`s When It`s Gold / Beautiful Ballet / Energy / The Beloved / The Sun Rising / Big Hard Excellent Fish / Imperfect List / Blow Monkeys / La Passionara / Bocca Juniors / Raise / Edie Brickel / What I Am / Foxy Brown / Fast Car / Terry Calier / I Don`t Want To See Myself / Gary Clail / Beef / Deeelite / What Is Love? / Groove Is In The Heart / Dizzi Heights / Would I Find Love / DJ H & Stefy / Think About / Double Dee / Found Love / Ian Dury / Hit Me With Your Rhythm Stick / Electra / Autumn Love & Destiny / Flamenco Massive / Mi Corazon E Negro / Flowered Up / Its On / FPI Project / Rich In Paradise / The Grid / Flotation / Happy Mondays / Hallelujah / W.F.L. / Step On / Dan Hartman / Relight My Fire / Horses Without Heads / What`s Your Name? / Richie Havens / Going Back To My Roots / A Homeboy, A Hippie & A Funki Dred / Total Confusion / Jagz / Tarantella / James / Come Home / Frank K / Everybody / Frankie Knuckles / Your Love / Kwanza Posse / Wicked Funk / L.U.P.O / Keep It Up / Hell Or Heaven / Less Stress / Don`t Dream It`s Over / Alison Limerick / Where Love Lives / Loco Mia / Rumba Samba Mambo / Madonna / Justify My Love / Vogue / Mad Jacks / Feel The Hit / Meat Beat Manifesto / Radio Babylon / Moby / Go / Natural Experience / Don`t Leave Me / Frances Nero / Footsteps / Nitelife Cityrama / Running So Hard / Nomad / Devotion / Sinead O`Connor / I Am Stretched On Your Grave / One Dove / Fallen / Orchestra JB / Free Spirit / Paradiso / Here We Go Again / Primal Scream / Loaded / Don`t Fight It, Feel It / Higher Than The Sun / Come Together / Ragged Jack / Party`s Over / Chris Rea / Josephine / Red Box / Enjoy / Rio Rhythm Band / Carnival De Casa / Ce Ce Rogers / All Join Hands / Saint Etienne / Only Love Can Break Your Heart / Santa Esmeralda / Don`t Let Me Be Misunderstood / Scarlet Fantastic / No Memory / Sensurround / Blind Faith / Sheertaft / Cascades / Side Effect / Always There / Simphonia / Can`t Get Over Your Love / Slam / Eterna / Sound Of Shoom / I Hate Hate / Soup Dragons / I`m Free / Stex / After The Rain Has Gone / Sting / Englishman In New York / If You Love Somebody / The Stone Roses / Fool`s Gold / Talk Talk / Life`s What You Make It / The Temptations / Ain`t Too Proud To Beg / Thrashing doves / Sympathy For The Devil / True Faith / Take Me Away / Jah Wobble / Bomba / The Woodentops / Why? / Pete Wylie / Sinful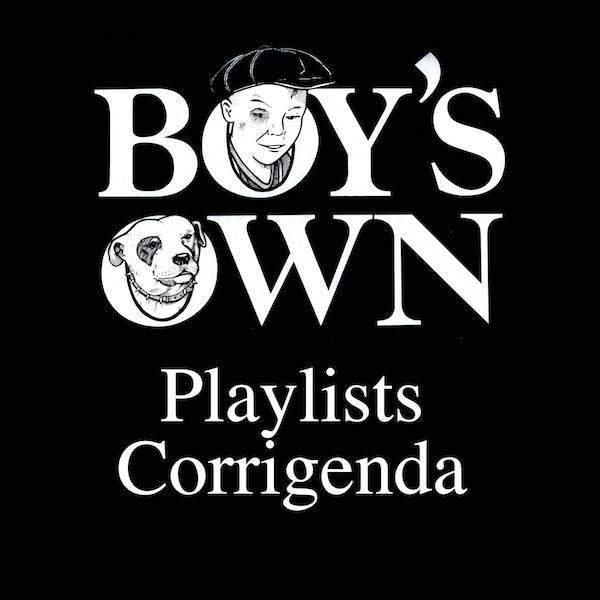 All of the tunes listed here can be found on a series of rough "mixes" on Mixcloud.