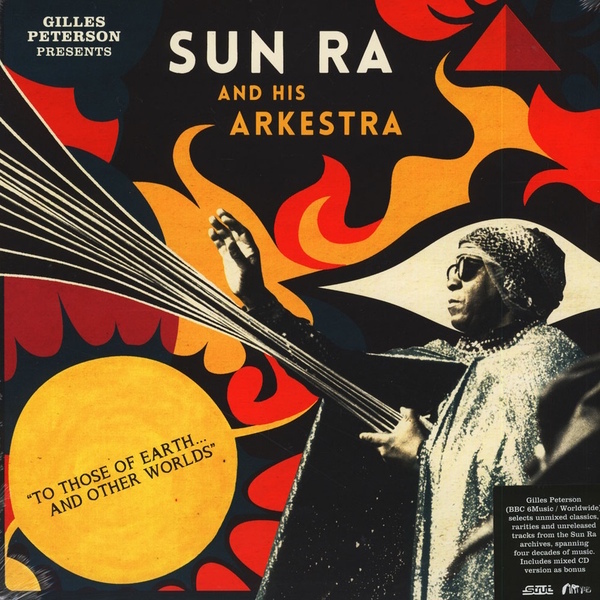 During his lifetime (1914 (perhaps, no one knows for sure) – 1993) Sun Ra recorded seventy-one LPs and eighteen 45s for his own El Saturn label, plus sides for ABC / Impulse, Philly Jazz, ESP-Disc and BYG. From this daunting catalogue Gilles pulls career-spanning work, and in doing so provides an essential overview for both the uninitiated and initiated. By including many tracks from those El Saturn records, which were only on sale at gigs and never given wide distribution (and hence fetch hefty sums), and avoiding the "hits" ("Space Is The Place", "Nuclear War", "Where Pathways Meet", "UFO"), Gilles has put together something of great interest even to those who might have a shelf of Ra`s albums already.
There are recordings from the Arkestra`s birth in Chicago in the 1950s, as a trio slowly growing to eleven, mixing Doo Wop with the occult and Black Nationalism. There are sessions from the `60s, from the Sun Studios commune in New York. Psychedelia before the term existed. Ra would call it "the transmolecularization of man`s future mind". There are "Disciplines", designed to differentiate the Arkestra from the Free Jazz movement, performed by a `70s incarnation, twenty-strong, not counting dancers and acrobats. There are extracts from concerts held in Paris and Rome, where Ra`s unique sense of the theatrical could lead to four hour marathons.
The vinyl is brilliantly selected and sequenced, and the two accompanying CDs (which "mix" the music on the vinyl with a further seventeen tracks, and run to around three hours) even more so. Throughout the accessible smoothes the way for the less so. Marching bands engage in call-and-response space chants. An interplanetary music via Broadway and Gospel segues with African rhythms and alien Disney Jazz. Rocksichord ruminations and astral Mini-Moog communications describe inner flights, and calls to other galaxies. A music of imagined lands, distant continents, and distant planets. An ideology in rhyme. An ideology that questions the illusion of Earthly life that we are fed, warns of conspiracy, and searches for an innocence, an absence of guilt, and unity under our Sun. Exotica, cocktail Noir, Bali Hai balladry and Downbeat Funk. Swinging modal spirituals, sentimental waltzes, fairy tales and racial pride. Strange strings and strange everything.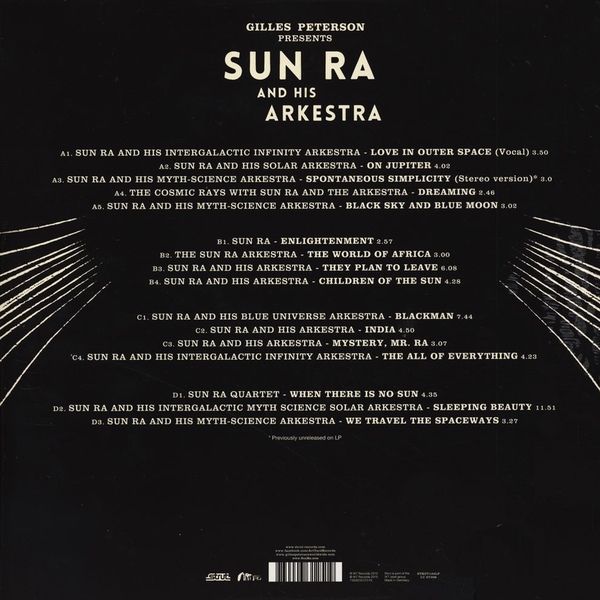 If Quinton or anyone from Strut is reading can we please have "Make Another Mistake" as a single?