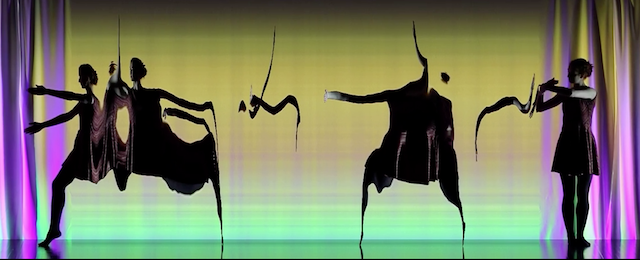 "Ambient Zone II" comprises twelve tracks of a winter`s music mixed by Chris Coco who has been around long enough to know a few things about Ambient, although I`ll always associate him with the perennial banger "Feel It" as much as the Café Del Mar classic "Sunset".
The real gift of this set is that with the accompanying film you are forced to sit, listen and watch for one hour. Collect your thoughts, or think nothing, let the image of dancer, Rachel Bodger, captured by director, Richie Johnston, via a slit-scan cinematography technique similar to the one used for Kubrick`s stargate, create a narrative. A meditation of sorts, that I`m not sure the music alone would provide. Eno designed Ambient as "background music" and now more than ever we are all always multi-tasking, can`t sit still, when sometimes to breathe and absorb might be better. I`m as guilty as the next, since while I wasn`t tweeting or Instagraming, I was cleaning a fishtank and preparing the boys` Sunday tea as I attempted a review. I had to stop to do the work justice.
Shimmering drone, gentle piano minimalism, surface noise, flutes, and bells, and wind chimes. Graceful, melancholic calligraphic figures drawn on time`s canvas. Language is only a pattern anyhow. Arabic hieroglyphs sketched to mournful strings. Their dynamic frozen, yet fleeting, transient, here and then gone. Hushed whispered wordless vocals. A late night solitary drink (just the one), and a catalogue of loves and lovers. A moment given over to the past, watching beauty, all our moments wet ink on the page. Each pose as significant / insignificant as the last. Cicada song, pedal steel microtones, celestial choirs, and dulcimers. A curtsy. The fixed pirouette of a music box ballerina, a cruel forever on her toes. Acoustic picking and silence. A painting in the air. A dance remembered.
The lovely Xanthe at Mixcloud tells us that Ambient`s gonna be big, perhaps for reasons I`ve alluded to, as the information overload overloads. When was the last time you saw any good news? Mixmaster Morris` needs to be dusting off his waistcoat of many mirrors. The Orb best dig out that thesaurus of dodgy puns.

CD and digital are available directly from Just Music.