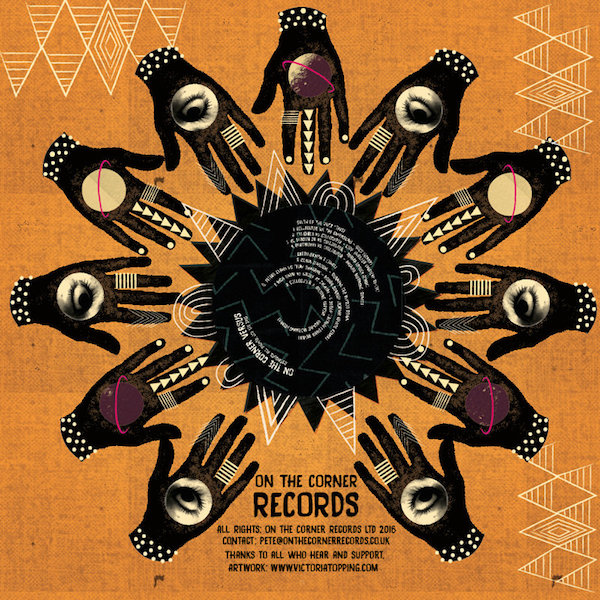 An eight-track comp that has On The Corner`s friends remixing family in the form of Fiium Shaark, Group As Salaam, Black Classical and Collocutor. Fiium Shaark`s "Bogan Sunrise" gets redone as a Technoid tantrum, Petwo Evans animating bangs, clangs and crashes in a rhythmic call and response. Red Snapper`s Richard Thair (ex-The Aloof, ex- The Sabres Of Paradise live band) reinforces Group As Salaam`s Saharan Folk with sub bass armour. Black Classical`s vibes run like a con on the lam through Mardi Gras.
Five artists square up for a shot at Collocutor. The Expansions have "Gozo" nodding its head to Hip Hop beats, Attica Blues and `round midnight Jazz, in a smoke filled lounge. Beatniks and junkies, hepcats, marks and scores. Digging it baby, digging it. FYI Chris juggles those beats on "Loop Thriller", ne conjures, with an Al Dobson Jr. ease. Effortless, as if blunted on Al`s Indica. Collocutor`s horns reduced to a cuica`s squeak. Al Dobson Jr. himself turns the band`s "Agama" into a percussive, rumbling noir that prowls the urban jungle of Mop Mop`s fire escape shadow crazed switchblade alleyways. BodyMoves filters "Archaic Morning"`s battery giving it a Techno edge, while Nick Woodmansey`s "Antoine Abayomi" alter ego`s second take (or should that be third?) jumps with Auntie Flo & Esa`s Highlife, Africaine 808, and Beautiful Swimmer Max D`s Dolo. All modern, shiny, bass drop heavy, like a souped up carnival float.
You can order directly here.