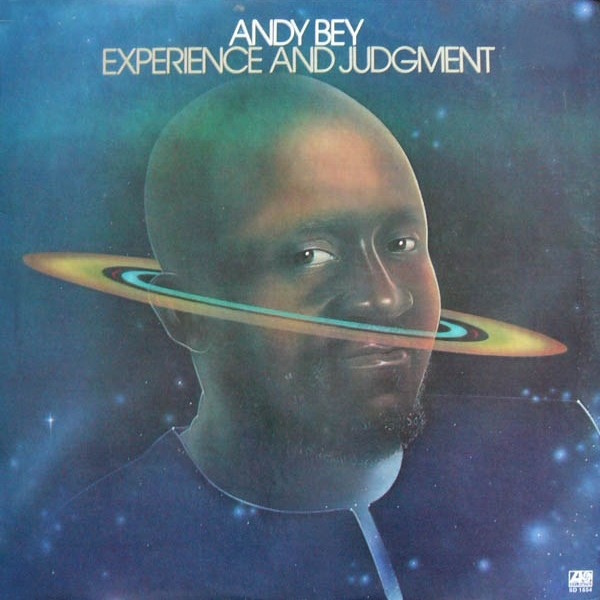 I used to cane Andy Bey`s "Celestial Blues" in a former life. A life I lived in North London, close to twenty years ago. A life as a reformed raver, a rehabilitated Weatherall groupie, a stolen soul left damaged in Primal Scream`s wake. When I`d come out of hospital, when I`d finally managed to get out of bed, I faced nine months on three types of medication, and nine months dry. So began the process of re-inventing myself for the third time. I kissed the gear goodbye and took my waist length hair back to a crop. I hadn`t had it cut in at least six years, and the poor girl given the task kept asking, "Are you sure you really want to do this?" and then put it in a bag and asked me if I wanted to take it home. My girlfriend, who I`d failed to inform of my decision, was so horrified she fell to her knees and cried. I put five thousand records into boxes and took a fleet of taxis down to Reckless on Upper Street and traded in pretty much every 12" I`d bought between 1991 and 1994 for a considerable amount of credit. Italian scream ups, Progressive House, European Techno / Trance, it all went. I didn't need the cash. I just wanted rid. I quit going to Flying and Boy`s Own affiliated events, stopped following Kris Needs and Alan Russell in Echoes, and started reading The Wire and Straight No Chaser, listening to Gilles on Kiss. My enforced sobriety meant that I was now "free" to check out week night parties like "Space" and "That`s How It Is", the Nuphonic Sundays at The Leopard, and my tab at Reckless was used to pick up a new "wants list" of classic Jazz, Funk and Rare Groove. Any real money spent was split between Post-Rock from Rough Trade, and anything I could find hanging around Soul Jazz (I`d say "hanging out", but the only person who had any time for me was Willis (thank you Hayley). Enter a ton of treasures from Russian Stooges 7"s to John Cale & Terry Riley`s "Church Of Anthrax", and Andy Bey`s "Experience And Judgement".
With my "freshly" stocked shelves I managed to land a regular gig at the Medicine Bar, again on Upper Street. "Land" meaning the lovely Rob Wheeler eventually buckled and took pity on me after receiving cassette after cassette. On a busy night I`d pestered him for a shot and he politely palmed me off with a "Do me a tape" not expecting to get one, certainly not expecting to get one every week until he said "OK". Two of us would do the Saturday. My best mate, Richie, would bring the House and I`d bring the Andy Bey, Leon Thomas, Jon Lucien, Terry Callier, Gil Scott-Heron, Eugene McDaniels, Billy Paul, Weldon Irvine, and Leroy Hutson. If you`re needing a review of the music now well in my usual fashion I`ll point you to the company that Andy used to keep. "Experience And Judgement" is in part all of the above. Spiritual Soul / Jazz lyrically split between a search for greater understanding ("Expand your mind don`t let it wither and die") and the need to get naked and get his jollies. The two of course not mutually exclusive.
My introduction to Eddie Hazel`s "Game, Dames & Guitar Thangs" came at about the same time, but it was a discovery of Richie`s. Richie`d had his home kitted out with an amazing sound system. The sweet spot was the far right hand corner of his living room. You were so surrounded by the bass there that we christened it "The Womb". When we weren't DJing, whenever I could, I`d lug a sack of purchases over to Richie`s on a Friday night, with the aim of blowing him away / showing off, and blowing myself away by hearing them on that system. I`d spend the first hour or so teaching his kids to breakdance, and then when they went to bed, we`d smoke a little weed and sit generally speechless, but wearing huge grins in The Womb", nodding in unison, sometimes laughing out loud at how impossibly great tracks were. I never wanted to go home. Everything sounded like the most fantastic recording you`d ever heard, but not much topped Eddie Hazel`s cover of The Mamas & Papa`s"California Dreaming".
Hazel has been far more important to me than Hendrix (not to deny Jimi any genius). At some point later, after another reinvention, I would start each morning with a loud "Maggot Brain" (a further reinvention yet would see this swapped for Cale, Conrad, MacLise, Young & Zazeela`s "Day Of Niagara"). Only #43 on the list of Rolling Stone magazine's "Top One Hundred Greatest Guitarists Of All Time" (?), on "Game, Dames & Guitar Thangs"`s "Frantic Moment" Eddie plays his axe backwards and sets the blueprint for Japanese Fusion for the next ten years. On "So The Story Goes" he is Jimmy Page chasing the devil from the crossroads down to Dixie, but I have a thing about "California Dreaming", have done since I first saw Wong-Kar-Wai`s "Chungking Express". California for me has since become a paradise disassociated from reality, a mythical ideal that perhaps may never be reached, but of which I can still dream. An eternal Shangri-La, a promise of possibility. I may one day get there. So I collect versions of the `60s Flower Power hit whenever I find them. Eddie`s take is obviously additionally charged by his own, painfully familiar, tragic story arc. He`d fucked himself with drink by the age of forty-two.
Be With Records have just put Eddie Hazel`s "Game, Dames & Guitar Thangs" back out there, and are about to do the same for Andy Bey`s "Experience And Judgement".