Joe Rihn from Los Angeles got in touch a while back about writing some pieces for us and here is the first one. We've been chatting to Cooper Saver from Far Away for some time so it is great to have someone that attends the parties write something in depth. Black and white photography by Michael Melwani.
::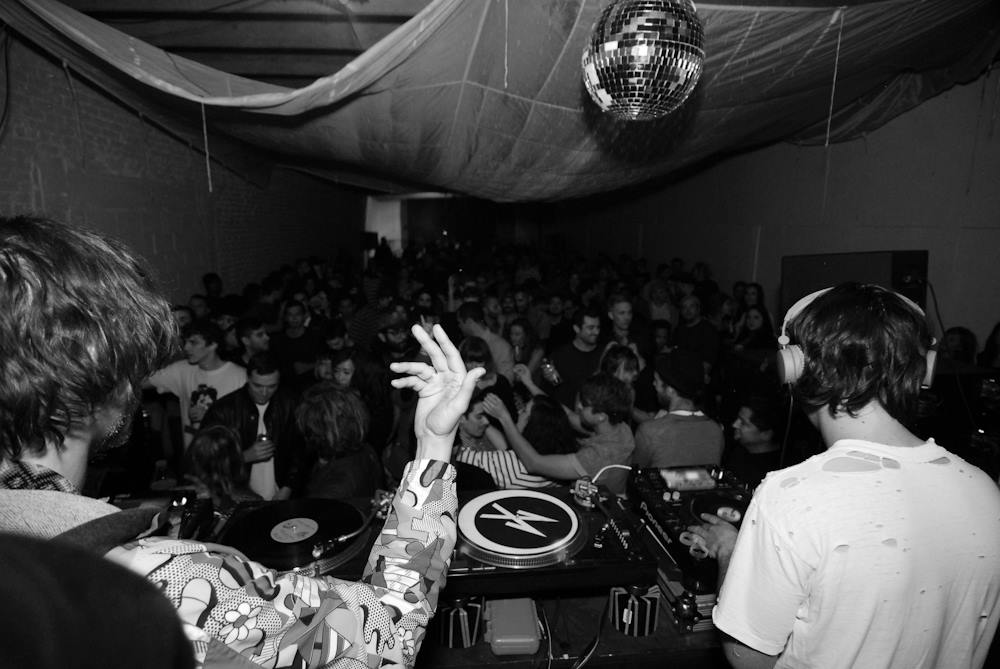 It's nearly 4:00 am in a warehouse just outside downtown Los Angeles and strangers are turning to each other, grinning. Floating Points is blasting track after track of beautiful Brazilian funk and modern soul through a booming sound system. Everyone is pouring sweat and it's physically impossible not to dance.
A few months later Tom Noble is trading tracks with Jack J, Jamma Dee and Benedek on a Koreatown rooftop while the late summer dusk turns purple and orange over the city. As the streetlights come on below smoke drifts from a little coal barbeque and everyone is shuffling to "Love is the Message."
For incurable record addicts and music freaks, these are the moments we chase. As one of L.A.'s premier underground gatherings, the party known as Far Away delivers regularly.
Far Away is the project of a young Angeleno named Cooper Saver. Originally conceived as a cassette label supported by small release parties, it has quickly grown into one of city's most forward thinking nights, helping to grow a community around left-field dance music while commissioning mixtapes from Mind Fair, Joakim and Mark Seven along the way.
For those who have not spent time in L.A. it's important to note that Far Away, along with most of the city's musically informed parties, takes place afterhours, in makeshift spaces and out of view of the police. It's not that L.A. lacks brick and mortar clubs. It's just that they aren't any good. The EDM industry is deeply entrenched and that is what you will find at Sound, Exchange and any other popular nightspot. They may stay open until three or four, but in California bars close at two and patrons pour out their drinks. For those seeking late nights with good sound and serious DJs, the underground is the only option, and for the promoters who keep the city running afterhours, the risk of getting busted is always present. "You're basically putting everything on the line," says Saver of his occupation. But he acknowledges that when things go right the payoff is sweet.
When Far Away started just a couple years ago the left-field dance music scene in L.A. was much smaller, and often overlooked by touring DJs. Today the party is central to an explosion of activity in Los Angeles, fueled by online listings, ridesharing apps and eager ears crossing over from the mainstream. Prior to creating Far Away, Saver drew inspiration from pioneering local nights like Making Shapes, Dance Right and Donuts, but the kind of lineups he dreamed of building were informed by European flyers glimpsed online. "[I was] being inspired by these DJs that I was discovering over the internet and I was wondering why they weren't coming to L.A. at all, and I figured that would be my thing," he says.
While Saver was initially skeptical about finding an audience in L.A, Far Away has since proved that Southern California is hungry for house, disco and Balearic explorations. He may book a range of international talent, but Saver says the party retains a sound "that is representative of L.A. and the West Coast in general." The specifics of that sound are illusive, but choosing DJs who can take risks is an essential aspect, and Saver gravitates toward selectors who are "well rounded and can steer the ship in any direction."
With the party's adventurous musical policy, long form sets are becoming the norm. An early installation of Far Away included Pharaohs, Justin Strauss and Tornado Wallace on the same bill, but these days listeners are more likely to see a single name gracing a flyer or a creative pairing like Beautiful Swimmers and Pender Street Steppers. "It's definitely [about] encouraging people to become more open minded than what you'd expect from these DJs in a club or a shorter set," says Saver. "I want people to experience the journey of what a DJ set should be."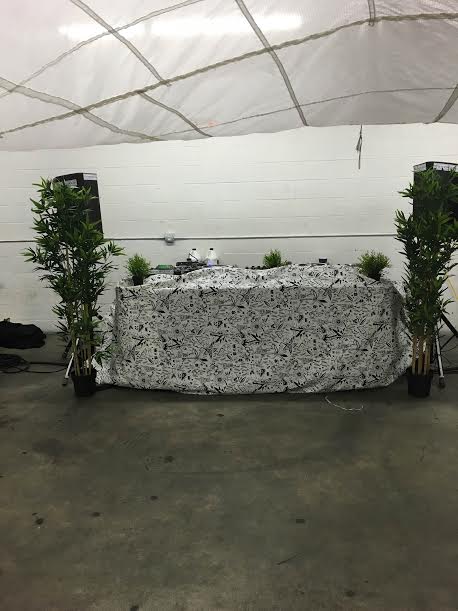 Saver emphasizes his guests' ability to build an atmosphere. "Having the crowd share the warm up with whoever's DJing and slowly ascend to the peak hours of a set is really crucial," he explains, continuing, "If you skip that step I think there's a huge vibe that's lost. Once that trust is obtained I think you can do really amazing things as a DJ." Spend five hours at Far Away with Mark Seven at the helm and it's clear what he means.
On the flip side of Far Away's extended sets are its resident only nights, where Cooper Saver and acrew of local selectors including Jen Ferrer and Sage Caswell handle music for the duration of the night. The crew came together first as friends who loved sharing records with each other, and cherishes the chance to dig deep in their collections and engage with a peak time crowd.
Whether booking a single headliner for six or more hours, or eschewing guests altogether, there is a sense that Far Away and its peers borrow unabashedly from different eras of club culture, without giving the impression of looking backwards. Los Angeles "is its own anything goes kind of world," remarks Saver. "It makes you want to do your homework and get inspired by these things that have never been very prevalent in L.A."