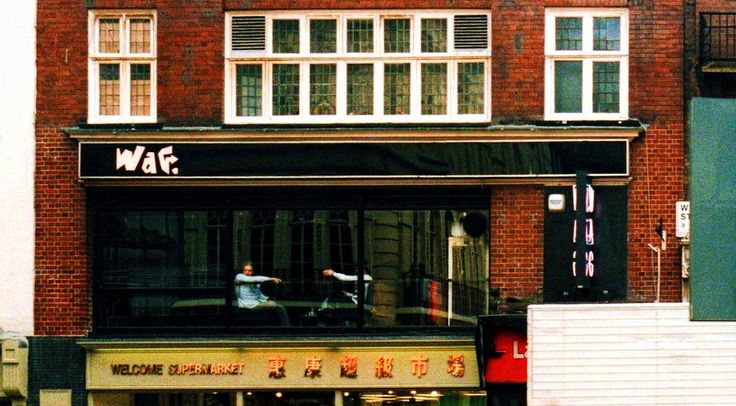 We ran this press release a few weeks ago, got told we weren't meant to yet and had to pull it but we can now… This one looks flipping great.
::
Chris Sullivan presentsThe Wag4CD Remastered Deluxe Box SetSleevenotes by Chris SullivanOut 6th May on Harmless recordsCat No: HURTXCD131
· "The Wag is the dog's bow-wow. Back in the 80's when I toured the UK I was introduced to the Wag and it became my fave hang. The joint had style and substance." David Bowie
· "I brought my new wife Patty to London to see the sights. Number one was The Houses of Parliament, number two was Westminster Cathedral and number three was the Wag Club." Keith Richards
· "I love The Wag. Why aren't there more clubs like it? Always cutting edge." Joe Strummer
· "The Wag was one of the most debauched places I've ever seen. There were drugs, over-indulgence of all sorts, and people having sex in the loos and even on the dance floor. It was one of the last truly elitist West End clubs. But it wasn't about being rich or famous. It was all about personal style." Dylan Jones, GQ
· "You could feel the Wag getting nearer as you walked down Wardour Street, the hipness quota rising, the sense of anticipated revelry cutting the already thick Soho air. Then when you got to the doorway promising elevated entertainment, the pulse quickened and the synapses snapped. You are now at the Wag, the centre of this intense little universe where the night is a thrilling, dangerous place". Robert Elms, BBC Radio London
For the first time ever, the musical legacy of feted London nightclub and 'haven for misfits' The Wag is explored over 4 discs with a selection of remastered rare, classic and collectible funk, Latin, disco, hip hop and jazz that filled the floor.
The Wag box set is released on 6th May via Harmless records and is curated by Chris Sullivan – a musician, journalist and most importantly, the Wag's founder, director, promoter, designer and booker for its entire run of 18 years.
The following list is just a few names to have attended The Wag, either to perform or simply to party: Larry Levan, David Bowie, Keith Richards, Robert De Niro, Dustin Hoffman, Martin Scorsese, Al Pacino, Mickey Rourke, Brad Pitt, Angelina Jolie, Lee Scratch Perry, Grace Jones, Sade, Elton John, George Clinton, Juan Atkins, Prince, The Pogues, Tallking Heads, Desmond Dekker, Stevie Wonder, Marvin Gaye, Van Morrision, The Last Poets, the JB's, Kid Creole, Larry Heard, James Taylor, Kevin Rowland, Mark Moore, Madonna, Boy George, George Michael, Jean Paul Gaultier, Gorgio Armani, Tom Tom Club, Versace, Thierry Mugler, Leigh Bowery, John Galliano, LL Cool J, The Wild Bunch, Kym Mazelle, Tito Puente, Ce Ce Rogers, Marshall Jefferson, Slim Gaillard, Sade, Kate Moss, Goldie, Leigh Bowery, Andrew Weatherall, Iman, Frankie Knuckles, Naomi Campbell, Spandau Ballet, Duran Duran, Maceo Parker, The Clash, The Sex Pistols, The Beastie Boys and Chuck D.
However, the focus wasn't on celebrity, but talent and self-expressive individuality, all set to a flawless soundtrack. "So many famous people came – every actor, musician and artist. They were all so normal and no one paid them any heed", explains Alan Campbell, former Wag manager. "You could talk to them and they'd buy a beer, and not expect free champagne."
Music explored on this box set covers a period from the Wag's inception in 1982 to 1986, and although the club was an integral early proponent in the acid house explosion and continued to support electronic music until its close in 2001, this chapter will be covered in The Wag Volume 2.
The Wag also broke hip-hop in the UK (another area to gain attention on Volume 2.) Eric B and Rakim, Africa Bambaataa, Jungle Brothers, Spoonie Gee, Digital Underground, Biz Markie, Kool Moe Dee, Dougie Fresh, De La Soul, Run DMC, Grandmaster Flash and the Furious 5, Jazzy Jay, The Fantastic Four, Fab 5 Freddy and Rammellzee all played.
With the rapid and brutal big-money gentrification of Soho, The Wag represents a bygone era for the area, where despite a seedy and criminal presence, the congregation of artistic people blossomed.
With a no-photo policy and strict selective entry, The Wag predated an approach now utilized by arguably the most desired club in the world today – Berghain. But the German techno mecca's grimy, basic warehouse vibe was not the order of the day back then. With its extroverted, high fashion crowd, decor and set designs, something far fresher, fabulous and theatrical was happening at The Wag.
Chris Sullivan on the Wag Club:
We had a strict door policy to protect the patrons. Soho then was a rough Red Light district full of sex shops, brothels and those that they attract – pushers, pimps, pickpockets, muggers, servicemen, drunks, stag nights and skinheads. It would have been nonsense not to employ a stringent door policy. The club was intended purely for our group and not for those who walked up off the street. In those days you'd be attacked for wearing a hat and the general public didn't take kindly to the likes of George O'Dowd dressed as a Geisha gal, Phil Sallon in full length Sari and matching tiara and Miss Binnie walking around in nothing but an odd point of view. We couldn't let those in who just didn't get it and risk a big fight, as the reason we started clubs was to avoid that. As such, all those who would make London the creative hub of the world converged under its roof and made the club more than the sum of its constituent parts. A club is only as good as those who attend.
The aim was to create a club that – although slightly influenced by New York's Mudd club and Les Bains Douche in Paris and my fave seventies Soul clubs Crackers in Wardour Street and The Lacy Lady in Ilford – was still totally unique. We wanted the mixed crowd that was our crowd – ex-punks, trannies, rockabillys, hep-cats, ton up boys, Modernists, rastas, fetishists, gay, straight, black, white, green and pristine – and were inimitably able to deliver such.
We kicked it off in October 1982. 200-yard queues reached all the way to Coventry Street, with some eager believers turning up an hour before opening to ensure entrance. I policed the door with Ollie while my old Northern Soul DJ cohorts Paul Guntrip and Hector Heathcote provided the finest selection of music I've heard to date – Latin, jazz, dub and Afro, alongside the rarest seventies funk. Such was the gargantuan buzz that the owners offered us seven nights a week, a partnership and a profit share. We insisted on a complete refurbishment. Consequently we covered the walls with big African inspired cubist, and fauvist murals put toilet paper and flushing water closets in the powder rooms and opened in April 83' with the paint still wet.
After sacking a few Neanderthal bouncers (and the subsequent death threats) the job at hand was to fill seven nights a week so I dissected our 'scene' and gave each little niche its own night. Monday: Jazz and Latin, Tuesday: the knowingly camp 'Total Fashion Victim', Wednesday: Paul Guntrip's 'Heavy Duty' featuring NYC hip hop acts.
And then, by the time we opened the second floor in April 1985 we, as a group, had truly made a mark. Our 'house' mags, The Face and i-D were now institutions and styles we pioneered on a shoestring were now copied on the world's most prestigious catwalks, while the sum total of records sold by the club's regulars ran into some 100 million worldwide. Yet still we played truly underground tunes with not the slightest nod to commerciality. My attitude was that if I wouldn't choose to go there I wouldn't run it and if a DJ played a chart record I would sack him on the spot.
But keeping it busy for 18 years was hard work and we took a lot of chances Luckily, Tom McCabe had every faith in me, even when I was hanging by a thread, and allowed me to bring promoters to the West End who hitherto couldn't get a Tuesday afternoon session in Harlesden. Having said that, we were the first club in the UK to feature among other things hip hop, rare groove, easy listening, house music and Acid Jazz. We also pioneered the retro 'dance' jazz revival.
Yet, in truth, I made it up as I went along – going purely on gut instinct. We had tea dances, live graffiti nights, meat raffles, film screenings, fashion shows, poetry gatherings, comedy sittings, tranny soirees, table tennis sessions (sometimes together) Northern Soul all nighters, bingo get-togethers and cabaret turns. Some nights worked and others failed miserably. We did not consult focus groups, marketing twats, employ a PR or really advertise. We did not have a VIP area, did not ring up paps when the famous typed bowled up and did not allow cameras in the club. We did not sell tables with minimum spend. A big conglomerate governed by accountants did not own the club. How times have changed.
Importantly, The Wag came at a time when my contemporaries and I were unconcerned by material possessions – money being an inadvertent overspill that came from pursuing your artistic aspirations – and so carried on regardless, unfettered by greed.
As such, and to put the record straight, The Wag, was a club that catered, in the main, to an ever-growing gang of nonconformists primarily obsessed by underground black music who had little truck with Civvy Street. It was all about being you and not following fashion. There simply wasn't any other option.
CD1
1. Aaron Neville/ Hercules
2. Cymande /Bra
3. Doris Duke / Woman Of The Ghetto
4. Don Julian & The Larks / Shorty The Pimp
5. Esther Philips / Home Is Where The Hatred Is
6. James Brown / The Boss
7. A.A.B.B. / Pick Up The Pieces One By One
8. Fatback Band / Wicky Wacky
9. Clarence Wheeler and The Enforcers / Right On
10. Miami / Kill That Roach
11. Brother Soul / Cookies
12. Gil Scott-Heron / 17th Street
13. Beginning of the End / Funky Nassau
14. Manu Dibango / New Bell
15. Gwen McRae / All This Love I'm Giving
16. Earth, Wind & Fire / Getaway
17. Brother To Brother / In The Bottle
18. M.F.S.B. / Sexy
CD2
1. Dexter Wansel / Life On Mars
2. The Nite-Lighters / K- Jee
3. Herbie Mann / Hijack
4. D.C. La Rue / Cathedrals
5. Crystal Grass / Crystal World (Larry Sanders Edit)
6. New York Port Authority / I Got It
7. Brass Construction / Movin'
8. Mandrill / Can You Get It
9. Strutt / Time Moves On
10. Slave / You And Me
11. War / Galaxy
12. Fatbank Band / (Do The) Spanish Hustle
CD3
1. Don Renaldo and His String & Horn Sections + M.F.S.B. / Freddie's Dead
2. John Handy / Hard Work
3. Benny Golson / The New Killer Joe
4. Eddie Harris / Listen Here
5. Oscar Brown Jnr / Mr. Kicks
6. Freddie Hubbard / Return Of The Prodigal Son
7. Rashaan Roland Kirk / Making Love After Hours
8. Mel Torme / Comin' Home Baby
9. Herbie Mann/Tamiko Jones / Sidewinder
10. Nina Simone / African Mailman
11. Snowboy & The Latin Section / A Night In Tunisia
12. Mongo Santamaria / I Can't Get Next To You
13. Charlie Palmieri / Mambo Show
14. Ray Barretto / Pasttime Paradise
15. Dom Um Romao & Jadir de Castro / Ozonio
CD4
1. Linda Clifford / Runaway Love
2. Joyce Sims / (You Are My) All N' All
3. Herbie Hancock / Rockit
4. Junkyard Band / The Word
5. Digital Underground / The Humpty Dance
6. Chain Reaction / Dance Freak
7. Quando Quango / Genius
8. Cerrone / Supernature
9. Atmosfear / Dancing In Outer Space
10. Dinosaur L / Go Bang
11. Undisputed Truth / You + Me = Love
Out 6th May on Harmless Records