Friend of the family Paul Noble remembers some of his finest Prince moments…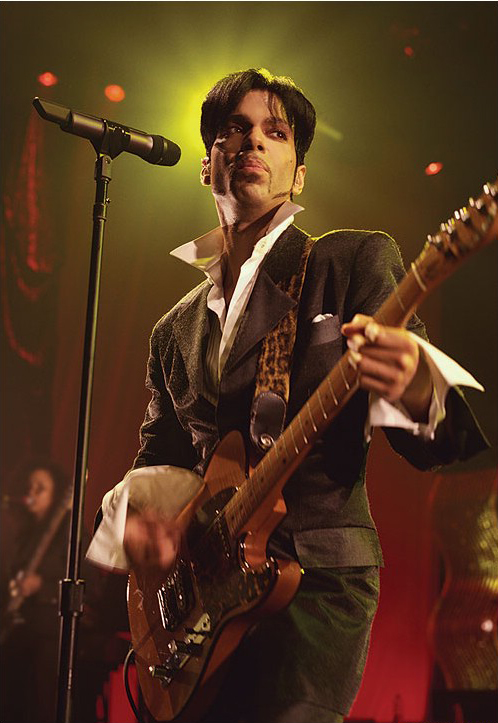 Jesus, Prince. So many songs, so many shows, so many incredible moments in clubs, gigs, train rides and jams. The man has literally soundtracked my life, more than anyone I can think of. The time I saw the Lovesexy tour with Mavis Staples as support in 1989. The first time I heard Parade. The time I met Questlove, gave him a dodgy edit of a Prince tune I did with Bill Brewster and we talked about Prince as a drummer. The tape of the Black Album that went around and it sounded like the most dangerous thing in the world. The shop in Camden with the giant purple candle. The time when everyone started dropping Controversy in their sets around 7 years ago.
Here's a few memories of seeing him live down the years:
Hammersmith Apollo. 2002. It was in the middle of his belligerent period where he didn't want to play any hits. The gig started with just a kick drum from the stage and Maceo Parker walking through the audience, playing a medley of James Brown and JBs riffs. The horn section was Maceo, Fred Wesley and Candy Dulfer. He was always a music fan and student, and only played with the very best. The first fifteen rows were all hardcore NPG fan club. He played mainly rock and jazz, a Led Zeppelin cover, and a lengthy solo acoustic guitar section. One tiny snatch of Little Red Corvette and that was it. It was a long show, over three hours.
Then we got the tip off that he was doing one of his legendary after shows at the Islington Academy. We raced down there, got in. A DJ was playing a set of the deepest Prince cuts (who was that guy?) – the band's backup gear was all set up on stage. He than came on and did one of the funkiest sets I've ever seen – pure James Brown jamming, bringing the band in and out, giving the drummer some, long solos for all the band. Absolutely red hot show. On a Partridge-esque side note, the only two celebs in the house were Leo Sayer and Bill Oddie.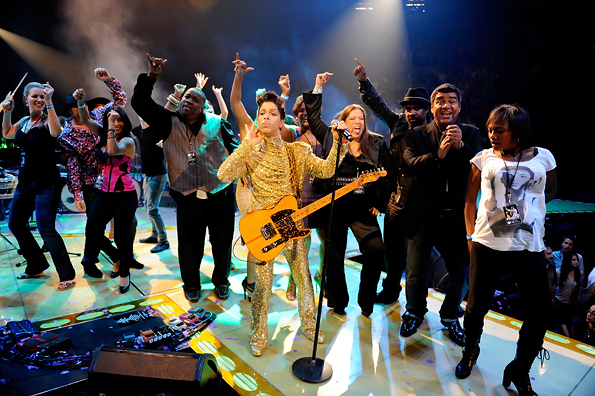 2011 – Prince was doing a weekly, three month Saturday night residency at an arena in Inglewood, CA. All tickets were $25. People who'd been before said stay until the end, there'll be an encore – and then stay beyond the encore, just don't leave. The keyboard player was on his own riser, miles away from the band, strangely. Prince played an stunning stripped down version of 'Love Is A Losing Game' and talked about Amy very fondly, as a peer. Came back on and did an encore, it was amazing. That was that, the lights came up, some people left, lots of people stayed. Someone wearing a wedding dress did an interpretive dance in silence. Everyone just sat around chilling, the cleaners came around sweeping up. Then maybe an hour later, the lights suddenly went out, everyone screamed and he came back on and did another entire set, bringing various people up on stage until around 2am. It was like this cavernous venue had just turned into his private club and we were his guests.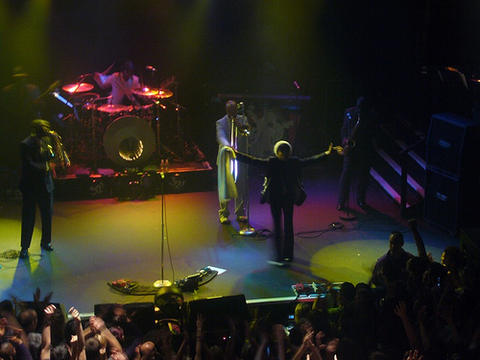 2007 – Koko. Two things happened. We were in a box right next to the stage. One of our party was there with a crazy new girlfriend. One minute she was in the box with us, the next thing we knew she was somehow on the stage, dancing right next to Prince who was in the middle of a song. She kissed him on the cheek, the crowd went nuts, and then, gentleman and showman that he was, he did a faint on to the floor and carried on singing the track. The crowd went bananas. She then GOT ON TOP OF HIM and started riding him. Almost instantly, a huge security guy picked her off him and dragged her off kicking into the air.
A bit later in the show, he's off the stage. The band are still going. Everyone's staring at the stage wondering where he is. I turn around and he is literally standing right next to me. He's right there. There's a photo from The Standard somewhere of him at the front of the box and everyone around him grinning like crazy.
2015 – London, Midnight. The day was over and it was pouring with rain. I plugged my phone in to charge, checked Twitter and someone had posted something about a secret Prince gig at the Electric Ballroom. I raced down there on my bike and bumped into some likely suspects in the queue. We could hear him rocking out inside, muffled but just enough to get everyone excited. We stood in the rain for half an hour and suddenly they opened the door and let everyone en masse, no tickets or payment, right in the middle of a song. The only thing you could compare it to would be a scene in a cheesy 80s flick where the venue doors open, a bunch of kids run in and start rocking out immediately to a band on stage. That's what happened, he was mid-guitar solo, with clouds of dry ice and purple backlighting. Everyone RAN to the front and started going crazy. It was like we'd stepped into First Avenue in Purple Rain. A short, sharp rocking show with 3rd Eye Girl, who he was clearly loving playing with.
2007, London. The 02 gig in his 21-night run where he brought up a random fan on stage to sing Play That Funky Music. The guy had literally no idea where to start with the vocal, melody or any of it. He kicked him off.
2015 – Roundhouse, Camden. Another one of those insta-gigs. Again with 3rd Eye Girl. He did the lot, including a solo piano section where he played The Beautiful Ones. It was devastating.
We'll be playing Prince tonight at Spiritland, of course. As with Bowie, we'll do something big for this when the time is right. Simon Price did a Prince-only night there in the first three months when we launched Spiritland in 2014. A whole bunch of fan club members appeared from nowhere, Simon played an amazing set of classics and total obscurities. It was fantastic. We'll do the same thing again but much louder and longer very soon.
He could have carried on making incredible music for another fifty years. What happens with all those unreleased tracks and albums in The Vault? What happens to all the videos from the shows taken down from YouTube? He never did do that Glastonbury headline spot in the end, but did the frigging Hop Farm Festival instead. Apparently it was one of his best shows.
Mick Jagger said his talent was limitless which sounds about right. There's a very small number of people who are just born with the music just flowing through them, creativity coursing through them like an unstoppable electrical current – Bowie, Stevie, McCartney, Brian Wilson, Duke Ellington and perhaps the greatest of them all, Prince. He could literally do it all.
When Bowie died I thought 2016 will now be one of those milestone years: the year that Bowie died – I would never have imagined it would take Prince too. Of course there's still fantastic music being made and incredible artists out there, but in a time when the popular culture is circling around in a cesspit of vanity, vulgarity and cretinous celeb bullshit, to lose two artists of this stature in one year is just devastating.
Big hugs to all my Prince loving buddies today. Love you, Prince and thank you for everything xxx