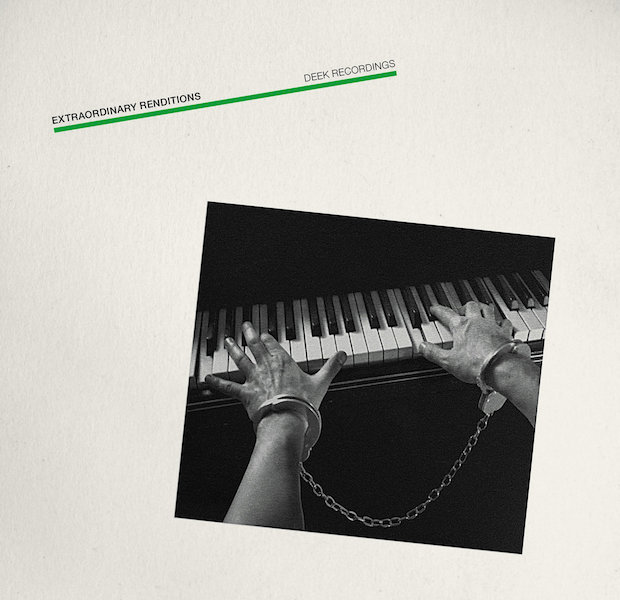 Not a CIA sponsored black site for the torture of terror suspects but a second set of covers from DEEK, performed by family and friends. The selection eclectic, ranging from Pop to obscure.
Laura Groves does The Cleaners From Venus` "Gamma Ray Blue". Laura`s version matching the sublime nature of her previous rework of Paul McCartney`s "Waterfalls" (vinyl please Nathan), her voice could add fragility and emotion to the reading of an address book. Gwilym Gold pulls up D`Angelo`s "The Root", borrowing his stoned groove from Peckham`s 22a massive, and sounding like Prince after-hours and intimate. Jesse Hackett out freaks Captain Beefheart, taking on "Dropout Boogie" in the manner of Crazy Arthur Brown riding with J.P. Massiera`s Little Green Men in the back of Snakefinger`s dark sedan. Bullion lends his Prog / Jazz / Rock to the "Annie" / "Sesame Street" of the Kid`s Praise Choir`s "Heaven Is A Wonderful Place". Nilufer Yanya re-imagines The Pixies` "Hey", Black Francis` Blues, for virtuoso guitar. Guy Gormley`s Never make over Tony Di Bart`s Pop House as a Mediterranean memory (I`d not seen the video. Can someone please tell me, is that Ruth?). Geller & Kaya turn White Mice into New Age Steppers, Stonesthrow`s Anika (thank you Matt). The air-brushed FM R&B of Thundercat`s "Without You" already resembled Bullion. Nautic add clipped Ben Watt Bed-sit chords. Westerman picks the Country Folk of Barefoot Jerry`s "Friends" up hitch-hiking on the Heartworn Highway and introduces it to John Martyn`s "Big Muff". The results a bit like Brian Protheroe`s "Pinball" being fed through Big John`s Echoplex. Raf Daddy (from 2 Bears) reduces a kinda Country moment from Sade to just bass and vocals. Tapes replays the savant genius of Daniel Johnston through an over-amplified music box, to sound like The Beatles on too many Strawberry Fields, Lucy in the sky with too many diamonds, faces melting like Dali`s clocks. Raisa Khan (of Michacu & The Shapes) transforms UN award-winning environmentalist Terry Jacks` melancholy, chart-topping Jacques Brel interpretation into a creepy, hallucinatory nursery rhyme of steel pans and tin soldier snares.
The breadth of the covers and originals here defies this listener`s, this wanna be scribe`s, usual generalisation. If there is a common thread then its back to The Purple One and his all kinds of "Soul Psychedel-A-Sized".
You can find DEEK and their "Extraordinary Renditions" here and here.