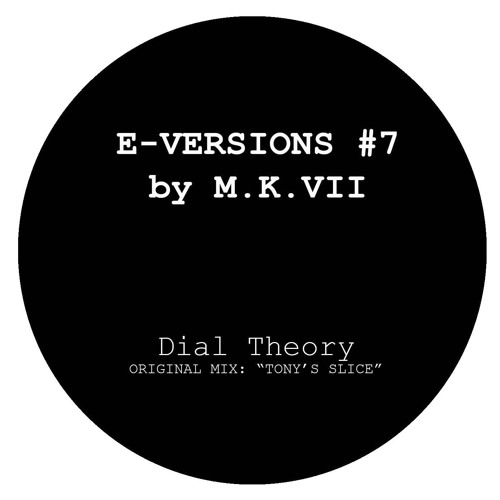 A new 12 on E-Versions by MK VII (I`ll let you work that one out), that`s been a staple of Mark E`s sets for a while. When he included it in a mix for us back in 2014, the lovely Roisin Murphy hit me for an ID. I was of course clueless, and Mark wasn`t telling.
Based around the recreation of a telephone conversation cut up live on NYC`s Kiss FM by Tony Humphries, the "Tony`s Slice" mix is cavernous Big Apple House. Landlord`s "I Like It" in air hangar reverb and brightened by a short rap and blasts of synthetic Balearic brass. "Case Study 9" spikes the purpose-crossed lovers with Acid and sounds like Cajmere manning Laurent X`s machines while Lil` Louis gets trapped in a recurring nightmare. One where the stalker from "I Called U" gets her revenge. One where he gets dumped over and over and over and over again. The 303 apes an old-fashioned rush. Chicago percussion rattles a skeleton bone xylophone. "Dub Love" synths take a hold of your mind and body.
When the conversation is finally manipulated to give our Romeo-who-won`t-let-go his eventual "No"
"I wanted to know if you had any plans for this weekend."
"This weekend? Oh well, I might be busy."
"Busy? Busy again? What are going to be doing this weekend?"
"Nothing."
I laughed out loud in sympathy, and memory.
Juno have got it in.