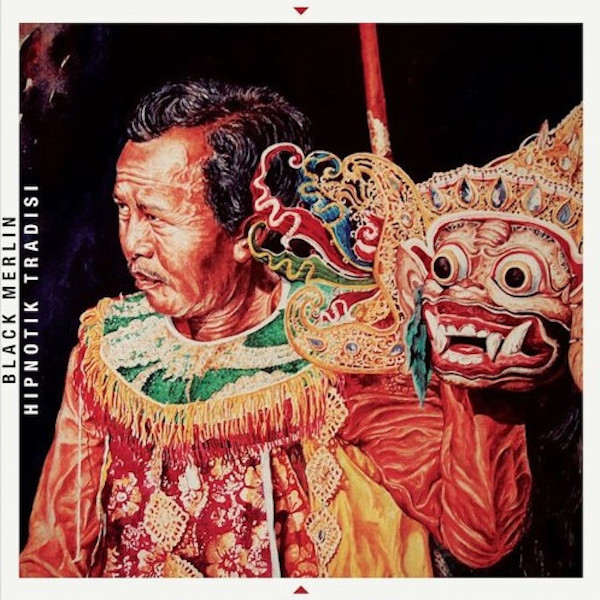 Electronic drones scream across a full moon. Surf and shore can be heard, but it`s too dark to see. This is the start. This is the entry point. Clearing your mind, entering the void, attempting to be the void. Remember, the only fear is that of fear itself. Bass pulses pump with the sound of inner space. Corpuscles rushing through vessels, delivering oxygen, energy to their destinations. Feel your toes, feel your fingertips, feel the top of your head. Count your bones until they glow.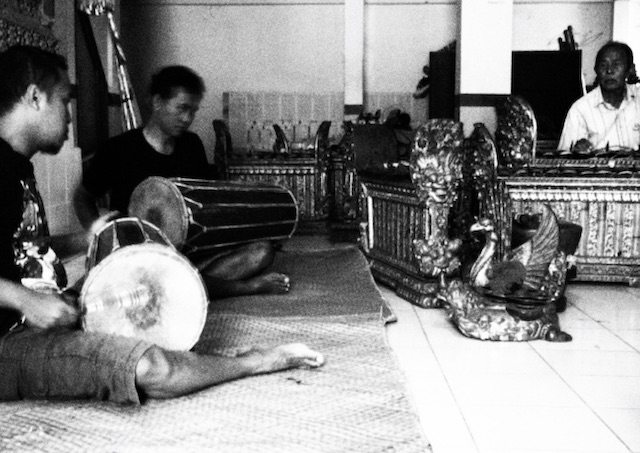 A gamelan`s tones are slowed, ghostly and eerie. Noise moves between waterfalls and wildlife, laughter and tuk-tuks, chant and prayer. Temples into traffic. The way the two are side-by-side in Asia. Doors are being opened. Percussive machines join dragon drumming, hypnodelyc sonar blips. Bats in the black. Vision lost, the remaining senses working over time. Anxious and adrenalin over-amped. It`s all part of the trip. Frighteners dart shadows. Shapes perhaps seen in the corner of an eye. Too fast to make out. Too fast to be sure. The guardians of the next level. The spirits here. Tortured shouts in the distance. The only fear is that of fear itself. Remember? Racing, dancing from one foot to another. Spinning and turning. Cocks crow. It must be dawn. Market crowds in conversation, transaction. Bazaar colours, money changing hands. Everyday business conducted with vibrancy. Yet still Techno demons boom beneath children`s chatter, rhythm devils and jungle calls. Finally a plaintive piano brings familiarity and calm, running water, secret streams (I`ve found a lake whose salt lengthens telomeres), and cymbal shimmer accompanying an end credit theme.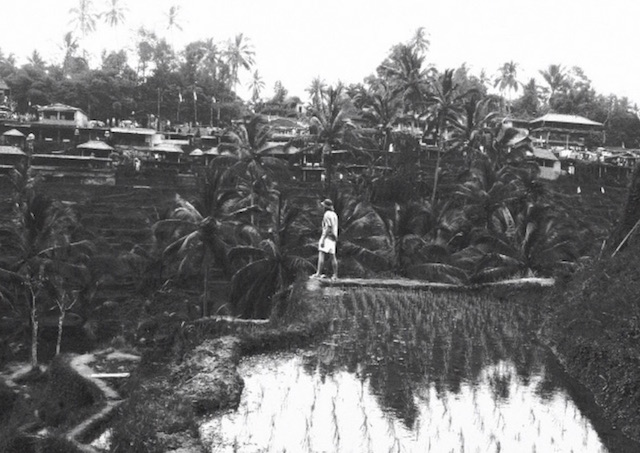 Constructed from field recordings made on Bali`s "Island Of The Gods", manipulated and augmented in Black Merlin`s London lab, "Hypnotik Tradisi" makes for an intense listen. Be bloody careful if you intend to do so either in the dark or high, even more so if you plan on doing both. Out of the dreams of reason are born monsters. Thematically, "Heart Of Darkness" / "Apocalypse Now" / "Fitzcarraldo" would be the cliches but this feels like trip at the end of which there is light. More a cleansing of said darkness. A journey in and back out again. Musically it`s the cosmic analogue pioneering of Vangelis, Moebius, Plank & Neumeier, and Clara Mondshine, David Toop`s archive of Yanomami shamanism, songs, and ritual sucked into the black hole of Tangerine Dream`s "Zeit". That of Black Merlin`s friends and contemporaries, Vactrol Park, KWC`92, and JuJu & Jordash, and his own work with Musiccargo`s Gordon Pohl as Karamika. Tribal made Industrial. The Ancient re-tooled, remodelled, rebuilt for a 21st Century.