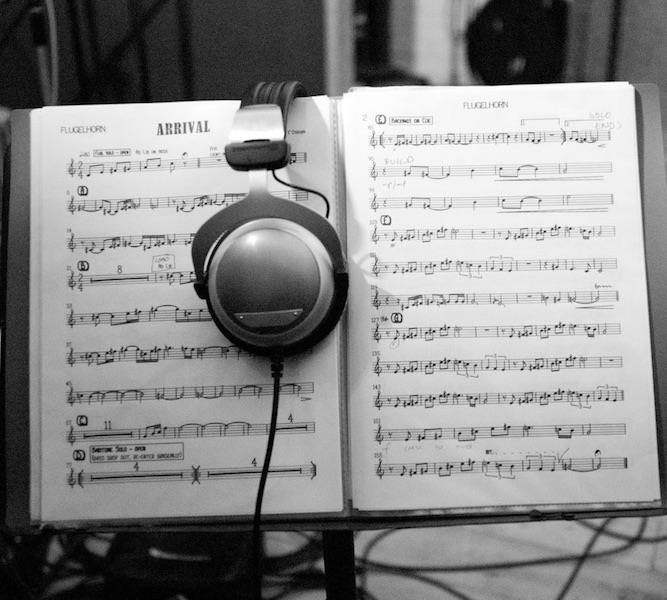 Collocutor and On The Corner Records are in the midst of a kickstarter campaign to help fund the recording of the ensemble`s second LP, "The Search".
If you hit the link to pledge there`s a whole load more information, but basically the fund-raiser is attempting to find the monies to cover the considerable cost of putting seven musicians in a vintage analogue studio for a week. A wide range of packages are on offer from a simple digital pre-order, to an "Executive Producer" credit, to having the band play in your living room.
As the campaign enters its final week, On The Corner`s Pete has made available 15 copies of a live dub-plate featuring 2 unreleased compositions, recorded post-rehearsals for "The Search". Both tracks are evolving and mediative. "Disappearance" traces Galliano`s "Six Sharp Fists" back to its "West Side Story" origins. Percussion rattling like feet on fire-escapes, through alleyway mazes. Romeos and Juliets. Pursued and pursuit. Hunters and prey. "Arrival" begins as a flute-led lullaby, with sax and clarinet slowly joining the conversation. The images are those of lazy heat, of a watering-hole waking, of its visitors calling out to one another and the day, yawning, stretching, starting their song.
Like that of Soundway`s Family Atlantica, Collocutor`s music reflects and celebrates a multicultural Britain. Something to be supported. Something all the more important in the light of last week`s referendum result.
*A pre-order link is within the Bandcamp player.