Always a good time…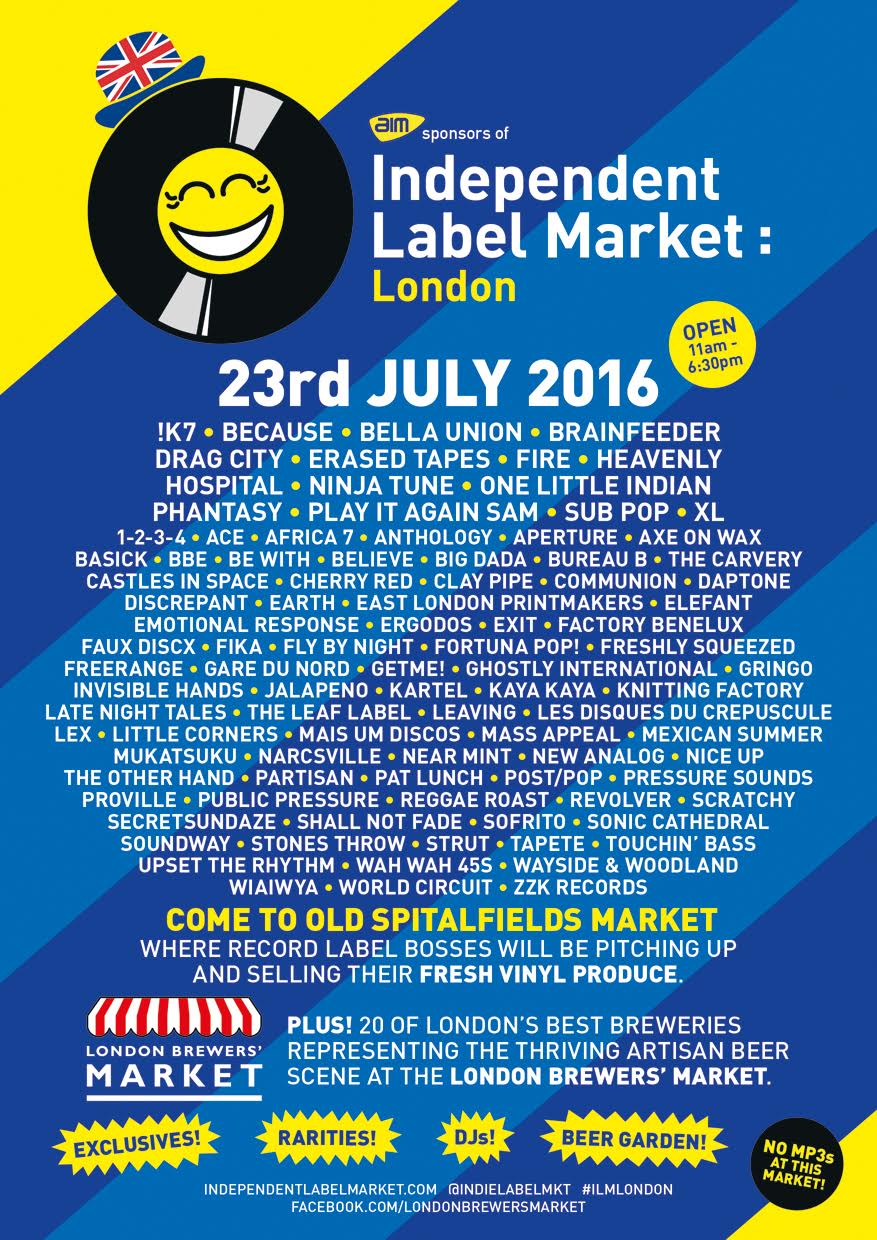 Here's the blurb…
Independent Label Market: LondonFive Year Anniversary: supported by AIM
Announced Market Exclusives, Advance Releases and Rare Finds for Upcoming London Market
Read news here on The Vinyl Factory
Saturday 23rd July
!K7 + Because + Bella Union + Brainfeeder + Cherry Red + Drag City + Erased Tapes + Fire + Heavenly + Hospital + Hyperdub + Late Night Tales + Mexican Summer + Ninja Tune + One Little Indian + Phantasy + Play It Again Sam + Revolver + Slow Foot + Sub Pop + XL
Exclusives, signed, rarities, test pressings and advance copies from Björk / Damon Albarn / Beyond The Wizard's Sleeve / Black Glacier / DBridge / Martha / Mavis John / Kamera / Wild Palms / Sunburst / The Pyramids
DJ LINE-UP:Shepdog (Nice Up! Records) – 11am– 11:45Discrepant – 12:30pmRising Sun Collective – 1:30pmTom Furse – 2:30pmMukatsuku – 3:30pmLIXO (GETME! / NTS) – 4:30pmJimpster – 5:30pm
LISTEN TO THE SPOTIFY PLAYLIST: http://spoti.fi/29dyUyzFACEBOOK EVENT: http://bit.ly/ILMLONDON_SUMMER16WATCH VIDEO: http://youtu.be/jBZn6Swlqsg
Independent Label Market are delighted to announce exclusive market goods stocked by participating labels when they return to Old Spitalfields Market on Saturday 23rd July, for the sixth Summer market in London. As usual, Independent Label Market will be supported by AIM – the Association of Independent Music.
As ever, labels will be showcasing their extended back catalogues, as well as bringing a collection of exclusives, rarities, signed merchandise and advance copies. One Little Indian will be bringing some exclusive merch from Bjork's digital exhibition, along with some brand new Bjork Discography Tees. Mukatsuku are stocking ILM exclusive lazer etched badges, wooden 45 adapters and wooden drinks coasters. Sub Pop will have rare official Sub Pop/Loser t-shirts, hard to find in the UK, along with Sub Pop and Hardly Art compilations free with any purchase. Strut bring new releases from Tanzanian Afro rock collective Sunburst and US jazzers The Pyramids. And Nice Up! Will be showing off Blend Mishkin & Roots Evolution feat Gappy Ranks "Hol Dem" (Compa remix) – ltd edition 10″ vinyl with hand printed cover, only available at ILM!
East London Printmakers return to the market with a selection of rare and unusual screen prints from their artists and designers, as will Narcsville with his ILM screenprints, exclusive to the event. Sonic Cathedral will be serving up a limited-edition glow in the dark 12" EP of Kraftwerk covers featuring the songs from their sold-out 7" from 2013 – Disappears reinterpret 'Trans Europe Express', Cloudland Canyon cover 'Radio-Activity' – alongside a new take on 'Neon Lights' by Remover (aka Hookworms' MB and JN) and a raucous reboot of 'The Robots' by White Manna. Phantasy also bring excitement to the table with their limited edition deluxe vinyl pressing of The Soft Bounce, the debut album by Beyond The Wizard's Sleeve. The album's mirrored gatefold cover, designed by Erol Alkan and Phil Sims, must be seen to be believed – possibly the world's first and only fully reflective record sleeve.
Alongside the Independent Label Market, the London Brewers' Market will feature breweries selling everything from pilsners to porters. Get a chance to meet some of the brewers behind London's thriving beer scene, learn about the different varieties of beer, and enjoy some fine examples to drink at the market as well as to take home in bottle. There will be a beer garden set up amongst the ILM and Brewer's stalls, where there will be product sampling, live music and DJ sets throughout the day.
This summer event marks the 13th London instalment and 5 year anniversary of Independent Label Market
It all started with the humble beginnings of our first London market in the summer of 2011, since then, we have hosted events with over 250 of the world's greatest independent record labels in New York, LA, Canada, Germany, and across the UK. It is with immense pleasure that five years after it all began, we return to Old Spitalfields Market on Saturday 23rd July.
"We are very proud and pleased that Independent Label Market has become a fixture in the calendar for labels in the independent sector. The commitment to their artists and their innovation in presenting their catalogue is what makes each and every event so special.A sense of community and camaraderie is what ILM thrives on, and to have a network of events in an ever growing number of places that supports labels and helps them tap into that community is a wonderful thing." says Joe Daniel, ILM Co-Founder.
INDEPENDENT LABEL MARKET
LABELS AND PARTNERS ANNOUNCED FOR SUMMER '16 MARKET
!K7
1-2-3-4
Ace Records
Africa 7
Anthology
Aperture
Axe On Wax
Basick
BBE
Because
Be With
Believe
Bella Union
Big Dada
Brainfeeder
Bureau B
The Carvery
Castles In Space
Cherry Red
City Fly
Clay Pipe
Communion
Daptone
Discovery Records
Discrepant
Drag City
Earth
East London Printmakers
Elefant
Emotional Response
Erased Tapes
Ergodos
Exit
Factory Benelux
Faux Discx
Fika
Fire
First Word
Fly By Night
Freerange
Freshly Squeezed
Fortuna Pop!
Gare Du Nord
Getme!
Ghostly International
Gringo
Hardcore Underground
Heavenly
Hospital
Hyperdub
Innovative Leisure
Invisible Hands
Jalapeno
Kartel
Knitting Factory
Late Night Tales
The Leaf Label
Leaving Records
Les Disques du Crepuscule
LEX
Mais Um Discos
Mass Appeal
Mexican Summer
Mukatsuku
Narcsville
Near Mint
Nice Up
Ninja Tune
One Little Indian
The Other Hand
Partisan
Pat Lunch
Phantasy
Play It Again Sam
Pie & Vinyl
Post/Pop
Pressure Sounds
Proville
Public Pressure
Reggae Roast
Revolver
Scratchy
Secretsundaze
Sonic Cathedral
Sofrito
Soundway
Stones Throw
Strut
Sub Pop
Tapete
Touchin' Bass
Upset The Rhythm
Wah Wah 45s
Wayside and Woodland
WIAIWYA
World Circuit
XL
ZZK Records