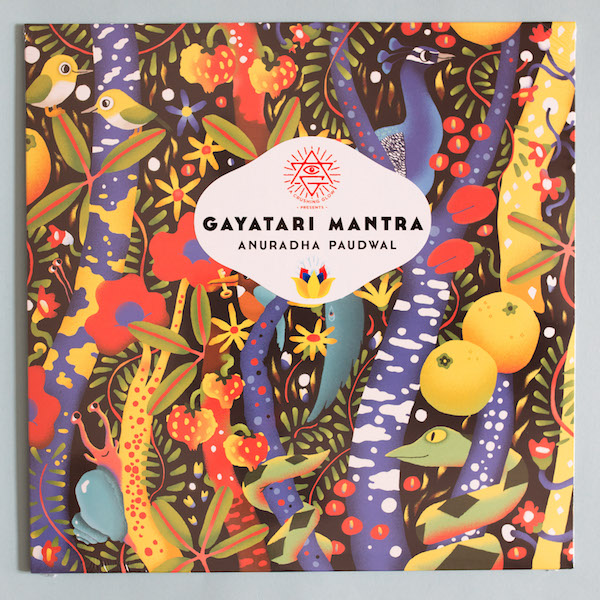 Illustrator, all-round ornithologist (1) and cuckoo expert (2), Matt Sewell, has released the second instalment of his "A Crushing Glow" musical project. The first was a compilation (3) that collected a Psychedelia of sorts, embracing Ashra and Popol Vuh, but also The Durutti Column, Indian Classical, Johannes Auvinen`s Tin Man and a DJ Harvey-favoured edit. The stunning artwork executed by Matt himself. Now, again in collaboration with Caroline True Records, there`s a gold vinyl 12. Once more housed in an amazing sleeve, the music is a 50 minute rendition of the Gayatari Mantra performed by Bollywood playback singers, Anuradha & Kavita Paudwal. This Hindi mantra, once praised by Buddha, through recital, aims to grant wisdom and enlightenment, in its worship of the Sun:
"Unveil, O Thou who givest sustenance to the Universe, from whom all proceed, to whom all must return, that face of the True Sun now hidden by a vase of golden light, that we may see the truth and do our whole duty on our journey to thy sacred seat."
The mantra`s been borrowed before by popular culture; Kate Bush quoted it in the intro to "Lily" (4), and it was "versioned" for the theme to the 2004 reboot of "Battlestar Galactica" (5).
I ordered my copy at the weekend, on the strength of a 20 second animated Youtube clip (see below), and John at CTR then kindly helped qualify my decision by sending me a 4 minute radio edit. I heard the voice of angel, in a language I didn't understand, singing to me with the tone of "Don`t worry it`s gonna be alright", and as tabla and fingers cymbals sounded, the song of mother and daughter danced a duet. The experience, fittingly, akin to aural sunlight. The "Folk" melody woven throughout must have travelled across continents & millennia, as I could somehow just as easily hear it sung by the old boys in a Galway pub as on the busy streets of Bombay. A universal hymn. A reminder that music links us, all and everything.
In addition to the 12, there`s also a Mantra Box, and an extremely limited bundle which includes both of these plus a bird-shaped incense burner hand-painted by Matt.