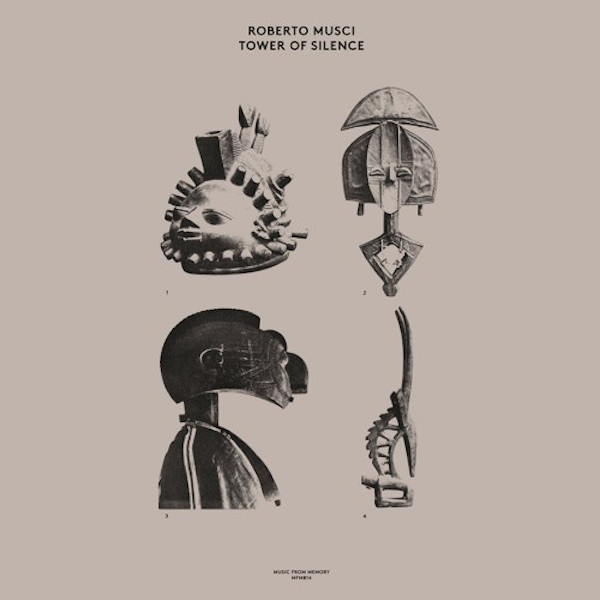 If you were to skim through "Tower Of Silence", Music From Memory`s retrospective on the work of Italian musician / composer Roberto Musci, then you might find it difficult – the music experimental, and not always easy-listening. It is a set that you need to spend some time with, if not from beginning to end, then at least side by side. Curated and sequenced expertly (no surprises there), over its two hour duration it slowly draws you in, balancing the accessible with the more "avant", in a way which makes, if taken in a single sitting, the latter (say the near closing "Kioko`s Deck" and "Shadow Player") seem less so. The atonal, clanking ambience less frightening, yours ears having become accustomed. It does, of course, have moments of stand-out, stand-alone beauty. "Nexus On The Beach", "Claudia Wilhelm R. & Me" were enough to convince me to purchase a copy. Electronic yet organic, with something of Gigi Masin`s Minimalism (1), and Suzanne Kraft`s wordless love songs for Melody As Truth (2). The muted brass on "Nexus" lending it a Spiritual Jazz lilt.
To generalise, musically, "Tower Of Silence" is a mix of "strange strings", instruments that Musci brought back from his travels across India, Asia and Africa, hand-drums, woodwinds, gongs and hunting horns. Sometimes naked, sometimes treated and processed. And there are voices here, of many tongues, present in chant, prayer, mantra, whispered fever dream, and philosophical thought. "Empty Boulevard" could be the Brazil of Joyce, Nana & Mauricio Maestro (3). "The Ups And Downs Of Chewing Gum" sounds like Japanese No theatre (4). On "Water Music" those voices ripple concentrically, like the pattern of rain on a still pond. On "Rackrailway To" they are played like a gamelan (5). On "Ghost Train" their babble rises in a luminous swell. The rapture at the end, rather than the tunnel.
As far as reference points go I`d say MFM`s previous Suso Saiz collection (6), Joan Bibilioni at his most out-there (7), Francis Bebey in playful places (8), and Rex Ilusviii in overall hermetic, hallucinatory feel (9). Music of this world used to create its own. It is somehow a commentary on the globe, the state of our differences and our similarities. The light and the dark.