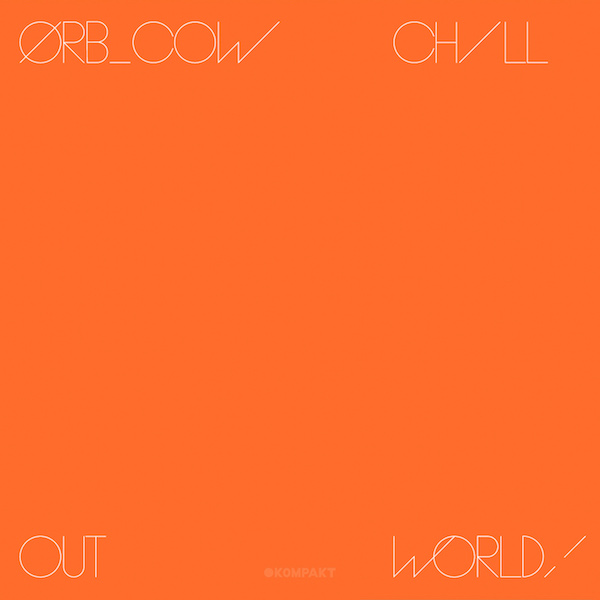 On "COW" The Orb do Ambient. I know a lot people think The Orb is Ambient, but it isn`t really. Hasn't been for years. LX`s (1) love of Techno, breakbeats and Love Love Love of Dub always, up until now at least, preventing their music from remaining in a serene world of gauze-like shimmer and sheen for more than a matter of minutes. But on "COW: Chill Out World!" they`ve dropped the Dubwise and, largely the beats, to create an album, that references The KLF`s sheep-grazing masterpiece (2), that "Huge Ever Growing Pulsating Brain That Rules From The Centre Of The Ultraworld" debut (3), and also their (not) forgotten FFWD>> side project (4).
Completed in six months, "COW / Chill Out World!" seems in part therapy, to counter the half-decade required to finalise their last long-player, "Moonbuliding 2703AD". Constructed from field recordings made by LX, via iPhone to Ableton, whilst on tour, it features snippets of sunsets, sunrises, orchestras tuning, dulcimers, pianos, flutes, cuckoos, cicadas, plummy BBC accents, outboard motors, vibes, harps, seagulls, radio hams, train roars & whistles, Carl Sagan-esque wisdom, crackling flames, scary unidentified animal cries (away from the safety of the campfire) and Sister Sledge. All were taken into the studio and treated with "spontaneity" and "improvisation" – the two words that I`ve highlighted on the press release. Samples get turned inside out in search of melody. Brass sucked backwards. Mechanisms muffled. Faded Jazz looped on a broken gramophone. Sent spiralling, dancing, in outer / inner space. And near pedal steel chimes do indeed, for a moment, have Big Bill Drummond and Mr. Cauty back tripping in Virginia Astley`s garden (5).
For LX, "COW / Chill Out World!", amounts to an audio diary, an autobiography, with sounds recalling places and events, as far flung as the Fulham bar where "Dad courted Mum" to 2016`s "Moogfest" and the banks of North Carolina`s Eno river. The Orb / LX`s humour, as usual, providing the odd jarring juxtaposition, the sand in your sun block, just in case you were thinking of nodding off.
The Orb`s "COW/ Chill Out World!" is released on Kompakt this Friday, October 14th.