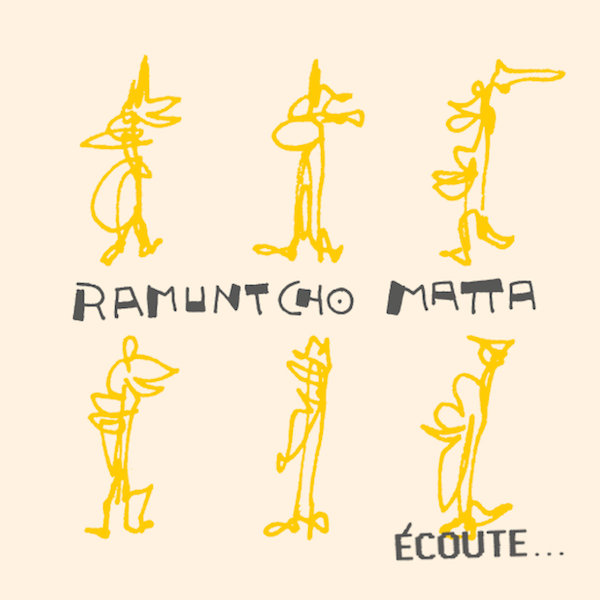 Miguel Matta Echaurren AKA Ramuntcho Matta follows Vox Populi!, out of the French Avant-Garde, and onto Emotional Rescue. A graduate of New York`s Third Street School of Music, he`s collaborated with John Cage, Laurie Anderson and Brion Gysin. As a writer and producer, he`s responsible for both Don Cherry`s classic piece of Disco-Not-Disco, "I Walk", and Elli Medeiros` Pop hit, "Toi Mon Toit" (just covered by Alma Vox).
"Ecoute" is the second of a trio of solo LPs, released in the mid-80s. It`s driven by the kind of hypnotic, organic rhythms made a current vogue by the artists frequenting Dusseldorf`s Salon Des Amateurs. Artists like Jan Schulte, Toulouse Low Trax, Harmonious Thelonious, Don`t DJ, and The Durian Brothers. Rhythms created by Gipsy King, Jorge Trasante, and given a Post-Punk Funk by the bass-lines of Magma`s Jannick Top.
An exploration of ritual and trance, "Ecoute" contains no songs as such. Global tongues, instead, moving in and out of the mix. Like Roberto Musci`s taming of Babel, or Joan Bibilioni`s address for world peace, "Una Vida Llarga I Tranquila II". The Uruguayan Meideros adding primal, feral yelps and shrieks to the highlife guitar on "Ibu". Brazilian flautist and saxophonist, Cacau de Queiroz, blasting New Wave, Free-Jazz, skronk over the opening "Marimbula", and "Ne"`s closing dark waters.