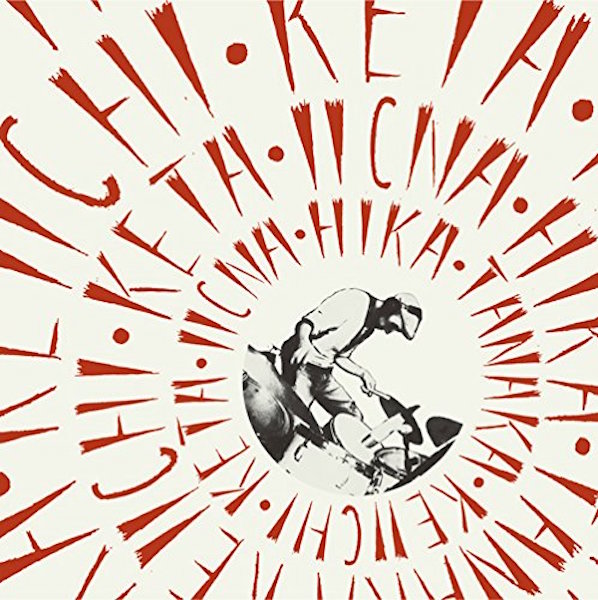 The clip below shows drummer Keiichi Tanaka jamming with one of his inspirations, Tony Allen, with members of Cro-Magnon, and at his last gig with the band, Kingdom Afrocks.
Tanaka-san`s solo LP demonstrates the technique he developed on travels to Senegal, Mali and Morocco. All he learnt under Allen`s wing. Watching Allen "not drumming, but dancing". Not hitting his drums, but skimming their surface. As if "rippling water". The record fuses West African Gwana, Benga, and a Congolese lullaby with Japanese Folk traditions like Tenjinbayashi. The Malian N`goni plays alongside indigenous Ainu instruments such as the Tonkori and Mukkur, and Ukouku polyphonic singing.
In this respect, there are similarities with Juzu AKA Moochy`s "Counterpoint" releases. Tanaka-san having guested on several of these, while featured vocalist, Rekpo, is a member of Counterpoint group, Marewrew. But "Keta Iicna Hika" is less House, more Jazz.
The opening track is furious. A demonstration of chops. Tanaka-san`s comments in the liner notes cite ON-U Sound, Tackhead and the early `80s New York Knitting Factory scene. With bass drops, squalls of guitar, and Punk attitude I was gonna say Liquid Liquid and quote Salvatore Principato:
"Stick on skin, stick on stick, stick on metal. It`s the most elemental musical form."
For the rest of the set however, the drumming is understated. A reduction of Tanaka-san`s beloved Afrobeat. Fela gets covered twice ("Gentleman" & "Observation Is No Crime"). But neither are angry calls to arms. Instead they are Free mediations of pianos Ray Charles riffing, sax and flutes. Yussef Kamaal`s "Black Focus", but less street, more Blue Note.
Released on CD in Japan late last year, Keiichi Tanaka`s "Keta Iicna Hika" will get a world-wide vinyl-pressing this month, care of Switzerland`s Mental Groove.