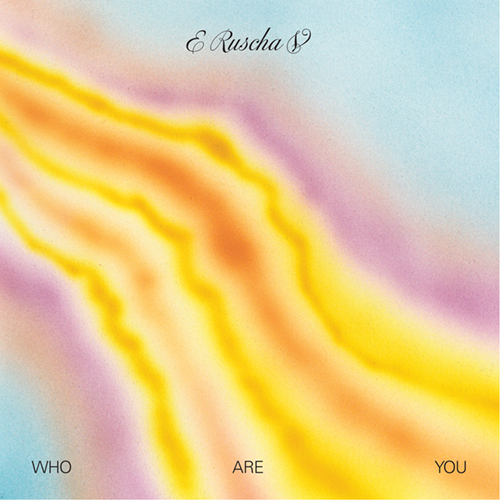 I've been meaning to write about this one for a while but as it isn't out until March I just thought I'd enjoy it to myself for a little while before trying to convey how great this is.
Eddie Ruscha is the chap, as many of you know, behind Secret Circuit, Laughing Light of Plenty, The Naturals and more, but here he is under his own name and I can see why. This is a really special body of work. A proper album that demands repeat listens and pulls together his influences under one umbrella of sound.
The album opener, 'The Hostess', gives you a taste of what is to come. Maybe she's serving it up on a tray. Who knows. It's natural waves of warm melody. You can hear the sound of real synths and instruments – to be specific an almost Hawaiian guitar melody. The track feels like it has a soul. So this is track one and the rest of the album is just as good.
'Who Are You' follows and its got that melodica sound you associate with Penguin Cafe Orchestra without shouting PCO though perhaps in this context we can say it's more Augustus Pablo. He's turned it into washes before a drop into a guitar (or is it a piano) melody rolls in and that aloha vibe pops its head up again. It's five minutes that build and build in the most gentlest of layers.
'Gravity Waves' rolls in on a drum machine and dub fx feel. Space and time. Loops and air. Talking of space, 'Lights Passing By' has a really spacey feel again with Ruscha's lovely melodies to the fore. 'In The Woods' does exactly that – the sound of logs and drums and natural percussion at the fore. 'Carried Away' goes heavy on a nice bass sound and a sweet drum sound before a huge modular or analogue-sounding synth folds in with a top line. I don't think he did get carried away. Feels like he's pulling from the Eno vault to be honest…
'Roots And Branches' is also Eno in feel at the start before slow syncopated synths and those harmonic guitar lines roll back in. 'Endless Sunday' brings us towards the end of the album and starts with a bass and percussion groove before the keys sweep you off into a (without being cod) Jazz Funk workout. Though note, this isn't a 'one for the dancers Jazz Funk' its' more like that beautiful tune from the Rocky soundtrack by Bill Conti sort of Jazz Funk. That vibe. 'All Of A Sudden' closes the album with gentle voices and almost Cocteaus-like guitars. Its another beauty. They are all beauties. The man gave birth to nine beauties.
Not many people can make music this melodically strong, have the feel and know how to pull it together into a cohesive whole, add a warmth and interest to the production and then put it in a gorgeous fucking sleeve. Eddie can. The label say the album "…resides in the transitional realm between calm and ecstasy" and that's it in a nutshell. It'll be a go to record for a long time and I highly recommend you putting it on your shopping list. Feels like he's made the record he's been holding inside for some time. Big up Eddie.
'Who Are You' is released on Beats In Space via RVNG on March 2nd.