The third and final of our interviews with the key proponents of the Warriors Dance label comes from label manager and club promoter, Nicky Trax.
Nicky – you were label manager for the label during some really key years. Where was the office based?
The office was based in the studio of Addis Ababa studios, 389 Harrow Road in the basement and I started working there in 1988. Harrow Road was a really creative musical hub then with Mute Records and Rhythm King on the same road and further along, Virgin Records.
At Warriors Dance it was all hands on deck so along with running the label I specialised in press promotion, and also ran the dj pool and radio station list. It was all new to me and I just jumped in after Kid Batchelor suggested me for the role to Tony Addis. At that time the acid house scene and music was exploding across London and I had just started running my club Confusion at Bill Stickers with Martin Confusion where Kid Batchelor was resident.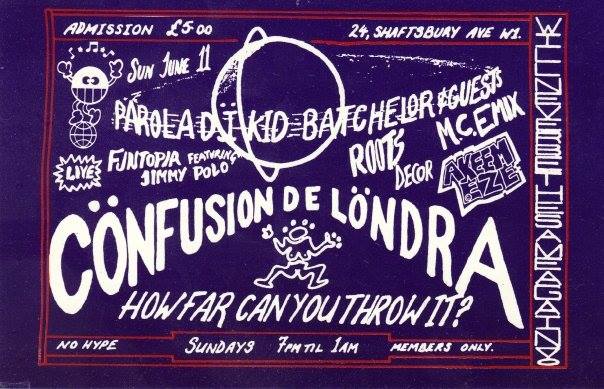 What was it like when you first went to work there?
It was different to The Fridge club and venue in Brixton, where I worked as Club PR before and which was a bigger operation with many different events and clubs on every week. Warriors Dance was a smaller intimate family-vibe type set up helmed by Tony Addis and his Addis Posse friends in the Addis Ababa recording studio. With an ever changing cast of rastamen and musical stars from reggae, hip hop, rock and house popping in to check the studio out. It was an exciting new environment for me never more so when Big Youth rocked up with his entourage one afternoon in the first few months. There was a real buzz about the place – it was a melting pot of all urban black music styles and the house music coming out of there was travelling all over the world.
What sort of music were you listening to the time? Were you fully up to speed on where they were coming from at that point?
Music was in my blood – my father was hugely influential playing all kinds of music including jazz, James Brown, The Beatles, The Rolling Stones, Bob Dylan, all of the Motown label but especially Marvin Gaye and Stevie Wonder, David Bowie, reggae, Frank Zappa, Parliament Funkadelic …all kinds of interesting music – even classical and opera occasionally.I was always into different types of music and club scenes too and enjoying the special buzz as it broke…from punk to early European electronica and band like the B52s to early hip hop and rap…80s soul…disco…rare grooves…music was so inspirational.
But as soon as house releases started coming in I caught the bug and bought Technics decks and became a bedroom DJ/vinyl junkie. At an early PR gathering for Jack Trax Records I met Kid Batchelor through a mutual friend and South London journalist and scenster Andy Sharp, and Kid's friend and partner in Bang The Party, Leslie Lawrence, and we clicked. We started hanging out, clubbing and attended the first Chicago House tour at Leicester Square's Empire Ballroom -with an incredible line up including Frankie Knuckles, Fingers Inc, Marshall Jefferson, Kym Mazelle and more. That night the first Hedonism rave flyers were handed out…an interesting confusing flyer which said all roads lead to Hangar Lane. Naturally we followed our house music feet and really that was the 1st real London rave in a warehouse that bought all the different strands of the scene together and opened the doors for all of us. Bang The Party's 'Release Your Body' was an early Hedonism anthem.
I started at Guerrilla Records in 1990 or something and we were doing a lot of units per 12 as there weren't many labels – you guys were even earlier… How many (roughly) were the records selling per 12?
Let's just say it was a lot more than vinyl sales are today :—) Just really proud to have been involved in a seminal house music label like Warriors Dance and being able to spread the vibe world wide and connect with some great people and fans.
Whats your favourite 12 on the label and why?
So so difficult to choose one – Bang The Party bought me to Warriors Dance and there's a wonderful homage to Confusion with our MC Noise doing his own 'Bang Bang You're Mine' Attitude Rap – 'state of the art bang bang' version but mostly all the releases are special to me. No Smoke's "Koro-Koro' was also a massive Confusion anthem which exploded out of our dance floor and spread out across the world and my feet start moving as soon as the opening bars hit.
You mention Confusion (Sunday Acid House club for the readers) as being the unofficial home for Warriors Dance. Why do you see it like that? And can we have three key memories from the club that give you goose bumps when you think about them?
Confusion at Bill Stickers introduced and showcased Kid Batchelor as its Resident DJ every Sunday playing a 4 hour set which which was really different to all the other clubs and raves at that time who mostly had lots of DJs on their line ups. Kid road tested his own Bang The Party tunes with 'Release Your Body' and 'Bang Bang You're Mine' both huge Confusion anthems and literally broke the new Warriors Dance releases with his great mixing switching between different mixes and dubs as they came out and sending No Smoke's 'Koro-Koro' and 'The Addis Posse 'Let The Warriors Dance' around the world into house music history.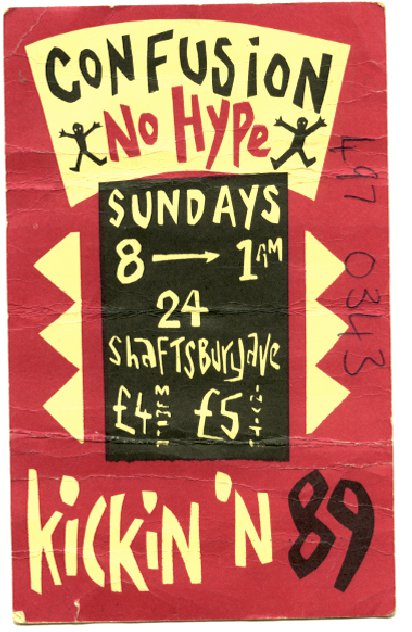 I was super nervous about the opening night of Confusion at Billstickers in Greek Street but with a great bunch of fired up friends – big props to Shakespeare, Roots, Vinny, Neil, Martin, Tony, Leslie and Liz on board to help, we dressed the club with our own unique banners and bought in our own sound system to make sure the sound was loud n' clear. At 7pm our club crowd whizzed through the doors and got on the dance floor as Roots DJ-ed and think I even played a few tunes the opening night! Emix was our MC and by the time Kid arrived to go at 9pm the place was jumping. People were so lovely in the early days of acid house – giving out stickers, sweets, everyone so friendly and chatty, and really from the very start it was a family kind of place where you immediately made new friends. I love the Confusion family…they love their music, dancing and letting go and they're still going strong to this day.
It was kind of like a Sunday service and really it was our church.
At Billstickers we were blessed with a unique vocal show from Fingers Inc' Robert Owens who had recently re-located to London. His passion and openness to the acid house scene of London saw him adored as a favourite son, and he touched all that saw him with his powerful songs. Such a great and humble guy but an all-time legendary talent in the house music that still gives me goosebumps whenever he sings.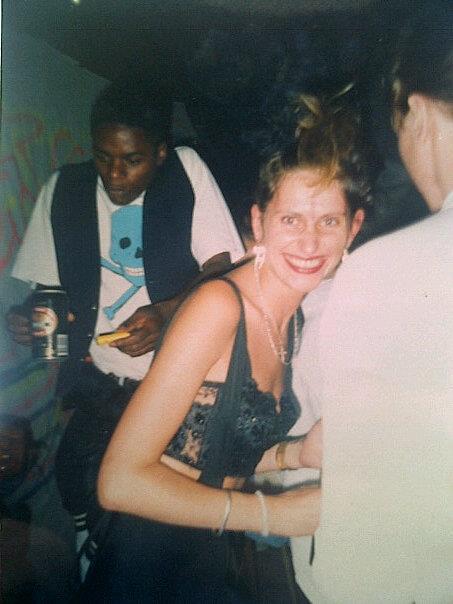 Tony Humphries playing at Confusion when it had moved to Shaftsburys – a much larger club space on Shaftesbury Avenue in the hot hot summer of 1989. With the addition of new banners from artist Derek Yates (responsible for the Soul II Soul Funky Dred logo) and Vinny Brogan aka Akeem The Dreem, we also had some of our old favourites including some home made tie dye ones that draped round a particular mirrored corner on the left of the club bordered by settees which separated it from the dance floor.
Everyone was so excited that the legendary Tony Humphries was coming to play there was an incredible buzz that everyone working and clubbing felt. I was beside myself, and when Tony arrived with Danny & Jenny Rampling I gushed and then led them through the huge hot n'sticky crowd towards the dance floor. I momentarily forgot that the tie dye banners working with the mirrors caused lots of confusion in that corner and I tripped over the settee recovering very quickly to lead Tony round the side and again through more of the crowd up onto the decks in the centre of the club. His set was incredible and totally worked in the vibe of Confusion and his breadth of music and mix skills still has everyone talking about this unique night until now. Again Tony is a giant in the house music pantheon and also such an incredibly friendly and passionate man that's held in huge esteem the world over. Super privileged to have had him rock our club and still following him to this day.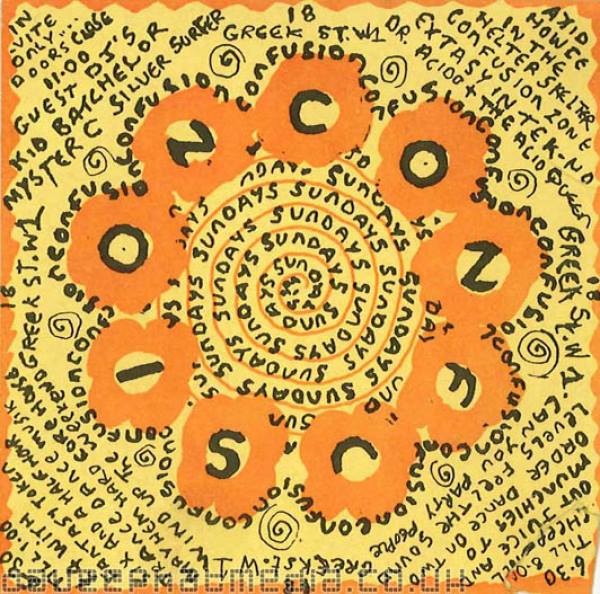 Another incredible hot night is when Arnold Jarvis flew in and performed 'Take Some Time Out' and it was another sweltering hot sticky summer of '89 night and we'd managed to build a little stage just up from the dance floor. We had already been blessed with some great performances from Adamski, Funtopia with Jimi Polo but this was the big vocal first and Arnold smashed it in our new home. The whole crowd grooved along with him and ne of the Confusion family, Julie Noisy Sista jumped on stage to dance alongside him which he loved and it was one of the sexiest and soulful shows ever.
I must also mention our incredible Movements in Fashion show which showcased designs from Georgia Robinson and Marline Campbell which were modelled by some of their friends which include some of the most beautiful girls that came to the club. Bang The Party's Leslie Lawrence worked on the music, Liz Hamer choreographed the show which opened with an amazing gong and we built a super catwalk in the centre of the club. Super proud to have been able to host such amazing talents from the club and the Movements In Fashion designs went on to be featured in i-D Magazine and The Face as well as being stocked in shops in Covent Garden and Camden.