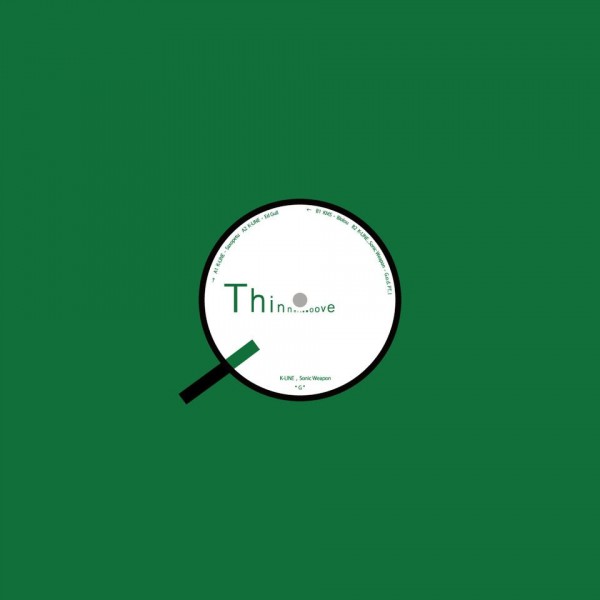 Here's the G EP, the second release from Japanese DJ and producer Powder's Thinner Groove label, due for release on October 23.
This time around, Powder called up her old friends Sonic Weapon and K-Line, both from Tokai – home of the Toyota car – which some locals jokingly and proudly call "the Detroit of Japan." The four-tracker includes two originals from K-Line, a collaboration between K-Line and Sonic Weapon, and another collaboration between K-Line, Sonic Weapon, and their friend Hiroshi, as KMS.
As Powder tells it, Sonic Weapon and K-Line have held a legendary party called Audi (haha) at Club Mago in Nagoya for close to two decades. In her words, "Sonic Weapon [are the] respected residents DJ of Audi, and K-LINE as [a] mysterious light-performance person," and over the party's lifetime, most of the key Detroit techno DJs have played there, and been impressed Sonic Weapon and K-Line's sensitive love of the dancefloor's pulse. Their parties have been juxtaposed with in-depth listening sessions, and countless hours working away in the studio on thrift store synths, iPhone apps, and old CDJs.
We can hear some of the results on the G EP: beginning with the uptempo strut of K-Line's 'Saxopetu', abstract synths draping themselves over drum machines and bass stabs. 'Ed Gull' (also by K-Line) continues things by placing a squelchy bass figure inside an expansive, psychedelic dronescape, before KMS's 'Blolou' collages stuttering handclaps, synths and vocal snippets into a buoyant mood. Things conclude with K-Line and Sonic Weapon's collaboration 'G.o.d PT.I', a hypnotic cosmic house number with a melody-tinged groove that just doesn't stop giving.
G EP is out on Oct 23 in 12″ vinyl and digital format through Thinner Groove (pre-order here)