Loving this website. Center Of Attention is simple but very very nice. Hope the guy keeps it up as its a great reference for the design crew. Good taste finely displayed.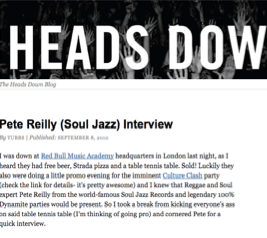 Just been checking the rather good Loop blog brought to you by The Pool, who book DJs Harvey, Rub 'N' Tug, Greg WIlson, Maurice Fulton, Unabombers, Terje and friends of the family, Matthew and Jolyon. It's a good source for new charts, exclusive photos and mixes from all their DJs. Have a dig through if...
Giacomo with more Detroit-related business… If you're interested in reading about everyday life in the city that gave us some of the greatest music and cars in recent history, detroitblog is well adding to your RSS. Originally started as way of sharing news from home with some friends who had moved away, Detroitblog is maintained...