George Thompson AKA Black Merlin has recorded for LN-CC, Common Thread, Weatherall`s Bird Scarer, Hart & Blake`s World Unknown, FairPlay & Fraser`s Crimes Of The Future, as Karamika for Lovefingers` ESP Institute, remixed Weatherall & Fairplay`s Asphodels and numerous artists on Stuart Leath`s dark Disco imprint, Emotional Especial. He`s now inaugurated the "Island Explorer Series" for Dan Mitchell`s for Island Of The Gods with his intense "Hipnotik Tradisi". We asked Mr. Merlin a few questions, specifically about the new record and his experiences collecting its source material in Bali.
How do know Dan (Mitchell) from Island Of The Gods?
I met Dan through mutual friend Jonny Nash. At the time they both worked at LN-CC in London. The first time i worked with Dan was on my "Trans-80" E.P which was released by LN-CC in 2013.
When was the Bali project proposed?
It was around early 2014 when Dan first approached me about the idea he had.
When did you go and visit Bali?
Summer of 2014.
Had you been to Bali before?
That was my first time, but I went back in 2015 to visit Jonny on the way back from Papua New Guinea where I'd been on a field recording expedition.
How long were you out there?
I was in Bali the first time for around a month.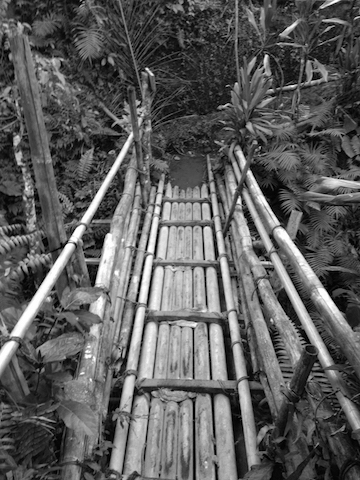 What did you set out to do?
Well, Dan had pre-arranged a recording session with a Gamelan Group in Ubud, which is an area in Bali, so we spent time with them recording various traditional Gamelan instruments, the Bonang, Kempul Gong, Kendang Drum and Bamboo. The experience was quite intense and magical. I was very in awe at the time, as I'd never done that kind of recording before and specially in that situation but was a good experience to get under my belt.
Would cite any other records as influences in this process? Personally, the feeling of ritual and ceremony makes me think of David Toop`s recently re-issued "Lost Shadows".
I've not heard of "Lost Shadows", I'll look it up. My approach to the album was going to be a new thing for me in both production and approach. I would have never thought that my debut album would have been about a region in Indonesia. The project sounded like a good challenge for me. I had to really rethink my approach to producing for this project and how I was going to incorporate the field recordings into my own production style. My previous E.P.s with Black Merlin had been more Electronic music and now I was having to think more in a traditional way but some how making it sound like me. 
There are 13 tracks on the album. Can you talk us through the locations used on some of the tracks?
My aim with the album was to take people out of their everyday grind and transport them to some other place, with that in mind I used the sounds from various elements and places from my travels and created scenes from multiple recordings.
For example "Fire Dance" I`d had in my mind from a record I`d bought years ago by Jean Michel Jarre. It was a live recording from a performance in China. I think the track was called "Arpégiateur". I liked the inclusion of the crowd noise behind the musician, as it moved from listening to cheering and shouting with excitement as he started playing, so I wanted to portray that idea with "Fire Dance" with a sense of a the crowd listening and interacting with a live performance. So we travelled to Uluwatu temple to watch the Kecak Fire Dance, which takes place every evening at sun down. The recording situation wasn't great at all. I was situated really far back from the performance and lots of people were talking around me so I came away from that a little frustrated, but at the same time I thought, "I'm here I need to just record or it would be a thrown away opportunity." When I returned home and I had to work for quite a while on the chanting and the crowds to create the music I had in mind.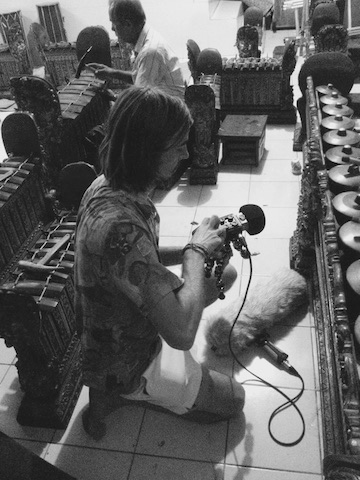 The track "Somewhere in Ubud" combines a number of different recordings. A lot of the background noises were from when I first got to Bali and I couldn't sleep because of jet-lag and the time difference. I'd get up at around 4 or 5 AM and go outside, stick my mics in the air to capture Bali waking up, with motorbikes passing, birds singing and things like a  farmer shouting commands at his cow in the distant field.
As the track progresses you start to hear Ketut Gantas playing from The Gamelan session in Ubud. Back in my studio I doubled up the pass of music and with the duplicate recording. I pitched the sound up so it would get the feel of a flute or something similar following what he was playing to give an extra depth. When Ketut was playing that piece it was intense waiting for him to finish his last note and right at the end of him playing the piece you`ll hear laughing. This is because a cockerel decided to get involved in the recording, which was a nice moment.
The track "Totek and Tim" was made when I got back home from the instruments I'd bought out there like drums, horn, and various rattles and shakers. I recorded myself playing and added the backdrop sounds from recordings I'd made out there. 
The thing with Bali is that your never too far away from motorbikes, cockerels or dogs and although I found it a hindrance when I was there, as I'd be recording something then a bike would spoil the recording or a dog would bark, but I soon discovered that when I worked the sounds in various sessions, that the bikes, cockerels and barking dogs where really good, as they'd give you great natural panning. A good example of this is Pink Floyd's  'On the Run' with the helicopter passing. Some other captured sounds would come from recording the ocean on the Gili Islands, frog mating calls in the rice fields at night, which are quite chaotic, and children messing about on a floating log in a coral reef, which can be heard in "Reef Play".
The album feels like a ceremony. Where ceremonies recorded? If so from what religion? Are you religious? Has the experience changed your views on religion?
I'm not religious as such but I'm open to learn from all religions. Maybe I`ll convert to Hinduism or Buddhism later in life and go and live in a cave and chant myself into Nirvana with a stick and a rock and be found 2000 years later, like the Monk they found in Mongolia recently.
What impressed you most about the musicians you met?
Their skill and their dedication to practice. For example, Ketut, who unfortunately passed away one year making after the recordings we did together, he had played Gamelan music for more than 70 years and with that much experience behind you, you become a master of your Art. I feel fortunate to have met Ketut. He really inspired me .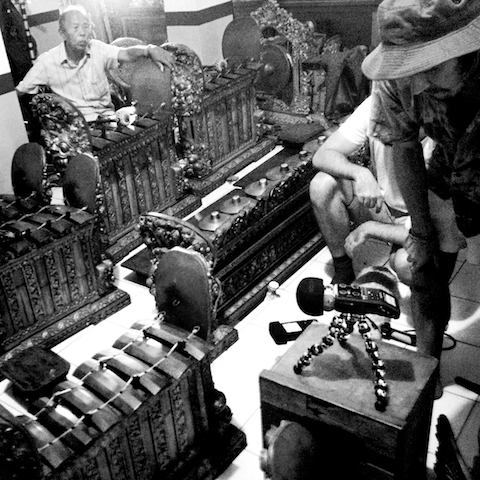 What impressed you most about the country?
The culture, weather, rice fields and kites, which are a big part of Balinese culture. You'd see big crews driving down main roads with these massive kites strapped to the top of there trucks, with the rest of the crew riding up to ten motorbikes as escorts, blowing horns and shouting with happiness. 
What did you bring back other than music?
Masks, instruments and a blocked ear.
What do you think you learned from the experience?
I learnt more about recording with mic's in an outside situation and the challenge's that come with that. 
Do you feel altered? 
Not vastly from Bali. Don't get me wrong, it was great to see new cultures and ways of people's lives there, but at the moment I`d have to really travel far and somewhere out of the box to get that shock to the system. I`m not really the sit on a beach kind of person. I'd have to say Papua New Guinea has been the most challenging thing I`ve done in my life and would encourage anybody to go there. It`s so unlike anything I've experienced. They call it the "The Land of the Unexpected" for good reason. The sense of total isolation and being so far away from home really puts life into perspective, and taught me whats truly important about living my life. It`s a place that will feature big in my life.
Do you have any plans to release the Papua New Guinea recordings?
Very probably.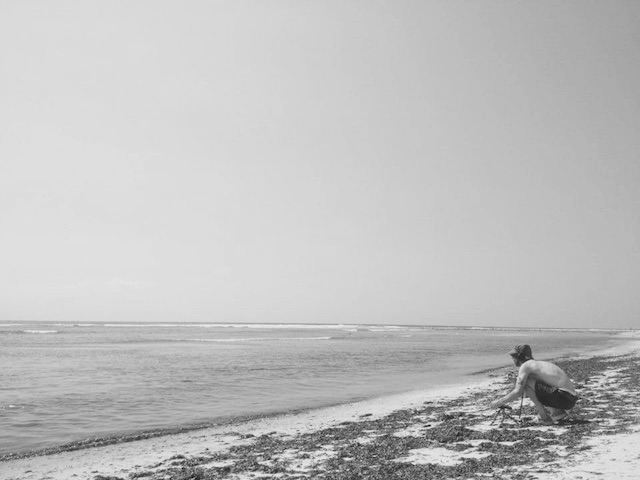 Do you think the Bali recording will have an impact on the music you make in the future? 
It already has, and not just in music. It got me into field recording and I`m not sure I would have gone to Papua New Guinea if I hadn't gone to Bali first. Who knows? I've got Dan to thank for that, he inspired that imagination in me when i needed it most.
I have to thank Dan for the confidence he`s had in me on this project and the dedication he`s shown in bringing it all together. Respect Dan.
Jonny, Dan and Mo are all out there. Would you consider a move to Bali? 
Wouldn't anyone if they got the opportunity to go live and work somewhere exotic? I`m sure living somewhere exotic has its advantages and disadvantages like anywhere, but to live in a completely new culture can only be a rewarding thing. New experiences and challenges are what its all about.
"Hipnotik Tradisi" is a pretty intense trip. Do you think people will be changed by listening? Do you have any warnings or advice for potential listeners? 
I just hope it delivers something different for people to get into.